Uber launched its IPO on May 10th, with an initial share price of USD 45.00 per share. Despite a potential undervaluation of the business of at least USD 25 billion, Uber failed to attract the attention of investors and only managed to raise USD 8.1 billion. An array of scandals and controversies that the company had to contend with over the past several years may have led to the company's uninspiring launch. Examples hereof include Kalanick referring to his desirability as "Boob-er", proven allegations that the company booked fake rides on Lyft's app, spying on the movements of celebrities such as Beyoncé, and even launching a self-driving program without having obtained the necessary permits. These events eventually culminated in a series of revelations in 2017 that ended with Travis Kalanick stepping down as CEO.
Kalanick and Company Culture
In February a former employee released a blog post in which she detailed her experience working for the company which involved sexual harassment and gender bias. Shortly thereafter the New York Times released an article which described Uber employees indulging in illicit substances, in addition to a manger being fired for sexual misconduct. The article would appear to be the tip of the iceberg and by June that same year over 20 employees were fired due to inappropriate behavior. Founder and CEO Travis Kalanick was also forced to step down amid pressure from investors.
Determined to regain control, Kalanick promised to return to the helm of his company. Kalanick's super-voting shares, which gave him 10 votes per share, had previously allowed him to drastically influence corporate decisions. This was evidenced when Kalanick spontaneously appointed two new directors without informing the board. These appointments came amidst a lawsuit against Kalanick by venture capital firm, and major Uber shareholder, Benchmark. The VC firm sued for fraud, breach of contract and breach of fiduciary duty. The firm further pledged to reject a critical USD 9 billion investment proposal from multinational conglomerate SoftBank.
Ultimately, Uber's Board approved a series of changes in order to counter Kalanick's influence, appease Benchmark, and lock in the Softbank investment. These changes included a reform of the company's by-laws which implemented a "one-share one-vote" rule and led to an increase in size of Uber's board from an original 11 members to 17. Two of these seats are reserved for representatives of SoftBank, and three are to be filled by independent directors. Of the 17 board positions available, five remain unfilled. This is in part due to the deal still being in review by the Committee on Foreign Investment in the United States (CIFUS), although the deal is expected to eventually be approved.
Board Size: Bigger Does Not Always Equal Better
Although these reforms were implemented in the hopes of instigating better governance practices, studies have repeatedly shown that companies with a smaller board size (9.5 directors) outperform companies with a large board (14+) by as much as 8.5% in terms of return. Utilising CGLytics' governance data and analytics, an examination of the two industries in which Uber operates (Information Technology and Consumer Discretionary) appears to corroborate the correlation between a smaller board size and higher shareholder returns.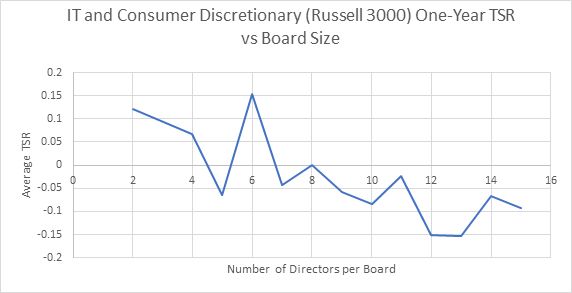 Source: CGLytics Data and Analytics
As the legal frameworks for companies leveraging the concept of a "sharing economy" are still developing, much of Uber's future lies in the hands of market regulators. Many European countries such as Greece, Belgium, and Romania have outlawed Uber from operating in their countries. Moreover, if Uber drivers were to be classed as employees rather than independent contractors, as is currently under debate in the United States, then Uber's bottom line would be significantly impacted.
Although the company has come a long way since its "Bro-Culture" days, the company's inability to enforce a professional corporate culture have led to the installation of what may appear to be inconsistent governance measures. Primarily, it has increased the size of the board (which could potentially affect the company's ability to provide returns to shareholders) in an attempt to counterbalance the influence of the company's former CEO. The clashes between Softbank, Benchmark, and Kalanick have left an enduring impact on Uber's reputation, valuation, and governance dynamics, with the company's share price currently feeling the most pressure.
Sources:
THE INDEPENDENT ENGADGET BBC NEWS Uber Blog CNBC ENGADGET THE VERGE TECH CRUNCH
VOX BUSINESS INSIDER CNBC DILIGENT BLOOMBERG FORBES
Get access to the same insights as investors and proxy advisors with CGLytics' boardroom intelligence capabilities. With easy to use comparison tools and standardised data, instantly perform a governance health check against regulatory norms and market standards. Learn more.
The content of this article is intended to provide a general guide to the subject matter. Specialist advice should be sought about your specific circumstances.