Following Hanjin obtaining a rehabilitation order protecting its assets from creditors in South Korea, the serious repercussions continue to shake global trade.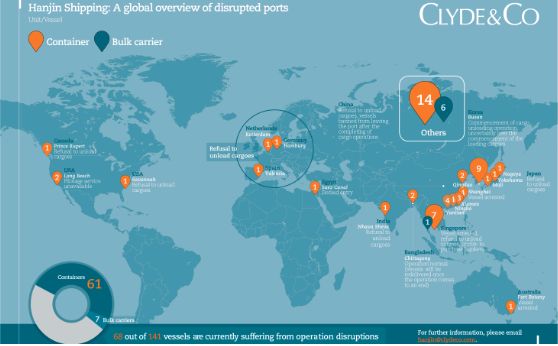 As a first step to extend the rehabilitation order's geographical reach, the Tokyo District Court in Japan issued an order recognising the South Korean Court proceedings and issued a comprehensive stay order on 5 September 2016.
Hanjin has applied for Chapter 15 protection in the US, which is likely to be granted following a hearing scheduled for 6 September 2016.
Hanjin will be taking similar steps across the globe during the course of this week where Hanjin assets, particularly owned or chartered vessels, are vulnerable to arrest and where proceedings will be commenced. It is presently estimated that Hanjin will be seeking relief in up to 40 countries.
This map below shows where Hanjin vessels are already under arrest or are being prevented from entering port to load or discharge cargo owing to uncertainty that port dues and services will be paid.
Clyde & Co are already representing a significant number of parties affected by the Hanjin rehabilitation including innocent vessel owners, suppliers and cargo owners. Time continues to be of the essence in terms of seeking relief prior to orders being obtained to further protect Hanjin's assets from creditor parties.
Please click here to see the full overview of ports disrupted by Hanjin-related matters.
Hanjin Shipping Court Rehabilitation - Actions Needed
The content of this article is intended to provide a general guide to the subject matter. Specialist advice should be sought about your specific circumstances.