Son dönemde gerek reklamları, gerekse haberleri meşgul eden ve heyecanla beklenen 5G teknolojisi, Avrupa rekabet hukukunda da yerini buldu. Telekomünikasyon sektörünü kasıp kavuran bu yeni teknoloji ülkeler arasında bir yarışa dönüşürken, sunulan vaatlerin yerine getirilmesi hem teknolojik altyapı hem de maliyetler açısından sektör oyuncularını işbirliğine sürüklüyor. Sektör liderleri arasında ağ paylaşım anlaşmaları ve ortak girişimlerin kurulması yaygınlaşırken, bu iş birliklerinin rekabet hukuku açısından doğurabileceği endişelere ilişkin kulislerden sesler yükseliyor.
Her ne kadar rakip işbirliklerinin doğurabileceği anti-rekabetçi etkilerin oldukça kendine özgü bir yapısı olan 5G işbirlikleri açısından daha hafif bir değerlendirmeye tabi tutulabileceği söylense de, henüz bu konuda bir içtihat oluşmuş değil. Mevcut durumda Avrupa Komisyonu yanı sıra ulusal rekabet otoriteleri önündeki dosyalar dikkate alındığında, önce davranan otoritelerin bu alanda içtihat oluşumunda etkili olacağı anlaşılıyor.
Hal böyle olunca, Avrupa'nın rekabet içtihadı açısından belirleyici olabileceği düşünülen işlemler arasında yer alan Vodafone/Telecom Italia, Orange/Proximus ve O2/T-Mobile işlemlerini yakından inceleme ihtiyacı doğuyor.
İtalya'nın en büyük baz istasyonu şirketi yolda (mı?)
İtalya'daki baz istasyonlarını tek bir çatı altında toplamayı hedefleyen Vodafone ile Telecom Italia birleşmesine ilişkin geçtiğimiz Temmuz ayında imzalanan anlaşma Avrupa Komisyonu'nun değerlendirmesine sunuldu. İtalya'da faaliyet gösteren dört mobil ağ operatörü içerisindeki en büyük iki operatörün birleşmesi ile, yaklaşık 22.000 baz istasyonuna sahip bir ortak girişimin kurulması hedefleniyor.
Teşebbüsler arasındaki ağ paylaşım anlaşması Vicenza, Pescara ve Roma gibi şehirleri kapsam dışında tutarak rekabetçi endişeleri bir nebze azaltmayı hedeflese de, İtalya'nın en büyük iki mobil şebeke operatörünün baz istasyonları aracılığıyla kuracağı yapısal ilişkiye yönelik olarak Komisyon'dan çıkacak kararın ne olacağı kulislerde merak konusu.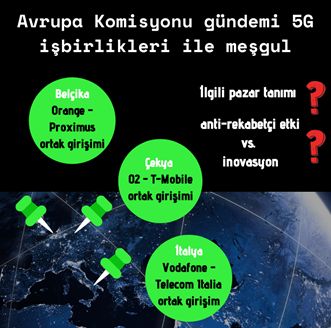 Belçika Rekabet Otoritesi Orange/Proximus'u askıya aldı
Vodafone ve Telecom Italia ile benzer şekilde, Orange ve Proximus da geçtiğimiz Temmuz ayında kuracakları ortak girişime yönelik olarak ilk adımlarını atmıştı. Belçika pazarında toplam %75 pazar payına sahip olan teşebbüslerin akdettiği ağ paylaşım anlaşması sonucunda teşebbüslerin anten, radyo ve baz istasyonlarının da dahil olduğu aktif ve pasif ekipmanlarını içerecek şekilde bir ağ paylaşımında bulunması hedefleniyor.
Tam da sözleşmenin bu geniş kapsamından hareketle Belçika pazarında küçük pazar payına sahip oyunculardan olan Telenet, Belçika Rekabet Otoritesi'ne bir şikâyette bulunup, işlemin pazardaki rekabeti olumsuz yönde etkileyeceğini ileri sürdü. Altyapı pazarındaki oyuncu sayısının bu birleşme sonrası 3'ten 2'ye düşeceğini vurgulayan Telenet'in şikâyetini dikkate alan Otorite, çalışanların yeni kurulacak ortak girişime geçmesini 16 Mart'a kadar engellemeye yönelik bir ihtiyati tedbir kararı verdi. Bu kapsamda, Orange ve Proximus'a da Belçika Posta Hizmeti ve Telekomünikasyon Enstitüsü ile yaptıkları görüşmeleri Otorite'ye bildirmeleri için 9 Mart'a kadar süre verildi.
İhtiyati tedbir kararını açıklarken herhangi bir yorumda bulunmayan Otorite'nin Telenet'in şikâyetini esasen inceledikten ve işlemin pazarda doğurabileceği pozitif etkileri inceledikten sonra vereceği karar rekabet çevrelerince yakından takip ediliyor.
Çekya sert bir tavır sergiliyor
Çekya'nın gündeminde ise O2 ve T-Mobile'ın kuracağı ortak girişim var. Avrupa Komisyonu, Çekya'nın en büyük iki operatörünün yaptığı ağ paylaşım sözleşmesinin AB rekabet kurallarını ihlal eder nitelikte olduğunu ve rakipler arası işbirliğinin inovasyona zarar vererek yeni telekom altyapılarının çıkarılmasına ket vurduğu görüşünde olduğunu bildirdi.
Telenet'in Belçika'da gerçekleştirilecek ortak girişime karşı yaptığı şikayetinde örnek olarak gösterdiği bu dosya her ne kadar Orange/Proximus işlemine benzese de, iki işlem arasındaki en büyük fark Çekya'da gerçekleştirilmesi öngörülen ağ paylaşımı anlaşmasının 5G teknolojisini kapsamaması olarak karşımıza çıkıyor. 5G teknolojisinin altyapısal ve maliyet gereklilikleri dikkate alındığında iki örneğin birbirinden farklı değerlendirilmesi olası gözüküyor. Avrupa Komisyonu'nun bu dosya özelinde de yakın zamanda karara varması bekleniyor.
Bahse konu işlemlerden hangisinin önce karara bağlanacağı, yeni 5G teknolojisinin Avrupa rekabet hukuku içtihadında kendisine yeni bir yer edinip edinmeyeceğini gösterecek gibi duruyor. Pazarın nasıl tanımlanacağı ve anti-rekabetçi etkiler ile inovasyon arasındaki dengenin nasıl kurulacağı bu anlamda oldukça önem arz ediyor. Avrupa'da gelişecek içtihadın Türk rekabet hukukunda nasıl ele alınacağını ise zaman gösterecek.
The content of this article is intended to provide a general guide to the subject matter. Specialist advice should be sought about your specific circumstances.