C'est acté ! À compter du 1er janvier 2023, les résidents français employés par une entreprise située au Luxembourg (et vice-versa) pourront bénéficier de 34 jours de télétravail par an.
Le 7 novembre 2022, les Gouvernements français et luxembourgeois ont tous deux signé un avenant relatif au paragraphe 3 du Protocole de la convention qui existe entre ces deux pays, en vue d'éviter les doubles impositions et de prévenir l'évasion et la fraude fiscales en matière d'impôt sur le revenu et sur la fortune (la « Convention »). Les procédures de ratification dans chacun des pays doivent maintenant être accomplies pour l'entrée en vigueur de cette mesure. Le seuil de tolérance en matière de télétravail a été augmenté de 29 à 34 jours dans le cadre de l'application de l'article 14 de la Convention relatif aux revenus d'emploi pour l'imposition des revenus provenant des activités salariées.
Les frontaliers français pourront bénéficier de ce nouveau seuil à compter du 1er janvier 2023 (si les procédures de ratification sont finalisées).
Pour rappel, le dépassement du seuil par des résidents français peut présenter des risques, notamment fiscaux, pour les employeurs luxembourgeois, comme celui de créer un établissement stable dans le pays de résidence du télétravailleur. Il peut surtout déclencher un certain nombre d'obligations administratives à charge de l'employeur auprès de l'administration fiscale française, même si ces dernières devraient en principe être allégées à partir du mois de janvier 2023. Cet allégement fera l'objet d'une Newsflash ultérieure dès promulgation de la mesure.
Vous trouverez ci-dessous un tableau reprenant les différents seuils applicables par pays en matière fiscale et en matière de sécurité sociale.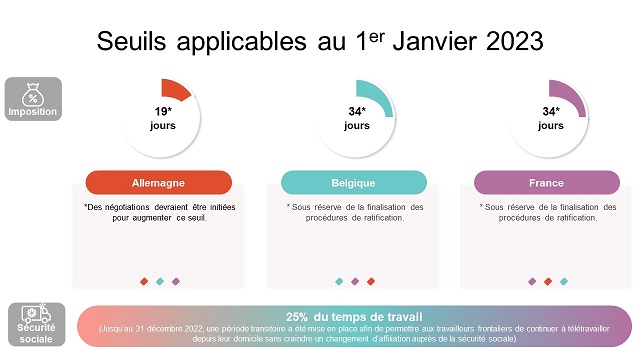 Pour plus d'informations, vous pouvez également vous rendre sur notre page dédiée  Towards a new model qui est régulièrement mise à jour.
The content of this article is intended to provide a general guide to the subject matter. Specialist advice should be sought about your specific circumstances.