The Africa Business Center
The Ernst & Young Africa Business Center is our way to help companies navigate the challenges and opportunities of doing business across the African continent. As the next economic growth frontier, Africa is an exciting place to do business; but also poses its unique challenges. Africa offers the most sustainable real GDP growth prospects of all emerging markets, according to forecasts by the World Bank among others.
Recovery from the recession is a given from 2010. Although China will still register the highest growth rate, Sub-Sahara Africa promises a steady climb going into the future.
The Africa Business Center aims to assist our clients from China, India, the UK, US and everywhere else in the world as they expand their business into the continent. Using our African footprint and local experience in more than 20 countries on the continent, investors and business leaders can be assured of a one point of contact that can give them helpful information about the continent as well as linking them to one of our many audit, tax, transaction advisory and risk experts all over Africa.
We have relationships with a host of clients in many African countries going back up to 160 years. So, whether you want to be part of the emerging oil industry in Ghana and Uganda, or you want to take advantage of the creation of a common East African market of over 120 million people; whether your company is interested in expanding into Nigeria – Africa's largest market – or be part of the fastgrowing gold industry in Tanzania; be it you want to acquire assets in Kenya or list on the new stock exchange in Rwanda; for tax advice, audit, risk or transaction advisory services, get in touch with the Africa Business Center.
It does not matter if you want to take your business to Senegal, Mozambique, Zambia or Ethiopia; you have come to the right place – the Africa Business Center. In this inaugural issue of our regular publication, EYe on Africa, we feature perspectives on the risk environment in Africa from our Advisory professionals. We also highlight the role played by the Investment Climate Facility – based in Dar es Salaam, Tanzania – courtesy of a write-up by their CEO Omari Issa. Still in East Africa, our tax team talks about the implications of the promulgation of the East African Common Market; and check out our country snapshot on Rwanda. A profile of Senegal and Ghana in the west, and Zimbabwe in the south, are part of this exciting expose on Africa – alongside many other informative inserts. Enjoy your reading and send us suggestions about what you would like to see in the next issue of EYe on Africa. Karibu!
Victor Kgomoeswana
Associate Director, Africa Business Center
Africa's risk environment in 2010
What we think
Expectations that emerging markets will lead recovery in 2010 have renewed interest in Africa. With a population of 922 million over 54 countries, a GDP of over $1.6 trillion, mineral resources and untapped potential, Africa is the next major investment frontier. African governments must expedite service delivery and create environments that are conducive to business. Investors need to understand the key risks so as to manage them profitably.
The risk environment for corporates in Africa is generally improving due to increasing maturity in respect of corporate governance. For example, South Africa, Africa's biggest economy and world's 25th largest by GDP, recently released the King III Code of Governance principles which are widely seen as being ahead of international trends. They cover diverse issues such as ethical leadership, integrated sustainability reporting and risk management. These enhancements, as in Egypt and Nigeria, reduce unmanaged risk and increase investor confidence.
Politics goes hand in hand with reputational risk and many multi-national companies are more diligent in managing their reputations with anti-corruption policies. The other major risks are infrastructure challenges and shortage of talent at certain levels. These risks are not insurmountable and often the higher returns in Africa prompt investors to focus on risk management rather than risk avoidance.
Mandla Moyo Director,
Advisory Services
Ernst & Young South Africa

The impact of the financial crisis was indeed reduced in Francophone Sub-Saharan African countries (FSSA) as their financial system is both highly regulated and not borrowing on the international markets; for most of these countries already underwent an economic crisis in the recent years and almost all of them are very much supported by International Donors.
The impact of the economic crisis significantly reduced the flow of money from the Diaspora, i.e. remittances. This is true especially for the countries with no raw materials or oil to export. There are so far no new initiatives taken by the governments and the International Financial Institutions for which capacity-building for public administration and good governance issues remain at the top of their agenda. What really matters in FSSA countries is how political stability can be maintained to secure an economic environment where business can safely be boosted with Foreign Development Investments.
Baïdy Dieng Director,
Advisory Services
Ernst & Young Senegal
The global economic crisis has accelerated the need for Mauritius to review its code of corporate governance to align it with the latest best practices which capture lessons learned from the crisis. It is with this in mind that a national governance committee of private and public sector stakeholders is currently reviewing the (voluntary) code of governance in Mauritius.
Shailen Ramgoolam Director,
Advisory Services
Ernst & Young Mauritius
Initially Africa looked less affected by credit crunch because historically a small percentage of the market had access to the credit. However, around 2008 easy money coming from US donors dwindled and local currencies depreciated against the US dollar. For instance in Uganda, the exchange rate weakened from 1,638 in September 2008 to 2,300 in May 2009.
As giants collapsed, panic forced most organisations to focus on risks and manage them. Africa realised that the risk to business has never been higher. Besides the credit crunch, risks continue to emerge in technology, entering new markets, changing consumer habits, new products and dealing with emerging economies. Corporate governance and risk management – though most are still at their pre-implementation stage - have resulted in strong governance structures, effective risk management practices and strengthening the function of Internal Audit.
Amos Bagumire Executive Director,
Advisory Services
Ernst & Young Uganda

China investments into Africa
Africa used to be home to lions and elephants, it is now also home to the dragons. China's investment into Africa is huge. For those who are not aware of the opportunities and challenges, it is important to understand where the core of the new economy will be. The large telecom and infrastructure projects are well underway in areas such as Nigeria, Ghana and Angola.
Africa has become extremely important to China, as it supplies much needed raw materials. China offers in return construction of infrastructure and investments.
The activity in Africa is bubbling, Nigeria, Ghana, Zimbabwe are a few of the countries that are experiencing substantial investments.
Chinese aid and investment have flooded into Africa in the form of interest-free loans, infrastructure projects and lucrative mineral extraction contract. A report published recently found that the number of Chinese companies operating in Africa has swelled from 800 in 2008 to more than 2,000 at the beginning of 2010.
Most of the large construction projects are carried out by the SOE's (state-owned enterprises) which often utilize large numbers of Chinese workers. China has managed to secure the large construction projects due to their low cost margins. Average profit margins for local and foreign companies are usually around 15 - 25%, while Chinese companies operate at around 10% margin.
There are certainly some challenges that they face:
Continual tension with labour unions due to lower pay and lack of benefits on contracts;
Unrest from locals as the state-owned enterprises send Chinese labour across to complete the projects;
There is also tension between the local traders as they compete for local business.
There is however a substantial reduction in poverty for people living in the surrounding areas. Some of the large Chinese corporates that are leading the way into Africa are: Huawei and ZTE (telecommunications), Bank of China and ICBC (Banking), Evergreen (Shipping) and COSCO.
Investment into African countries varies, depending on the opportunity for oil extraction, construction or retail. China mainly exports to South Africa, Egypt, Nigeria and Algeria, while the main imports come from South Africa, Angola, Congo and Equatorial Guinea. In the past 15 years, China's investment in Africa had risen to $850 million and has become one of Africa's top trading partners.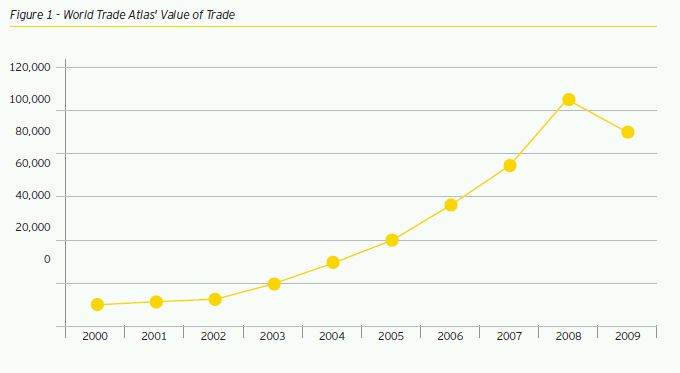 The EY China Africa In-bound Desk is set up to assist Chinese corporations in navigating foreign markets and expanding beyond their borders. Our China Africa Desk works hand in hand with our Ernst & Young offices in China, and is linked to our 22 offices in Sub-Sahara Africa. We have multicultural professional team members, with skills to communicate in Chinese and other local African languages and assist with on the ground experience. We cover all compliance-related work, international acquisitions, accounting and audit, tax, advisory and other strategic services.
Lauren Patlansky
Associate Director,
China Business Services
Investment opportunities in Zimbabwe
Like its Southern African neighbours, it is well-endowed with mineral, agricultural and other resources. Zimbabwe offers many development opportunities, but has to overcome its main challenge - securing finance", says Welton Makwarimba from Ernst & Young's Account & Business Development in Harare
Why Invest in Zimbabwe?
Zimbabwe – with its abundant natural resources - largely missed the commodities boom of the last decade.
Skilled, semi-skilled and unskilled labour – the majority being English-speaking with at least 4 years of secondary education – is abundant.
It is located in close proximity to South Africa and has above-average infrastructure making it an ideal candidate for growth and investment.
The Government has introduced varied incentives to spur investment, and offers access to regional and world markets.
Zimbabwe now operates on a free monetary system and subscribes to various international Treaties and Bilateral Investment Protection Agreements.
Tax Incentives for Investors
5-year tax holiday for industrial park developers and 10% thereafter.
5-year tax holiday for Build Operate Transfer (BOT) arrangements, 15% for the 2nd 5 years, 20% for the 3rd 5 years and 30% thereafter.
Duty-free on importation of information and communications technology (ICT) related equipment.
Deregulated banking system for expedition of payment and loan approvals.
Investment allowance of 15% on cost of construction, addition or alteration on industrial or commercial buildings or staff houses can be claimed.
New manufacturing projects are taxed at 10% in growth point areas.
20% income tax for manufacturing companies that export 50% their output.
25% income tax for a holder of special Mining lease.
Double deduction for non-capital expenditure incurred in seeking new opportunities/markets to export of goods, in creating or increasing the demand for cash goods.
Economic growth rates of key economic sectors
According to the Medium-Term Plan 2010 - 2015 (MTP), growth estimates for the key economic sectors of Zimbabwe are as follows:

Investor Protection
Zimbabwe is a signatory to the Multilateral Investment Guarantee Agency, Overseas Private Investments Corporation, International Convention on Settlement of Disputes, the New York Convention on the Enforcement of Bilateral Awards, the UN Convention on International Trade Law; Bilateral Investment Promotion & Protection Agreements (BIPPAs) - with UK, China, Germany, Malaysia, France, Italy and South Africa.
Sector investment opportunities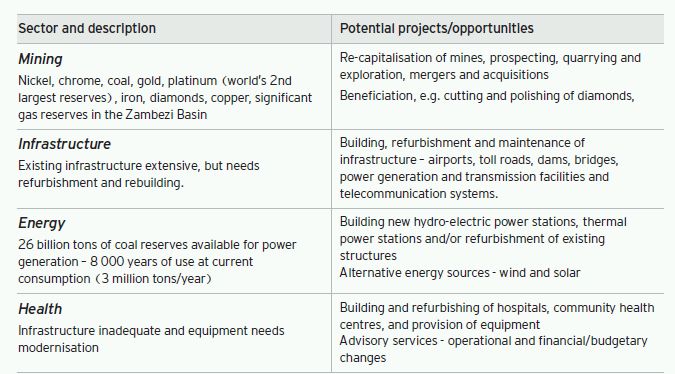 Sources: Zimbabwe Investment Authority, Ministry of Power & Energy Development, Ministry of Finance - The Medium Term Plan 2010-2015 Document, Banks & Banking Survey 2009 - Zimbabwe Independent Newspaper, CZI July 2008 Manufacturing Sector Survey, Financial Gazette (7th January)
Welton Makwarimba Assistant Director,
Accounts & Business Development,
Ernst & Young Zimbabwe
Joe Cosma Regional Leader,
Ernst & Young Central Africa
To read this document in its entirety please click here.
The content of this article is intended to provide a general guide to the subject matter. Specialist advice should be sought about your specific circumstances.