Crowe MacKay welcomes the Canadian Mental Health Association (CMHA) to discuss mental wellbeing with our team during Mental Health Week. Mental Health Week celebrates, protects, and promotes mental health, encouraging everyone to practice empathy and to #GetReal about how to help.
At Crowe MacKay, we #GetReal about our team's mental health year-round. With a corporate culture of care, we share programs and resources that invest in our team's wellbeing, allowing them to grow in and out of the office. Beki Hardcastle, CMHA Kelowna's Wellness Program Team Lead, believes there is no health without mental health. "It is critical that organizations take steps, such as educating team members and management on mental health, and get real in supporting employees to create a healthy workplace culture and healthier lives for their teams."
23% of people feel comfortable raising a mental health concern at work, but at the same time, 84% of people report that a workplace factor negatively impacts their mental health.
- Beki Hardcastle
Beki's presentation will empower Crowe team members to be mental health allies, learn signals of when others need support, and provide tools to support their mental health struggles, helping our team to bringempathyto the workplace.
How we #GetReal at Crowe MacKay
At Crowe MacKay, you don't work for us; you work with us.We value our team and know that they cannot perform their best if they do not feel their best. Crowe's dedicated to providing our team and their families resources they can use to support their mental health, adjusting as new challenges arise.This is just one of the reasons why we call working at our firm the Crowe Advantage.
Supporting our team through busy seasons
We provide our team with an online employee assistance program. The program is accessible to them and their families at any time and provides 360 support during challenging situations from relationships and family matters, mental health, and financial and legal issues. The platform has resources in many formats, including articles, voice recordings and podcasts, situational assessment quizzes, and 24/7 phone assistance at no cost.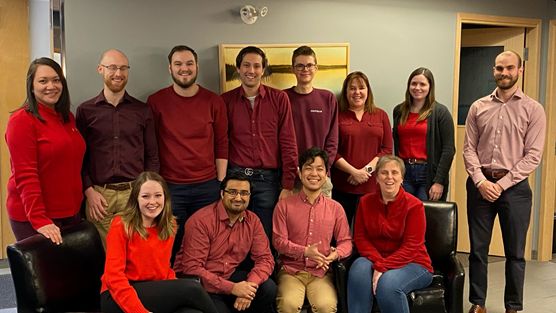 Crowe MacKay Yellowknife Celebrating Lunar New Year
Creating a safe space to bring your authentic self to work
Crowe MacKay wants to empower everyone to bring their authentic self to work. We understand that not having the safe space to do so can impact team members' mental wellbeing.
To support our team and create a safe environment, our Diversity, Equity, and Inclusion Council plans celebrations throughout the year, including Lunar New Year, Black History Month, Holi, Indigenous History Month, Pride, and Diwali. At Crowe MacKay, these celebrations are an educational opportunity where we learn about history and culture, creating space for our team to share how they honour their traditions.
Last year, we were grateful to learn from colleagues, community members, and leaders as they discussed uncomfortable topics with our team. During Truth and Reconciliation Day, Vickie Whitehead, Crowe MacKay's Director of Indigenous Services, and Elder Helene shared their Indigenous culture with Crowe and their experience with residential schools. At our virtual conference, we had the opportunity to learn from Kiersten Mohr, Founder of Terra Firma Transition, who shared her gender transformation experience with our team. We are grateful for the opportunity to learn and grow from the stories and experiences shared, helping us to lean in and lead with empathy.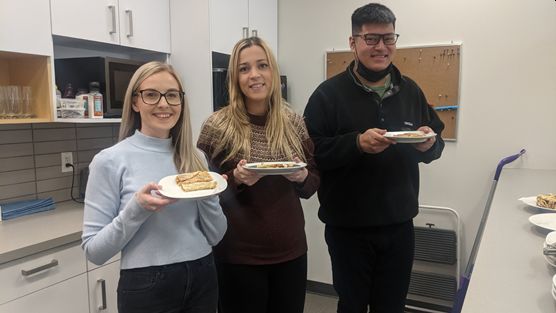 Crowe MacKay Calgary Tax Season Pancakes
Supporting our team through the busy season
As an Accounting firm, our business has many seasons where our team faces tight deadlines and heavy workloads. We appreciate their dedication to providing our clients with smart decisions that offer lasting value, understanding how these demands may impact their mental health. We are big believers in acts of appreciation to support our people: team lunches, happy hours, fitness challenges, and group activities keep our team healthy – both physically and mentally!
Learn more about growing your career at Crowe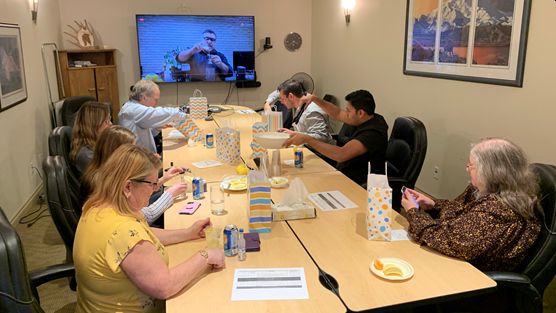 Crowe MacKay Whitehorse Virtual Happy Hour
Creating connections
As our teams embrace hybrid working environments, creating connections is more important than ever, sparking new initiatives to ensure we can support all of our team members no matter where they choose to work. We created our Crowe Cares newsletter to provide our employees with tools and resources to manage stress and unfamiliar situations. From playlists, recipes, resources for parents, and good news stories from our communities, the content of Crowe Cares is driven by the question, how can we support our people? As our teams' needs evolve, so does our newsletter.
With team members spanning across the country, staying connected is essential – no matter where they work! Our virtual happy hours create opportunities for Crowe employees to reconnect, share a laugh, and engage in some friendly competition. This year we introduced the Crowelympics, where our regions competed in various office activities and virtual competitions to win gold! Congratulations to our Calgary team, who took home the Champion title in 2022!
Crowe MacKay team members completing tasks for Crowelympics