New survey indicates that political instability in Catalonia means law firm partners in Spain are now less confident about economic prospects than they were a year ago
While nine out of ten partners in Spain expect their law firm to grow in the coming year, levels of optimism in the legal sector regarding the country's economic prospects appear to have dipped, new research shows.
A study conducted by Iberian Lawyer found that, while 90 per cent of partners in Spain expect their firm to grow in the next 12 months, this was less than the 95 per cent who were anticipating growth in last year's study.

There are indications that the political situation in Catalonia is negatively affecting confidence. Last year, 22 per cent of partners said they thought "greater political certainty" was a factor that would drive growth at their firm (largely because Mariano Rajoy had been returned as Spanish Prime Minister after 10 months of negotiation involving the major political parties), but in the 2018 study, only 7 per cent of respondents cited this as one of the reasons they anticipated growth.
Less confident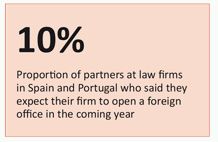 Generally speaking, it appears partners are less confident about Spain's economic prospects for the coming year. Only 55 per cent of respondents said "a more positive economic outlook" would contribute to growth at their firm, compared to 67 per cent citing this as a factor in the previous year's study.
It seems that, compared to a year ago, partners expect that law firm growth is more likely to be driven by the creation of new service lines (40 per cent cited this as a factor) and the recruitment of more lawyers (35 per cent). The research also suggests that, generally speaking, law firms will not be taking further steps to cut costs in the coming year – only 4 per cent of respondents said they thought cost reductions would be a factor in their firm growing in 2018, compared to 15 per cent of respondents in the previous year's research.

Profit growth
In the latest study, the majority of lawyers believe that their firms will increase their profits in the coming year. A total of 62 per cent of respondents expect profit increases, though this is less than the 66 per cent in last year's study who said they anticipated growth in profits. A total of 47 per cent of partners expect their firm to increase its headcount in the next 12 months (compared to 37 per cent in the previous year's study). In the latest study, 56 per cent of partners said they thought their firm's headcount would increase by at least 5 per cent. Meanwhile, 63 per cent of respondents think their firm's profits will increase by 5 per cent in 2018. 
More M&A deals
The latest survey indicates that corporate and M&A is the practice area where law firms are most likely to see an increase in work in the next 12 months. Data shows that most of Spain's leading law firms advised on a larger number of M&A deals in 2017. A total of 74 per cent of partners think their firm's corporate and M&A practice will grow in 2018. Meanwhile, 55 per cent think real estate work will increase, while 43 per cent think their firm's banking and finance practice will grow. A total of 39 per cent think there will be an increase in dispute resolution work.
Mergers more likely
The survey also indicates that partners think the prospect of mergers among Spanish law firms is becoming more likely. Of those respondents who thought their firm would grow its headcount in the coming year, 8 per cent said they thought this would be achieved via a merger, compared to only 6 per cent who thought a merger was likely last year.
Methodology
A total of 176 partners at law firms in Spain and Portugal took part in the Iberian Lawyer 2018 Law Firm Growth Survey. The research was conducted via an online survey in January and February 2018
The content of this article is intended to provide a general guide to the subject matter. Specialist advice should be sought about your specific circumstances.