The World Intellectual Property Organization (WIPO), together with INSEAD and Cornell University, published the 2019 Global Innovation Index (GII). This is the 12th edition of the index, and aims to assist decision-makers in understanding the innovative activity that propels economic and human development.
The study ranks 129 economies, and the results are based on 80 indicators, which include Intellectual Property filing rates, filing behavior, top university rankings and scientific and technical publications (Cornell University, INSEAD, and WIPO (2019); The Global Innovation Index 2019: Creating Healthy Lives—The Future of Medical Innovation, Ithaca, Fontainebleau, and Geneva).
Analyzing the countries, Switzerland is again top of the list as the most innovative economy. The rest of the countries in the GII 2019 top ten are Sweden, the United States of America, the Netherlands, the United Kingdom, Finland, Denmark, Singapore, Germany and Israel. Korea now ranks on the 11th position (from the 22nd, two years ago). China continues its upward rise to become 14th (17th in 2018).
Private sector research and development (R&D) funding remains concentrated. Eight countries - the United States of America, China, Japan, the Republic of Korea, Germany, France, the United Kingdom and India - account for 82% of private-sector R&D investments (2017 figures). Chinese private sector R&D investments represent 27% of the world's, up from 2% 20 years ago. Companies, e.g., Samsung (Republic of Korea), Volkswagen (Germany), Microsoft (the United States of America) or Huawei (China), invest almost the same in R&D as governments located in the top-ranked countries, e.g., Sweden, Israel and Switzerland, around $14 – $18 billion.
Innovation quality - top priority
Authors measured innovation quality by looking at three indicators, and whereof one is the internationalization of patented inventions (patent families 2+ offices).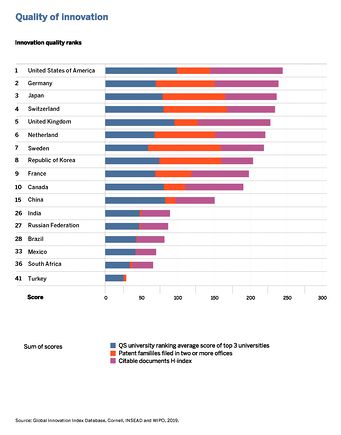 The United States of America regains the top rank in innovation quality. For the first time, Germany has moved up to second, followed by Japan on the third position. The patent related indicator contributes in a broad variety to the innovation quality ranking of the countries. North America, the United Kingdom and China are going local, whereas other European countries and Korea are seeking more often international patent protection. Sweden gains the first position on patent families (up from 5th).
Productivity growth is at a record low while trade battles are brewing, and economic uncertainty is high. Even if the global economic growth appears to be losing momentum, innovation is blossoming around the world. Developed and developing economies promote invention, measured by R&D, patents and other modes of creation.
The Dennemeyer Group is active in many countries that are assessed in the survey and enables companies to bridge innovation gaps by applying, for example, sophisticated IP insights to nourish creative thinking.
The content of this article is intended to provide a general guide to the subject matter. Specialist advice should be sought about your specific circumstances.