Nigeria is largely known as a net exporter of crude oil, but another cash cow is usually not mentioned: the export of non-oil commodities that present opportunities for investors. The market value of non-oil commodities exported from Nigeria as of 2022 was estimated at US$ 5.6 billion, 39.1% more than the previous year. The export trade in Nigeria is divided into three sectors: crude oil, which accounts for 78.74% of the total export valued at $45.87bn, non-crude oil, which has a share of 11.72% at $6.84bn, and non-oil export, which has a share of 9.5% at $5.56bn. Agriculture (23.4%), raw materials (40.2%), energy (2.6%), solid minerals (3.3%), and manufactured goods (30.5%) make up the portion of the non-oil export industry. The revenue earned by each category in 2022 is depicted in the graphic below.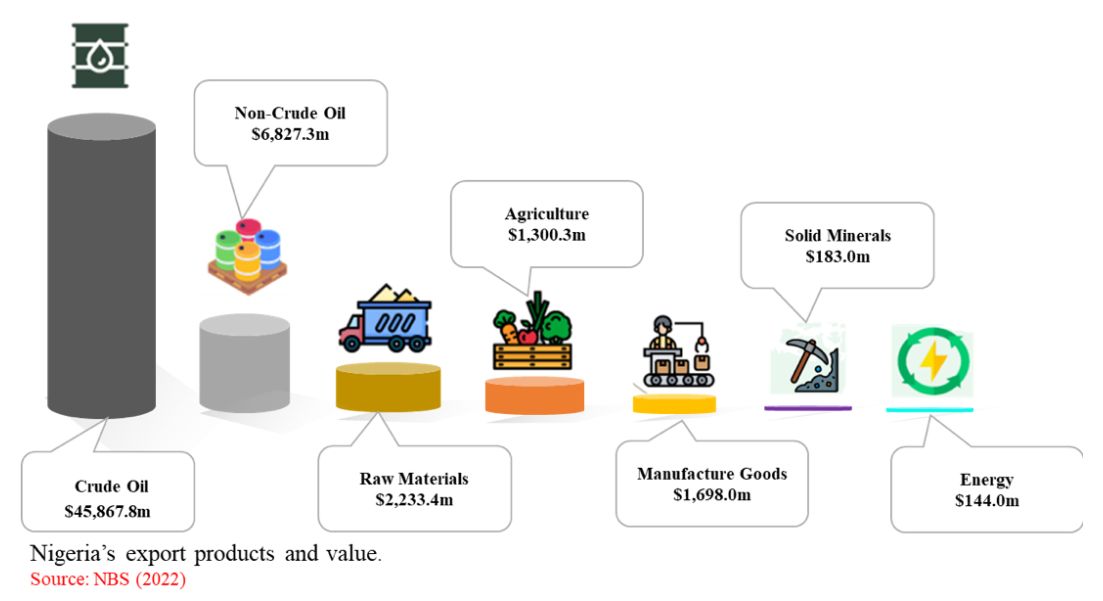 Read Also: Doing Business In Nigeria - Questions Investors Ask
Export Trend Analysis of Nigeria - 2020 to 2022
Data from the National Bureau of Statistics shows a 3-year growth in exports out of Nigeria in all their categories. Exports of agricultural products reached a value of $1.30bn in 2022, a rise of 16% and 36% from the recorded values of $1.09bn in 2021 and $699m in 2020, respectively. Exports of raw materials were worth $2.23bn in 2022, up 51% and 77 % from the values reported in 2021 ($1.09bn) and 2020 ($258m). Exports of solid minerals reached a value of $182.99m in 2022, up from $121.90 in 2021 and 76.50% from 29.01m in 2020. This represents a growth of 33.38% and 76.50%, respectively. Energy exports in 2022 totalled $144.04m, a decrease of 35.37% from the $194.99m exported in 2021 and an increase of 79.01% from the $40.92m exported in 2020. Exports of manufactured products were worth $1.70bn in 2022. Compared to the value recorded in 2021 ($2.14bn), this shows a decrease of 26.05% and a rise of 2.41% from the value recorded in 2020 ($2.09bn). When compared to the figure recorded in 2022 ($45.88bn), the total value of crude oil exports increased by 31.70% in 2021 ($31.33bn). It also increased by 34.46% when compared to the same period in 2020 ($20.53bn). Exports of other oil products reached $6.83bn in 2022, a rise of 24.98% over the value of $5.12bn in 2021 and a 30.19% increase over $3.56bn in 2020.
To view the article in full click here.
The content of this article is intended to provide a general guide to the subject matter. Specialist advice should be sought about your specific circumstances.