On January 09, 2017, Pemex Logistics ("Pemex Logística") released a call to participate in the auction 1.2 for the awarding of capacity in the Storage and Transportation System by pipeline in the North Zone Border Systems of México.
The capacity subject matter of the referred call for the open season is the following: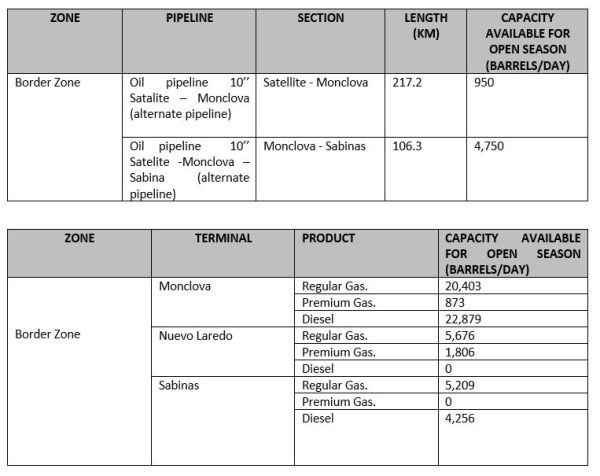 Pursuant to the call released by Pemex the auction calendar for the referred procedures is:

Steps to be followed:
Pemex Logistics open season will be carried out by means of an auction.
In order to prequalify the following documents must be file with Pemex Logistic in order to participate in the open season; (i) a letter stating the party's interest to participate in the open season pursuant to the exhibit published by Pemex Logistics; (ii) confidential agreement; (iii) documents evidencing the legal exitance of the those who are interested; (iv) Tax Payers' Registry Certificate; and (v) No Collision writing. To access data room that will contain all the relevant information, those interested in participating in the open season must pay the amount states in the Electronic Platform.
Prequalified companies must file their proposals to Pemex Logistics.
Pemex Logistics will evaluate and, if any, accept the proposal.
Those interested must file the required guarantees no later than February 26, 2018.
Fees applicable to the open season will be those determined according to the auction process referred to in Pemex Logistics call.
The content of this article is intended to provide a general guide to the subject matter. Specialist advice should be sought about your specific circumstances.