On December 20, 2016, Pemex Logistics published the call and specifications to participate in the Open Season Procedure for the fuel Storage Systems and Pipeline Transportation.
Pursuant to said call, the following storage capacity was announced: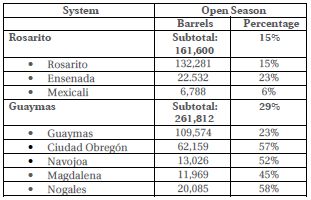 Also, Pemex Logistics announced the following pipeline distribution capacities were announced:

Timeframe:

Steps to be followed:
Pemex Logistics open season will be carried out by means of an auction.
In order to prequalify, a letter stating the party's interest to participate must be filed with Pemex Logistics to participate in the open season pursuant to the exhibit published by Pemex Logistics and enclosing all the documents required in the call.
The amount of $100,000.00 pesos must be paid to access data room that will contain all the relevant information.
Prequalified companies must file their proposals to Pemex Logistics.
Pemex Logistics will evaluate and, if any, accept the proposal.
Companies to which storage and distribution capacities are allocated, must file the required guarantees to sign the storage and/or transportation service agreement within 30 days prior to the commencement of the service.
Fees applicable to the open season will be those determined according to the auction process referred to in Pemex Logistics call.
The content of this article is intended to provide a general guide to the subject matter. Specialist advice should be sought about your specific circumstances.