Start a Business in Mexico – A map of Mexico and some of its main cities, all of which present opportunities for doing business in Mexico
Many choose to register a business in Mexico or form a branch in Mexico, due to its proximity to the US, talented labor pool and rapidly growing economy.
Mexico is the second-largest economy in Latin America, behind only Brazil. According to UN figures from 2022, the population stands at 131 million. As of 2021, Mexico registered a gross domestic product (GDP) of $1.27 trillion (all figures in USD). That same year, Mexico's gross national income hit over $10,000 per capita.
This makes it an upper-middle-income nation, according to World Bank standards. Lloyds Bank reports over 30 billion dollars of foreign direct investment in 2022, ranking it as the 9-largest global recipient.
If you register your company in Mexico, you access a regional trade hub and the 17th-largest exporter in the world. Several major ports serve the Atlantic and Pacific oceans and it links Latin America and the United States and Canada.
Mexico's businesses have preferential access to the United States and Canada through the United States – Mexico – Canada Agreement (USMCA), and the country is also part of the Pacific Alliance with Chile, Colombia, and Peru.
Key exports are petroleum oil (Mexico produces roughly two million barrels per day) cars, medical devices, and fresh produce. While the United States receives approximately 76% of Mexican goods, other key destinations include Canada, China, Germany, and Japan.
Many investors register a business in Mexico to tap into its economic opportunities, but there are some critical details worth knowing. Here's a step-by-step guide on how to complete the registration process,
Or go ahead and contact us now to discuss your business registration options in Mexico and for further advice on how to navigate the legal requirements to start a business in Mexico.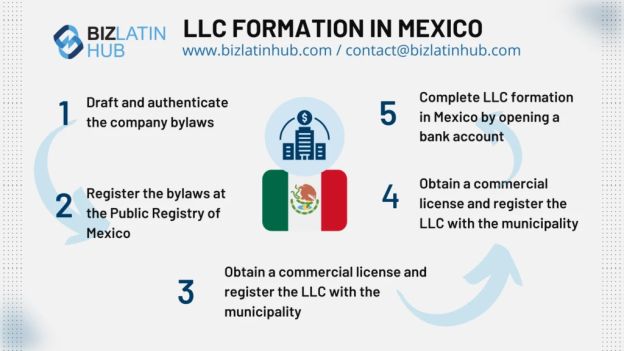 Start a Business: LLC is one of the types of companies that you can choose to form in Mexico.
Important considerations for company registration in Mexico
If you plan to register a business in Mexico, you will have a number of things to consider. Those include:
Find a legal representative: By law, you'll need a legal representative in Mexico if you plan to open a business without living there permanently. That legal representative can be any legal adult who is not otherwise prevented from occupying such a role. However, it makes sense to choose someone who knows the local business community. In many cases, it's also preferable if they have either corporate law or accounting knowledge to support your business.
Your legal representative must either hold Mexican citizenship or have permanent resident status and needs a local tax ID. This individual will represent you in front of authorities, and hold certain powers to represent you in legal matters. This person will be your local partner and should be someone whose advice you trust.
Legal Entity type: One of the first things your experienced legal representative can help you with is choosing your entity type. There are various types of companies in Mexico to choose from, based on your business nature, number of initial investors, and management plans.
Economic activity: Accurate registration of your economic activity is crucial when you register a business in Mexico to avoid legal complications. Your legal representative can advise you on how to properly define your activities to ensure remain compliant with local regulations.
Business opportunities in Mexico: Many enter the Mexican market without a specific business goal, but rather to try their hand at many expanding business opportunities in Mexico. Due diligence and professional market research on sectors that may suit your business and skill set are crucial. Once again, an experienced corporate legal representative can provide useful advice or put you in touch with the right contacts.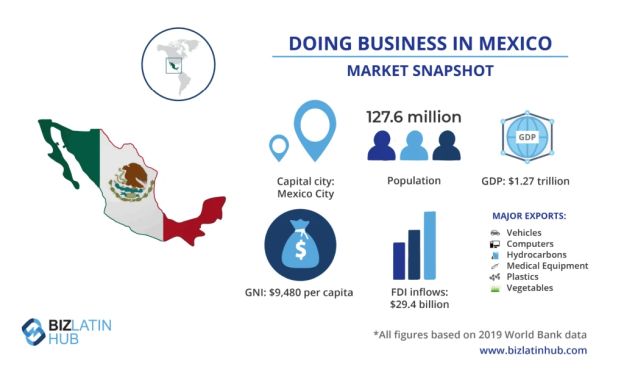 How to register a business in Mexico. Market snapshot.
How to register a business in Mexico in 6 key steps?
To register a company in Mexico, you will need to follow these six steps:
1. Grant your legal representative power of attorney (POA)
Your chosen legal representative should be able to draw up a POA for you to sign, which will grant them the power to act and sign official documents on your behalf.
2. Draft your entity's company bylaws
The company bylaws outline the purpose of your business, as well as how it will be structured. Local authorities will only accept them if a public notary formally legalises all documents.
3. Register your business with local authorities
After legalizing the company's bylaws, the legal representative can register the business with the Public Registry of Property and Commerce in Mexico. The legal representative must specify any real estate held by the company, along with its commercial purposes, objectives, and goals during the registration process.
4. Apply for your corporate tax ID number
Mexico's Tax Administration System (SAT) will grant your entity a corporate tax ID number that is crucial for identifying it on invoices and other official financial documents.
5. Open a corporate bank account for your new company
When you receive your tax ID, you will be able to open a corporate bank account. Your legal representative can guide you in choosing a provider based on the type of business you register and where you are located. Different banks have different benefits, and local guidance when making this decision is very helpful.
6. Deposit your initial investment
The final step to registering a business in Mexico is to deposit your initial investment in your corporate account. Once that has cleared, and as long as it meets any requirements stipulated by the type of entity you have chosen, you are ready to do business.
Originally published 4 May 2021 | Updated on: 18 July 2023
The content of this article is intended to provide a general guide to the subject matter. Specialist advice should be sought about your specific circumstances.