The Covid-19 crisis has brought up several challenges. With India under lockdown, one such challenge is ensuring people can consult doctors and access medicines with ease. This week, the Ministry of Health and Family Welfare took two steps in this direction: (1) telemedicine guidelines recognising remote consultations; and (2) a notification allowing doorstep delivery of Schedule H and Schedule X drugs (that are sold only on a doctor's prescription). While the telemedicine guidelines will greatly ease burden on in-person healthcare, the doorstep delivery notification may pose some challenges. In this post, we discuss these measures.
Telemedicine guidelines
The telemedicine guidelines are a significant development in the health-tech space. The idea of telemedicine has been around for years, with several online platforms in India offering remote consultation services. However, there was some ambiguity around this practice. The guidelines provide clarity by allowing registered medical practitioners ("RMPs") to provide consultations remotely and also recognising technology platforms that enable telemedicine (such as Practo and mfine).
Key features of the guidelines include:
Consultations can be provided by RMPs through different modes (voice, video, text or email).
Whether to provide consultation remotely is left to an RMP's professional judgment. Remote consultations should not be provided in emergency situations unless unavoidable.
An RMP should provide a prescription to patients (through photos or scans). If the RMP is transmitting the prescription directly to a pharmacy, she must secure the patient's explicit consent to get the medicines dispensed from a pharmacy of the patient's choosing.
Before offering consultations, an RMP must verify a patient's identify and allow the patient to verify the RMP's credentials and identity.
While certain drugs such as paracetamol, lozenges and supplements can be prescribed through any mode of consultation (video/ text/ voice/ email), schedule X drugs and narcotics cannot be prescribed remotely at all.
An RMP must complete an online course to provide remote consultations. Till such time the course is in place, these guidelines will form the guiding principles for telemedicine practice.
The process for remote consultations is described through user-friendly flow charts.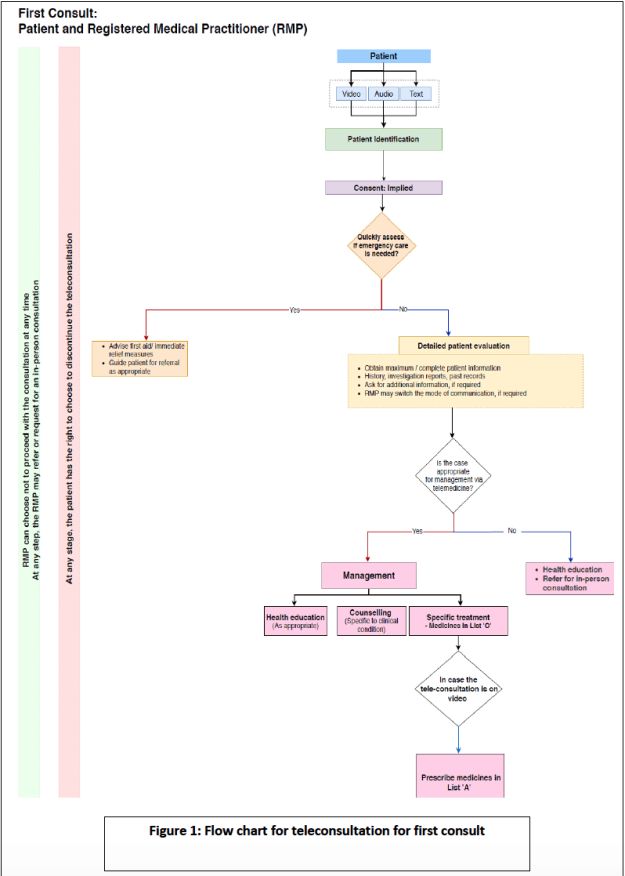 Source: Telemedicine Practice Guidelines, March 2020.
Tech platforms that provide telemedicine services must follow certain requirements:
Platforms must conduct due diligence before onboarding RMPs and ensure that they are registered with medical councils.
The platforms must have grievance redressal mechanisms in place.
While artificial intelligence/ machine learning tools can assist an RMP with patient evaluation and diagnosis, the final counselling must only be carried out by an RMP.
Any platform found to be in violation may be blacklisted by the Medical Council of India. RMPs will not be permitted to work with such platforms.
This is a welcome move and a potential game-changer at a time like this when in-person healthcare is not accessible. E-health services are likely to be embraced widely during the Covid-19 crisis, much like digital payments were after demonetisation. However, with increase in e-health, privacy assumes great importance. With telemedicine, sensitive patient records will be shared over WhatsApp or email on the patients' and doctors' personal devices, raising privacy concerns. The guidelines do not prescribe data privacy or security requirements (other than patient's consent). Instead, they defer to the Information Technology Act 2000 and other applicable evolving data related laws.
Going forward, health data will be 'sensitive data' under India's forthcoming data protection law and trigger strict compliances. Till such time, medical practitioners must ensure patients' data remains secure and is not shared with third parties.
Further, a seamless remote experience is necessary for the growth of telemedicine. This could include: video-conferencing facilities for the doctor-patient interaction, secure file-sharing mechanism to exchange records, facility allowing RMPs to access patient's test reports from a diagnostic clinic directly, and allowing patients/ RMPs to forward prescriptions to pharmacies for delivering medicines. The government's recognition of telemedicine could provide the necessary push for integrating different platforms and ensuring a seamless experience.
Doorstep delivery of Schedule H drugs
Through notification dated 26 March 2020, the Health Ministry allowed licensed sellers (wholesalers/ retailers licensed under the Drugs and Cosmetics Act, 1940) to home deliver Schedule H and Schedule X drugs that are sold on prescription only. Doorstep delivery of such drugs must, however, be based on a prescription provided to the licensed seller physically or through e-mail.
Home deliveries of medicines are already commonplace. The notification legitimises this practice and provides pharmacies guidance on the mechanics. The licensed seller has to submit an email address for registration with the licensing authorities (the State commissions), send bills/ cash memos to consumers over email, and keep a record of such transactions. The notification benefits consumers who cannot step out to buy medicines. It also benefits online marketplaces that tie up with local sellers for delivering medicines. However, it raises two key concerns:
Under the notification, licensed sellers can only supply drugs to patients located in the same revenue district. In case of local shortage, there is no avenue for consumers to order medicines from other districts or from online marketplaces (unless such platforms tie up with local sellers). This may hit people living in smaller towns with limited pharmacies that are not well-stocked.
For chronic diseases, prescriptions must be not less than 30 days old. This is a concern for patients suffering from ailments like diabetes, hypertension, etc. who typically rely on old prescriptions for continued purchase of medicines. In fact, existing e-pharmacies already stock such medicines. The Notification may impact their sale.
The Notification does take a step forward by recognising home delivery of medicines. However, it may end up doing more harm than good by allowing sales only to consumers in a seller's district and asking for new prescriptions.
Way forward
Remote access to healthcare has immense value during periods of quarantine and social distancing. It may change the way society perceives doctors' visits and consultations for good. Much like working from home could turn into the new norm in a post-Covid society, telemedicine and home deliveries of drugs may become the first port-of-call for many.
The content of this article is intended to provide a general guide to the subject matter. Specialist advice should be sought about your specific circumstances.