The Indian Pharmacopoeia Commission (IPC) has released the Eighth Edition of Indian Pharmacopoeia (IP-2018). It was released by the Secretary, Ministry of Health & Family Welfare, Government of India1.
The IP is an authoritative and legally enforceable book of standard of drugs manufactured/marketed in India. It is published by the Indian Pharmacopoeia Commission (IPC) on behalf of the Ministry of Health & Family Welfare, Government of India, in fulfillment of the requirements of the Drugs and Cosmetics Act, 1940 and the Rules thereunder. It intends to help in the licensing of manufacturing, inspection and distribution of medicines.
Regular publication of IP is an important mandate of IPC aimed at improving health by ensuring the quality, safety and efficacy of medicines. The Commission has been receiving significant advisory and directions from regulatory bodies and valuable inputs from industrial houses, academic institutions, national laboratories, individual scientists and others.
IP-2018 has been brought out in 4 Volumes incorporating 220 new monographs (Chemical Monographs (170), Herbal Monographs (15), Blood and Blood related products (10), Vaccines and Immunosera for Human use monographs (02), Radiopharmaceutical monographs (03), Biotechnology Derived Therapeutic Products (06), Veterinary monographs (14)), 366 revised monographs and 7 omissions.
Salient Features of IP-2018 are2:
Keeping in view the essential requirement for harmonization of analytical methods with those accepted internationally, steps have been taken for monitoring drug standards.
General Chemical tests & Thin Layer Chromatography (TLC) for identification of an article have been almost eliminated; and more specific infrared, ultraviolet spectrophotometer and HPLC tests have been emphasized. The concept of relying on published infrared spectra as a basis for identification has been continued.
The use of chromatographic methods has been extended to cope with the need for more specificity in assays and in particular, in assessing the nature and extent of impurities in ingredients and products.
Most of the existing Assays and Related Substances Test methods have been upgraded by liquid chromatography to harmonize with other International Pharmacopoeias.
Pyrogen test has been replaced by Bacterial Endotoxin test (BET) in parenteral preparations and other monographs.
For ease of access to make Pharmacopoeia more user-friendly, an Index has been incorporated in Volume-I along with the already existing one in Volume-IV of IP.
53 New Fixed Dose Combination (FDCs) monographs have been included, out of which 25 FDC monographs are not available in any Pharmacopoeia.
General Chapters on Volumetric Glassware, Conductivity, Dissolution test, Disintegration test, Dimensions
of Hard Gelatin Capsule Shells etc. have been revised.
For Controlling the Microbial quality of the entire medicinal range, a general chapter on Maintenance, Identification, Preservation and Disposal of Microorganism has been revised.
The 170 New Chemical Monographs in IP-2018 are: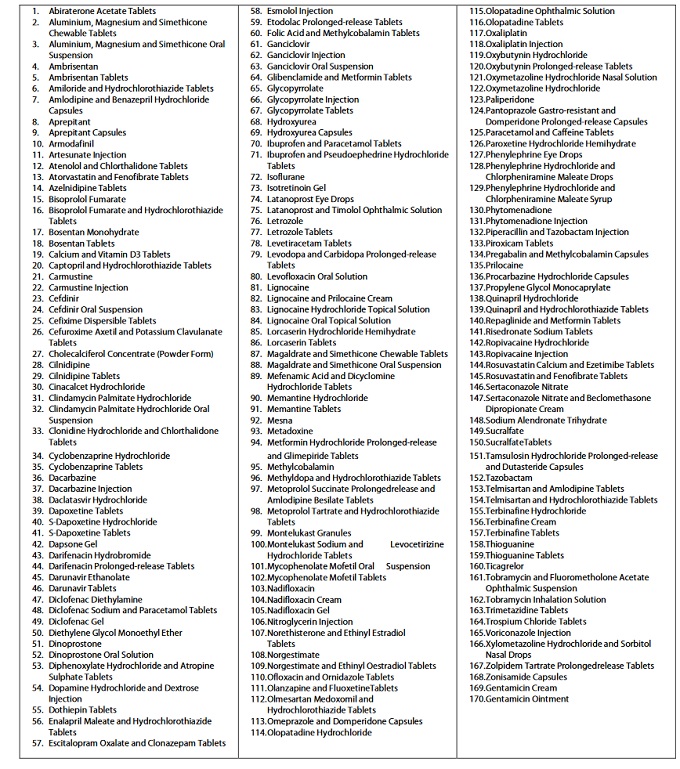 The 15 New Herbal Monographs in IP-2018 are
The 10 New Monographs on Blood and Blood related products in IP-2018 are
The 6 New Monographs on Biotechnology Derived Therapeutic products in IP-2018 are

The 2 New Monographs on Vaccines and Immunosera for Human use in IP-2018 are

The 3 New Monographs of Radiopharmaceutical in IP-2018 are
The 14 Monographs of Veterinary Non-biological IP-2018 are
Footnotes
1 http://ipc.nic.in/index1.asp?EncHid=⟨=1&linkid=88&lid=850
2 http://ipc.nic.in/showfile.asp?lid=851&EncHid=
The content of this article is intended to provide a general guide to the subject matter. Specialist advice should be sought about your specific circumstances.