פרויקט המטרו, הוא מטרוזאור, פתרון תנועתי עתיק יומין, שאין בינו לבין עולם העתיד דבר וחצי דבר. תכנונו דומה להכנת הצבא למלחמה הקודמת.
המטרו הראשון בעולם נחנך בלונדון בשנת 1863, שכונות ומרכזי תעסוקה, כבישים וקווי אוטובוס התפתחו סביבו, אבל בגוש דן המצב הפוך. מרכזי התעסוקה נבנו ללא תכנון מרכזי, על פי אינטרסים ללא תכנון מרכזי. סביבם, בניגוד למחקרים עתיקי יומין של הטכניון, העמיסו תילי תילים של מערכי הסעים, שהיו לפלונטר אדיר ממדים. לתוך המהומה של קווי שירות, אוטובוסים, רכבות, רכבת קלה, נתיבי תחבורה ציבורית ונתיבי איילון מכניסים עוד מערך ענק, ללא רפורמת מקרו של הקיים.
האם יש מי שסבור שחברות האוטובוס ומוניות השירות יהיו מתואמים עם המטרו? שיהיה מתואם עם הרכבת הקלה? שתהיה מתואמת עם הרכבת הכבדה? האם בכלל יש מי שיודע כיצד להתיר את הסבך הקיים, לעשות בו סדר, ליעל אותו לפני שמשקיעים סכום בלתי נתפס, כי מישהו רוצה "פרויקט נדלני במהותו"?! עוד צעצוע למדינת ת"א, על חשבון כל יתר המדינה, פרס על כשלים תכנוניים אדירים, על פני עשרות שנים, בהן התירו, לדחוס כמויות תעסוקה לא סבירות אל תוך מרכז גוש דן.
ראו את ה"הצלחה" של התחנה המרכזית בתל אביב, אחד הפתרונות הקודמים לאותה בעיה.
בואו נקפוץ 15 שנה קדימה, אז בערך יסיימו את הקו הראשון. בעולם החדש, בישראל המודרנית, נעים בכבישים רכבים אוטונומיים-חשמליים ובשמיים רחפנים; הכסף הוא אלקטרוני; בסופרמרקט העגלה עושה חשבון; 30% מהזמן עובדים במרכזי תעסוקה שכונתיים או מהבית; ישיבות עושים בזום; האינטרנט הוא מדור 5 וסרטים רואים היכן שרוצים; חנויות רחוב כמעט ואין; הכל ניתן לקניה ביעילות ברשת; שטחי המשרדים מצטמצמים דרמטית ועוד.
בעוד 25 שנה גם אלו יהיו היסטוריה. הבינה המלאכותית (ה-AI) תשתלט על מחצית ויותר מהיצור והשירות, וחשיבות התעסוקה בכללותה תרד. חשבו ומצאו בכמה תרד הנסועה בגוש דן כתוצאה מכך שמכליות הדלק תעלמנה; שספרים, מסמכים ועיתונים מנייר יעלמו, ואיתם מחלק העיתונים; שימוש במזון מודפס יהפוך לנורמה וחלב, בשר וירקות יהיו לאבקה מהולה במי ברז; בכמה תרד הנסועה כתוצאה מרובוטיקה ואלקטרוניקה שכבר מחליפים ועוד יחליפו בקצב עולם את העובד?
"חזון" כמעט בן 200 שנה
האם יש מי שישיב על אלו ועוד לפני שמשקיעים 150 מיליארד שקל ממשאבי הלאום, ברבע מאוכלוסיית המדינה (תחת לפזרו בגליל, בנגב ובירושלים?) ויוצרים מפלצת שלא יהיה בה שימוש יעיל? הרי ללא צל של ספק תהיה ירידה של עשרות אחוזים בנסועה!
האם די בכך מישהו במעמד רם בא עם "חזון" כמעט בן 200 שנה, על מנת שכולם יגררו אחריו, בלי לעצור ולחשוב האם יש פתרון אחר, זול, מהיר, מועיל יותר ובעיקר נכון יותר ציבורית וחברתית!
יאמר מי שיאמר, לא ניתן להשאיר על כנו את פקק הענק, לשנים רבות שנים ללא פתרון (כאילו המטרו ינער את ראשו מחר בבוקר). אז זהו, יש כזה!
בשנת 1863, שנת חנוכת המטרו הלונדוני, שלטו בארץ ישראל הטורקים, שייצרו מערך דרכים ורכבות חכם. מרכז הארץ, רמלה-לוד, היה מרכז השלטון ומרכז ההסעים. הם סברו שלא נכון לסלול לאורך קו החוף המתעקל, די בקו ישר בין שתי נקודות, מחיפה ללוד, לוד-ירושלים או באר שבע, לא עוברים ביפו; כלל פשוט שלא נשמר בדורנו.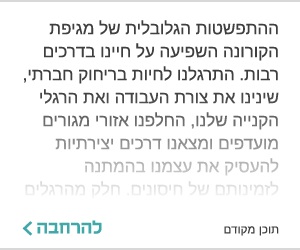 בדורנו עשו שני נתיבים לרכב באיילון, ואחר כך עוד אחד, ועכשיו עוד אחד, והאריכו אותו צפונה ודרומה; הוסיפו מסילת רכבת אחת, ועוד אחת, ועוד אחת ועכשיו עוד אחת, וכך כדי להגיע מחדרה לגדרה, מקרית שמונה לדימונה, חייבים לעבור באמצע אחד הפקקים הגדולים בתבל. האם הוספה של עוד תשתית כמו המטרו לסיר הגולש על גדותיו גם כך, תיעל את התנועה, אפילו במדינה שבה המנהלים הם בעלי מקצוע ולא עסקנים? האם לא עדיפה רכבת מהירה, העולה עשירית לאורך כביש 6?
העולם דוהר לאינטליגנציה מלאכותית שתחליף את האדם, זה כבר כאן, זו לא עתידנות!
The content of this article is intended to provide a general guide to the subject matter. Specialist advice should be sought about your specific circumstances.