A company releases emissions into the air or builds a factory that pollutes a nearby river. The company is prosecuted in the criminal courts. But the company cannot go to jail because it is a separate legal entity from the directors or managers who run it. The worst situation that a company will face is to pay a hefty fine, but no one goes to jail.
Sometimes, when people are very angry and there is public pressure, the media highlights the case and the company's directors are also prosecuted. They are charged in the criminal courts in their capacity as directors.
The directors are liable to be imprisoned. They can go to jail for wrongs committed by their companies. Now, when this happens, directors get worried.
However, the law provides directors with a way out. It is a "statutory defence", which means it is their right to raise this defence, and if they can prove the defence in court, they will be acquitted of the offence.
Under section 43 of the Environmental Quality Act 1974, where a company has committed an offence, any person at the time of the commission of the offence who was a director, CEO, manager, partner or similar type of officer, or purporting to act in such capacity, shall be deemed guilty of that offence unless he or she can prove:
a. that the offence was committed without his or her consent or connivance; and
b. that he or she exercised all such diligence to prevent the commission of the offence as he or she ought to have exercised, having regard to the nature of his or her functions in that capacity and to all the circumstances.
Note the word "diligence". The director must show that he or she has conducted all necessary diligence on the matter to be let off the crime. Malaysian law is replete with similar provisions, where the term "diligence" (and sometimes "due diligence") is used as a defence for directors.
Take, for example, the Immigration Act 1959/63 (section 55C(b): "due diligence"), Food Act 1983 (section 33A(b): "due diligence"), Occupational Safety and Health Act 1994 (section 55: "due diligence"), Anti-Trafficking in Persons and Anti-Smuggling of Migrants Act 2007 (section 64), Capital Markets and Services Act 2007 (section 367), Personal Data Protection Act 2010 (section 133(1)(b)(ii): "due diligence"), Anti-Money Laundering, Anti-Terrorism Financing and Proceeds of Unlawful Activities Act 2001 (section 87), and Malaysian Anti-Corruption Commission Act 2009 (section 17A(3): "due diligence").
Therefore, due diligence on the part of directors in legal matters is not new in Malaysia. In fact, under the Companies Act 2016 (CA), directors are obliged to exercise "diligence", among other duties, and failure to do so is an offence that could lead to imprisonment and a fine (see section 213).
Current laws on specific matters provide for due diligence as a defence and, further, as an affirmative "must-do" for all directors under the CA on all matters. Due diligence can be used as a shield by directors when faced with criminal cases, and as a sword by regulators and shareholders. Even if it is only a defence for directors, it means that they should do it because no director is immune from prosecution or can predict when he or she will be prosecuted.
The more likely problem in Malaysia is that few people discuss due diligence in this way because our law enforcement authorities have not regularly and consistently prosecuted directors personally. They have gone mainly after their companies only.
Since we do not have many such cases in the courts, there is little guidance on what due diligence entails. There is no climate of fear created for directors to act accordingly.
What is the point that I am making? Legislating for mandatory due diligence on human rights, labour, environmental, and governance matters should not be resisted, because it is the right thing to do. Our laws already expect the same, albeit in a limited form. It is not a big leap to take.
Those who oppose mandatory due diligence say it is too onerous a burden. But, then, what if their directors are today charged in court for offences committed by their companies? Would it be likely that they will fail to prove the "due diligence" defence in court?
Due diligence assumes that directors have taken the necessary precautions on the subject matters at hand with the company. I read our law today as requiring directors to act this way, but if there is uncertainty, we should legislate for it because it should no longer be left to the whims and fancies of companies to act on a "voluntary basis".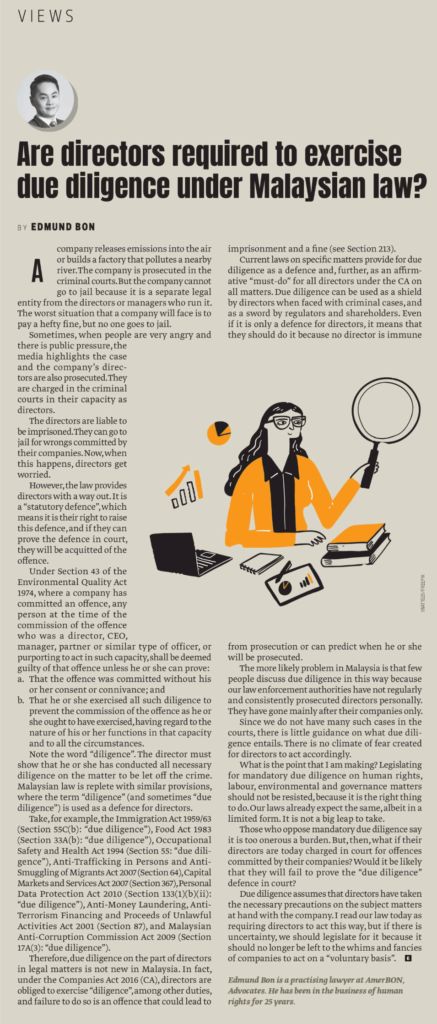 This article was published by The Edge Malaysia Weekly, archived here. Edmund Bon is a practising lawyer at AmerBON, Advocates. He has been in the business of human rights for 25 years.
The content of this article is intended to provide a general guide to the subject matter. Specialist advice should be sought about your specific circumstances.