Executive Summary
The EU has taken an important step toward integrating the payments market. Broadening its regulatory scope to include both traditional and emerging payment systems actors, the Revised Payment Services Directive (PSD2) creates a level playing field for all. This reflects recent developments in consumer spending trends, and provides affected stakeholders with a clear wakeup call. The payments market has shifted, consumers expect different services, and authorities are aligning their regulations accordingly. The text of the Directive creates both significant challenges and a wealth of opportunities—and it is not advisable to turn a blind eye to either. Understanding changes and reacting early will be key to yielding the best results.
Payment Services Directive
Implementing EU rules on payment services into everyday banking practice used to be a compliance exercise. With the revised Payment Services Directive it may become a unique business opportunity. Let us introduce you to the PSD 2.
The new EU directive on payment services shall be implemented into national laws as of 13 January 2018 and will entirely replace the previous payment services directive known as PSD.
The impetus behind PSD 2 was to improve the level of consumer protection in place, but mainly to increase competition and The impetus behind PSD 2 was to improve the level of consumer protection in place, but mainly to increase competition and facilitate innovation in financial services.
PSD 2 effectively opens the market for new entrants – third party providers (TPP) – by introducing two brand new services:
Payment initiation service – third party providers ('Payment Initiation Service Providers' - PISP) will enable clients to initiate payments from their payment accounts without actually accessing their bank's online channels, and
Account information aggregation service – third party providers ('Account Information Service Providers' - AISP) will provide customers with a consolidated information on their various payment accounts held with multiple banks.
Banks will be forced under PSD 2 to open access to their clients payment accounts data to third party providers via APIs (Application Programming Interface). This obligation exposes banks that will decide for pure compliance only to the potential risk of customer disintermediation. Banks keen to benefit from the new regulation and interested in rolling out new added value multi-banking services will have to consider taking on actively the AISP and/or PISP roles.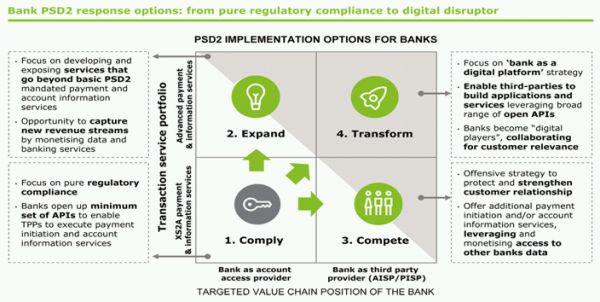 Payment Services PSD2 in practice
In terms of detailed parameters of PSD 2, the European Banking Authority shall draft the regulatory technical standards covering various technical issues, particularly the issue of strong customer authentication. These RTS should become effective 18 months from their adoption by the European Commission, however, the exact date of adoption (formerly scheduled for January 2017) is currently not certain due to delay in the process of finalization of the RTS.

Progress of implementation
Please refer to our 'PSD2 Challenges and Opportunities' guide for more information on the changes PSD 2 brings to both Banks and Payment Institutions.
PSD 2 Challenges and Opportunities Download PDF
With the introduction of 'Open Banking', traditional Banking models are challenged to their core under PSD 2. This is explored in more detail in our UK Member firm's report.
Open Banking And PSD2 Download PDF
The content of this article is intended to provide a general guide to the subject matter. Specialist advice should be sought about your specific circumstances.