Multinational companies' Chinese subsidiaries, known as foreign invested entities or "FIEs," have two basic options when hiring employees. They can either hire them directly ("Employment Model"), or they can "lease" them from temporary placement agencies ("Dispatched Model"). Traditionally the Dispatched Model is used by FIEs to lower labor employment risks. However, Chinese professionals are confused by this approach and often resent it because they view themselves as "employees" rather than "contract/leased workers". To resolve these issues, the Chinese government recently enacted amendments to the Labor Contract Law ("Amendments") to restrict companies from using the Dispatched Model to engage long-term and core personnel.
I. The Disappearing Dispatched Model
The Amendments limit the use of the Dispatched Model only to "temporary, auxiliary or alternative" job positions.1 The wording also eliminates a major advantage of the Dispatched Model: the freedom beyond the Chinese Labor Contract Law to "indirectly" terminate workers by returning them to the dispatching agencies (viz. FESCO, CIIC and China Star).
The table below lays out a comparison between (1) the previous Dispatched Model, (2) the new Dispatched Model after the Amendments and (3) the Employment Model.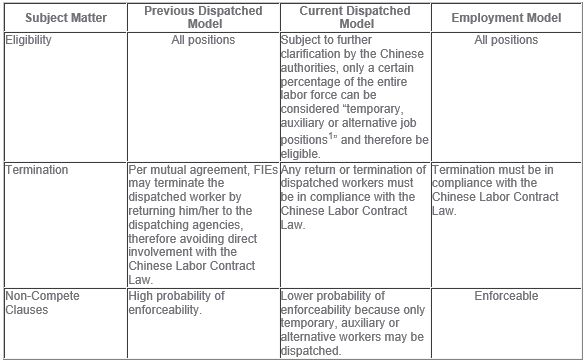 II. Transition Period and Recommendations
Understanding that it will take some time for the Amendments to completely play out, the Chinese labor authority allows the following transitional measures in terms of pre-existing dispatched workers:
Dispatching contracts executed prior to December 28, 2012 may continue in force until their expiration.
Dispatching contracts executed after December 28, 2012, must respect and be compliant with the Amendments.
The labor authority is expected to release further implementation details early next year. In the meantime, we recommend that FIEs review and revise their Chinese employee handbook and HR policies, as well as their agreements with dispatching agencies, to stay in compliance with the Amendments.
Footnote
1 According to the Amendment, "temporary, auxiliary or alternative" means:
"Temporary" means less than six months;
"Auxiliary" means non-core business operations;
"Alternative means "filling in" when the permanent employee is unable to attend due to her/his vacation, leave or study.
The content of this article is intended to provide a general guide to the subject matter. Specialist advice should be sought about your specific circumstances.