The World Intellectual Property Organization recently published their World Intellectual Property Indicators for 2017, documenting many developments that shaped the global intellectual property system in 2016. One of the interesting reports was the statistics for patent application filings. More than three million patent applications were filed worldwide in 2016, up 8.3% from 2015. While the top 10 patent offices in 2016 were nearly the same as 2015, China received more applications (1.3 million) than the combined total for the European Patent Office, Japan, Korea and the United States Patent and Trademark Office.
Of the top 20 patent offices, eight received more applications in 2016 than in 2015, while 12 received fewer. Of those 12 patent offices that received fewer, the Russian Federation, Brazil, Indonesia and Canada reported the most significant drops. The main reason for the decrease for the Russian Federation was a reduction in resident applications, while Canada and Brazil saw a decline in non-resident applications.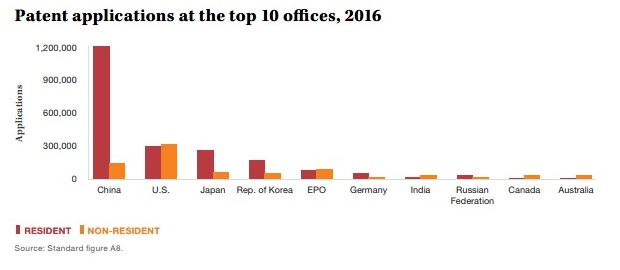 The content of this article is intended to provide a general guide to the subject matter. Specialist advice should be sought about your specific circumstances.