Introduction
Canada offers many benefits to organizations seeking to incorporate, including a stable government, strong infrastructure and a highly-educated workforce. While the advantages of doing business in Canada are widespread, organizations should be careful when choosing where to incorporate. Although legal systems are similar across the country, there are some variations between the 10 provinces.
Canada's Provinces
The largest provinces in Canada are Ontario, Quebec, British Columbia and Alberta. Most English-speaking international businesses select Ontario, British Columbia or Quebec to incorporate in. This guide will focus on Ontario and British Columbia's corporate systems.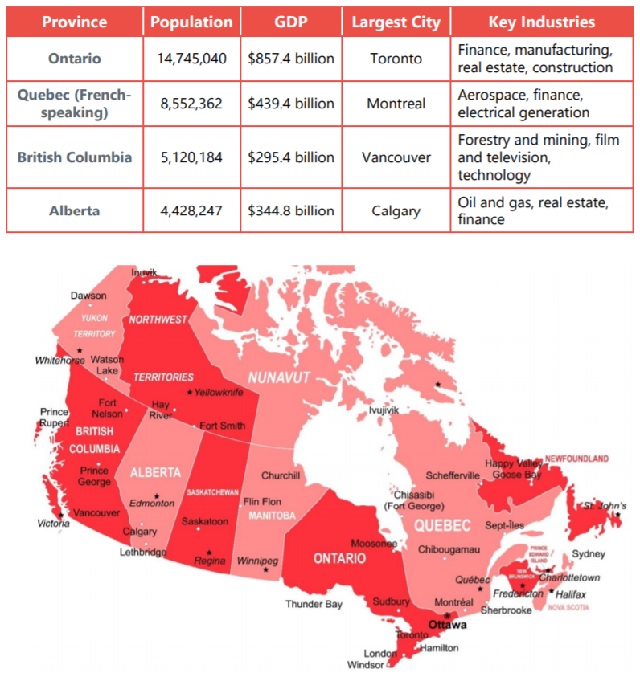 Legal System
The Constitution of Canada divides powers between the federal government and the 10 provincial governments. Some industries are regulated by the federal government, while others are regulated by the provincial governments. For organizations operating in provinciallyregulated industries, it is important to choose the right province to incorporate in.
Most of Canada, including the federal level, uses a common law legal system similar to the United Kingdom or United States. Quebec is the only jurisdiction that uses a civil code, similar to those used in most of continental Europe.

Canadian Corporate Requirements
The most important consideration for international organizations incorporating in Canada is the director residency requirement. The chart below outlines these requirements for some of the most common places of incorporation.

For U.S.-based companies seeking to incorporate in Canada, another important issue to consider is whether to form a ULC (unlimited liability company) or a traditional Canadian corporation. There is no difference between these two types of entities from a Canadian tax perspective, though depending on the facts and circumstances of the company, there may be a U.S. tax benefit. Most provinces do not allow for the formation of ULCs. However, British Columbia and Nova Scotia (neither of which has a director residency requirement) allow for the formation of ULCs
For these two reasons, most of our international clients form their Canadian company in British Columbia, despite the fact that they intend to carry on business in Ontario.
To read the full article click here
Originally published 20 August, 2020
The content of this article is intended to provide a general guide to the subject matter. Specialist advice should be sought about your specific circumstances.