Nos últimos dias foram publicadas as Portarias Conjuntas PGFN/RFB nº 07, 08 e 09, de 2013, que regulamentam:

(i) a reabertura do prazo de adesão ao "REFIS da Crise";
(ii) a adesão à anistia de multa e juros de débitos de PIS e COFINS relativos à Lei nº 9.718/98 para as instituições financeiras e seguradoras;
(iii) a adesão à anistia de multa e juros de débitos de PIS e COFINS para empresas que discutem judicialmente a exclusão do ICMS da base de cálculo do PIS e da COFINS; e
(iv) a adesão à anistia de multa e juros de débitos de IRPJ e CSL decorrentes da aplicação do artigo 74 da Medida Provisória 2.158-35/2001 (tributação, no Brasil, dos lucros auferidos por coligadas e controladas no exterior), respectivamente.

O  prazo para adesão ao "REFIS da Crise" passou a ser 31.12.2013, conforme determinado pela Lei 12.865/2013. Contudo, para a adesão aos demais programas de anistia o prazo passa a ser o último dia útil de novembro.

De acordo com as novas regras, a partir de 21.10.2013, o sistema eletrônico da Procuradoria-Geral da Fazenda Nacional ("PGFN") e da Receita Federal do Brasil ("RFB") receberá as adesões dos contribuintes. A adesão aos parcelamentos ou ao pagamento à vista com utilização de prejuízos fiscais e de bases de cálculo negativas (para aqueles programas que permitem a sua utilização) será feita exclusivamente pela internet.
Seguem abaixo as tabelas com os descontos relativos a cada programa: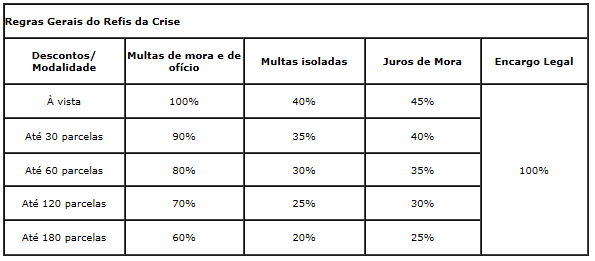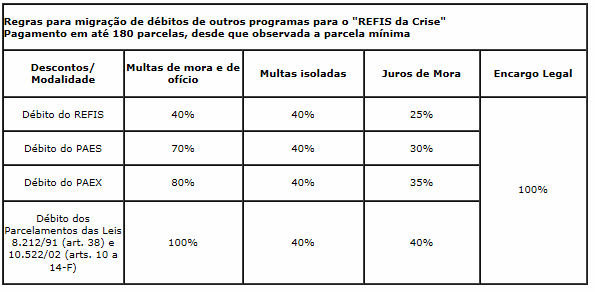 Quanto aos débitos das instituições financeiras e aqueles relativos aos lucros no exterior e à exclusão do ICMS das bases de cálculo do PIS e da COFINS, as referidas Portarias fixaram o dia 29.11.2013 para que os contribuintes procedam à confissão dos débitos de tais naturezas que ainda não tenham sido constituídos através da apresentação de DCTF. No mesmo prazo, deverão ser apresentadas as desistências de eventuais processos administrativos e judiciais que tratem da matéria.
Tendo em vista que as regras dos programas são bastante específicas, é necessária uma análise detalhada de cada caso antes da adesão, sempre observando os prazos de (i) 31 de dezembro de 2013 para o "REFIS da Crise" e (ii) 29 de novembro de 2013 para os demais programas e que essa adesão implica confissão irrevogável e irretratável da respectiva dívida.
The content of this article is intended to provide a general guide to the subject matter. Specialist advice should be sought about your specific circumstances.