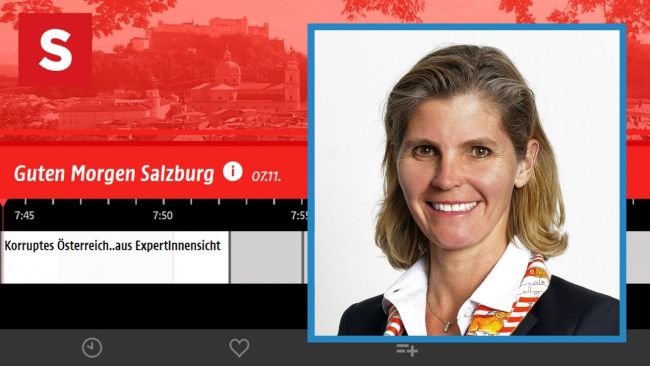 Am Montag, den 7.11.2022, gab KNOETZL Partnerin Bettina Knötzl, in ihrer Funktion als Präsidentin von Transparency International Chapter Austria interviewed, in Guten Morgen Salzburg" Einblick zur aktuellen Situation und dem durchaus beachtlichen Aufholbedarf von Österreich auf dem Gebiet der Korruptionsbekämpfung.
Bis 14.11.2022 können Sie das Interview hier nachhören: Korruptes Österreich..aus ExpertInnensicht | Guten Morgen Salzburg, 07.11. | Radio Salzburg | ORF-Radiothek
Transkript:
Wolfgang Zanon: Schönen Guten Morgen. Hat Österreich ein Korruptionsproblem? Vielleicht! Österreich liegt eigentlich nach dem Korruptionswahrnehmungsindex – schwieriges Wort, sowas gibt es – auf Platz 13.
Schneider: In den vergangenen Jahren ist es eigentlich nur noch bergab gegangen. Auch für die Zukunft zeigt der Trend nach unten. Das Vertrauen in die Politik ist quasi im Keller. Bettina Knötzl arbeitet für Transparency International und erläutert die Situation von Österreich.
Bettina Knötzl: Österreich hat definitiv ein Korruptionsproblem. Wir haben erkannt, dass es Lücken, beispielsweise im Korruptions-Strafrecht, gibt. Dort ist derzeit die Bestechung eines künftigen Amtsträgers noch nicht strafbar. Wir haben erkannt, dass es Probleme mit der Transparenz in Österreich gibt. Es liegt seit langem ein Informationsfreiheitsgesetz in der Schublade. Also, Österreich hat hier definitiv Aufholbedarf.
Claudia Schneider: Ja, dennoch schneiden wir jetzt im Vergleich mit dem Rest der Welt ja gar nicht so schlecht ab. Das sollte jetzt aber auch nicht über unsere Schwächen hinwegtäuschen, betont Knötzl.
Bettina Knötzl: Ja, wir können alle frei wählen. Wir müssen nicht fürchten, wenn wir zur Wahlurne gehen, dass uns jemand über die Schulter schaut und nachher dann am Gulag schickt. Richtig, aber was jetzt sozusagen das Führen der Amtsgeschäfte, Freunderlwirtschaft, Weitervermittlung von Posten für meine Freunde etc. anbelangt. Da gibt es in Österreich wirklich noch viel zu tun.
Claudia Schneider: Für die Zukunft sei jeder Einzelne gefordert. Angesetzt müsse auch schon im Jugendalter werden?
Bettina Knötzl: Wir brauchen beispielsweise in den Schulen Ethik Unterricht, das gehört viel stärker noch in die Gesellschaft hinein transportiert, wenn wir unsere Jugend jetzt richtig trainieren, was das gewünschte Verhalten ist, werden wir es künftig weniger sehen.
Claudia Schneider: Die Korruptionsvorwürfe rund um die österreichische Politik rücken wir heute ins Zentrum Radio Salzburg Mittagszeit. Aktuell geht es auch um die Causa Thomas Schmidt. Bundespräsident Alexander Van der Bellen hat einst gesagt: So sind wir nicht!". Aber sind wir wirklich nicht so? Wie steht`s um unser Korruptionsproblem? Was machen diese Vorwürfe mit unserem Land? Die Skandale und ihre Folgen – Gerne mitreden!
The content of this article is intended to provide a general guide to the subject matter. Specialist advice should be sought about your specific circumstances.