The NSW Minister for Energy has declared a Renewable Energy Zone (REZ) in the Illawarra region. Following a draft exhibition of the declaration in late 2022, this marks the first key step in establishing the Illawarra REZ under the Electricity Infrastructure Investment Act 2020.
Snapshot
The Illawarra region is the final to be declared as a REZ in NSW, with Central-West Orana, New England, Hunter, and South West REZs having already been formally declared.
Energy Corporation of NSW (EnergyCo) has been appointed as the infrastructure planner to lead the Illawarra REZ.
Consultation will continue between EnergyCo and local community, industry, local government and other stakeholders on the design and delivery of the Illawarra REZ.
Location of the Illawarra REZ
In late 2022, the NSW Government exhibited a draft declaration of the Illawarra REZ inviting feedback on the intended network capacity, the geographical location, and the type of infrastructure that will make up the REZ.
The formal declaration announced yesterday contains a revised map of the Illawarra REZ following an assessment of feedback during the draft declaration process.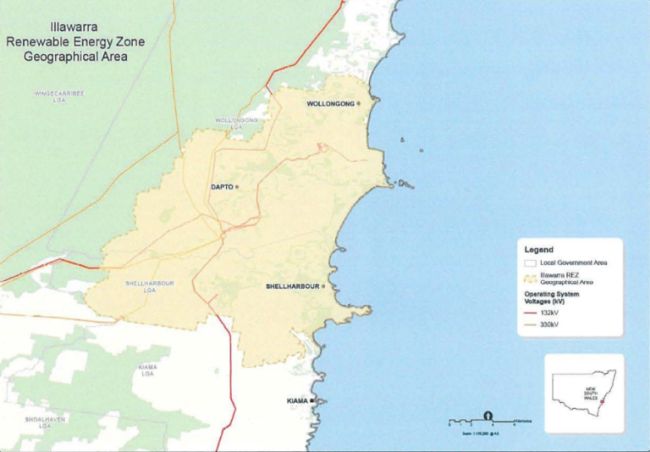 Source: NSW Government, Renewable Energy Zone (Illawarra) Order 2023
The eastern boundary of the Illawarra REZ extends to the coast, making it possible to align the NSW REZ with a potential future offshore renewable zone within Commonwealth waters. The Commonwealth placed an offshore renewables zone on exhibition off the Hunter coast on 23 February 2023 (see our post here). The Illawarra has been suggested by the Commonwealth Energy Minister as another offshore zone although nothing has been formally exhibited at this stage.
Other REZs in NSW
Four other REZs have been declared throughout NSW in the following regions:
Central-West Orana
New England;
Hunter-Central Coast; and
South-West NSW.
The Central-West Orana REZ is the most progressed to date, with EnergyCo progressing the delivery of network infrastructure.
Further information
The formal declaration and indicative map of the Illawarra REZ can be seen here.
An interactive map of all REZs declared throughout NSW can also be accessed here.
The content of this article is intended to provide a general guide to the subject matter. Specialist advice should be sought about your specific circumstances.