Kelowna (November 16, 2021) Crowe MacKay's Kelowna office utilized the firm's new Employee Volunteer Program (EVP), organizing 34 team members to volunteer for the day at Helen Acres. With the heart of our business being to give back to the communities we live and serve, we are proud to see such a big turn out for the day helping to ensure those less fortunate have healthy and nutritious food to eat.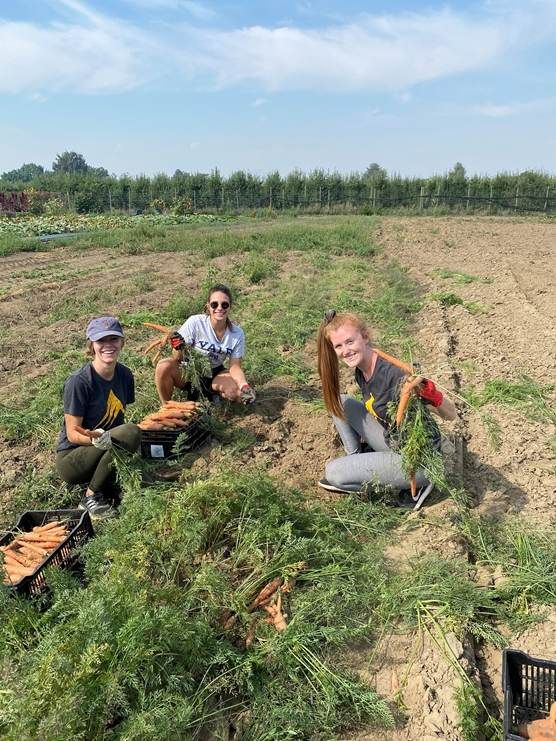 The Crowe MacKay team spent the day at Helen Acres weeding and harvesting the crops while connecting with each other in the sunshine at the Okanagan farm. Rebecca Randall, Senior Manager, and event organizer, saw the program as a way for her colleagues to "lean into their strengths and give back in areas that matter to them." She is passionate about the organization and its mission, and was excited to give back to her community in a way she felt was important while also educating her colleagues on an organization she says many were unaware of.
Amanda Watland, Communications Coordinator at Helen Acres, shares that the organization harvests and donates close to 500,000 lbs of fresh produce to low-income individuals and families every year, requiring approximately 150 to 200 volunteers. With few paid positions, volunteers contribute to most every aspect of the farm's operations. Amanda shares that without the support of volunteers, such as the team members of Crowe MacKay, the organization would not be operational.
Having the opportunity to give back to local organizations such as Helen Acres is one of the ways Crowe MacKay supports staff in their personal journey to success and happiness. For Rebecca, supporting staff financially and through other means to make a difference offers a sense of feeling valued  and like their contributions in the community are important to the firm. Crowe MacKay is dedicated to the growth of their team members beyond the office, supporting the belief that employees don't just work for the firm, but are centric to providing lasting value to clients, colleagues, and the community.
Our culture at Crowe MacKay is more family-oriented than many other public accounting firms.
Serving the Okanagan for nearly six years, Helen's Acres serves over 8,000 individuals annually, increasing the health and well-being of local residents in need.
Crowe MacKay's Employee Volunteer Program
Crowe MacKay rolled the EVP in the summer of 2021, supporting the firm's core values We Care. We Share. We Invest. We Grow.  and their commitment to Corporate Social Responsibility in the communities they serve. Each employee receives eight paid hours to volunteer at an organization of their choice; encouraging them to stay connected to causes that resonate with their personal values.