İş dünyasının teknolojiye olan paralelliği iletişim kanallarının ve belgelerin ağırlıklı olarak dijital ortamlara taşınmasıyla sonuçlandı. Zamanla artan veri boyutuna ve veri iletişim kanallarına bağlı olarak paralel uzmanlık alanları doğdu ve doğmaya devam ediyor.
Rekabet Kurumu'nun diğer düzenleyici kurumlardan farklı olarak, zaman zaman tartışmaya konu olan geniş bir yerinde inceleme yetkisi bulunuyor. Bu yetkiye dayanarak, incelemeye konu firmalara gelerek dijital ve yazılı/basılı neredeyse tüm bilgileri inceleyebilmekteler.
Daha önceleri sosyal bilimler geçmişi olan rekabet uzmanları tarafından yapılan bu incelemeler, teknolojideki gelişmelere paralel olarak bilişim uzmanlarıyla desteklenmeye başlandı. Bu noktada özellikle global firmaların çok dikkat etmeleri gereken bir durum ortaya çıkıyor.
Bu tür firmalarda alınan BT hizmetinin yönetimi, firmanın yurtdışında bulunan bir ekibi tarafından veya yurtdışında bulunan bir üçüncü parti tarafından yürütülebiliyor ve yönetici hakları gibi kritik haklar Türkiye'deki personele tanımlanmıyor. Bu tarz yetkileri gerektiren işlemler için yurtdışıyla iletişim kurulması gerekiyor; dolayısıyla işlemleri gerçekleştirebilmek zaman alabiliyor.
Peki bunun Rekabet Kurumuyla bağlantısı ne? Rekabet Kurumu, sadece rekabete aykırı durumlar için değil yaptığı incelemenin engellenmesi durumunda da firmalara ceza kesebiliyor. En son örneklerinden birisi olarak Unilever için verilen kararı görüyoruz.
Öncelikle olayı biraz inceleyelim. Rekabet Kurumu belirli iddialar ışığında inceleme gerçekleştirmek için kendi bilişim uzmanları eşliğinde 18.06.2019 tarihinde saat 10.10'da firmanın Genel Müdürlük binasına gidiyor ve yapılacak incelemeyle ilgili olarak firma personeline bilgi veriyor. İncelenecek ortamlar belirlenirken yapılacak inceleme kapsamında Office 365 yazılımında tutulan e-postalar olduğu açığa çıkıyor. Firma personeli ilgili modülün (Security & Compliance altında yer alan eDiscovery modülü) kullanılabilmesi için global ekipten yetki alınması gerektiğini belirtiyor. Ayrıca bu yetkinin Türkiye Unilever kullanıcıları için sınırlı olmayacağı ve bu kullanıcıları ayrıştırmak için birkaç güne ihtiyaç duyulabileceği belirtiliyor.
Her ne kadar aynı gün firma tarafından 17.45'te Rekabet Kurumu personeline gerekli işlemlerin yapıldığı ve aramanın gerçekleştirilebileceği belirtilse de Rekabet Kurumu bu durumun incelemeyi engellediği kanaatına varıyor. Sonuç olarak firmaya Kanun'un "İdari Para Cezası" başlıklı 16. maddesinin birinci fıkrasının (d) bendi ("Yerinde incelemenin engellenmesi ya da zorlaştırılması") uyarınca 2018 yılı gayri safi gelirlerinin binde beşi oranında idari para cezası uyguluyor.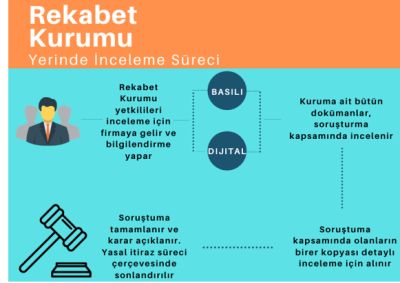 Olaydan da anlaşılacağı üzere, henüz inceleme aşamasına gelmemiş bir soruşturma sürecinde, BT sistemlerinde atılan adımların Rekabet Kurumu tarafından değerlendirilmesi sonucunda yüklü bir idari yaptırımla yüz yüze kalınması söz konusu. Bu doğrultuda, özellikle global firmaların iş süreçlerini ve bu süreçlere hizmet eden BT altyapılarını yerel yasa ve mevzuatları göz önünde bulundurarak tasarlaması/gözden geçirmesi kritik önem taşıyor.
Konuyu Kanunun özelinde ele alırsak, firmaların Rekabet Kurumu tarafından yapılacak olası bir inceleme için strateji belirlemesi gerekiyor. Stratejinin belirlenmesi sürecinde, artık sürecin ayrılmaz bir parçası olan BT konusunun da altı çizili bir şekilde yer alması söz konusu. Kanunun uygulama alanının genişliği göz önünde bulundurulduğunda, iyileştirilmesi gereken kritik konuların belirlenmesi, firma personelinin konuyla ilgili farkındalığının artırılması ve alınacak potansiyel bir cezanın sadece inceleme sonucuyla sınırlandırılması için konusunda uzman bir firmayla iş birliğine gidilmesi de yapıcı bir adım olarak atılacak adımlar arasında yer almaktadır.
The content of this article is intended to provide a general guide to the subject matter. Specialist advice should be sought about your specific circumstances.