Alman Ekonomi ve Enerji Bakanlığı'nın (The German Federal Ministry for Economic Affairs and Energy – BMWi) Alman Rekabet Yasası'nda (German Competition Act – Gesetz gegen Wettbewerbsbeschränkungen (GWB)) önemli değişiklikler öngören 10. Yasa değişikliği taslağı (ARC – Digitalization Act), 7 Ekim 2019'da yayımlandığından itibaren rekabet hukuku çevrelerinin gündemini meşgul ediyor. Dijitalleşen ekonominin rekabet hukuku penceresinden ele alınmasında öncü karar ve çalışmaları ile dikkat çeken Almanya, platform pazarları ile ortaya çıkan yeni iş modellerinin, yaratıcı dijital ürün ve hizmetlerin rekabet hukukunda da değişiklikler gerektirebileceğini ortaya koyan ilk ülkelerden...
Özellikle Alman Rekabet Otoritesi'nin ("Bundeskartellamt"), Şubat 2019'da açıkladığı Facebook Kararı, Almanya'nın dijital platformlar, bu platformların faaliyet gösterdikleri pazarların nasıl tanımlanacağı, yeni ekonominin getirdiği iş modelleri, bu iş modelleri açısından verinin önemi gibi konuların düzenlenmesinde öncü olacağının işaret fişeğii niteliğindeydi.
Gelin 2020'nin ilk yarısında Parlamento'dan geçerek yasalaşması beklenen değişiklik taslağının dikkat çeken unsurlarına bir göz atalım...
Hâkim Durumun Kötüye Kullanılması Dijitalleşiyor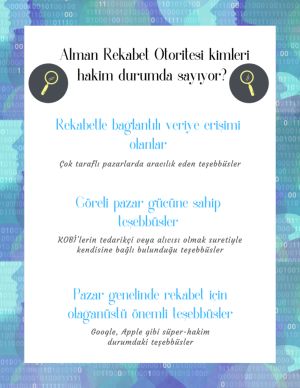 Taslakta öncelikle dikkati çeken düzenlemeler hâkim durum ve kötüye kullanma konularına ilişkin. Bu bağlamda, platform ve dijital ekonomilerinin getirdiği zorluklarla başa çıkabilmek amacıyla bu düzenlemelerin çok geniş bir kapsamda ele alındığı ve birçok yeni dijital kıstasın ortaya konduğu görülüyor. Yayınlanan taslağa göre:
Hâkim durumu belirleyen kriterlerden biri "rekabetle bağlantılı veriye erişim" imkanı olarak kabul ediliyor. Ayrıca, çok taraflı pazarlarda işlem tarafları arasında aracılık eden ve veriye erişim gücüne dayanarak diğer teşebbüslerin tedarik ve satış pazarlarına erişimini etkileyebilen şirketlerin de denetime tabi tutulabilmeleri için pazar paylarından bağımsız bir "aracı güç" konsepti getiriliyor.
Hâkim durumdaki teşebbüslerin, zorunlu unsurları paylaşıma açmalarını sağlayan mal vermenin reddi yasağının kapsamına veri erişimi de ekleniyor. Bu vesileyle, veri setine bağlı ekonomik aktiviteleri olan teşebbüsler gerekli veriye ulaşabilmek bakımından ilk defa hukuki bir talep imkânına sahip oluyorlar ve ayrıca Avrupa Birliği içtihatlarıyla geliştirilen 'zorunlu unsur doktrini'nin kapsamı da açıkça genişletilmiş oluyor.
Alman Rekabet hukukunda yalnızca hâkim durumdaki teşebbüsler değil; 'göreli pazar gücü'ne (relative market power) sahip yani KOBİ'lerin tedarikçi veya alıcısı olmak suretiyle kendisine bağlı bulunduğu teşebbüsler de hakim durum kurallarına tabi tutuluyor. Yasa taslağı ile göreli hâkim durum tespit için gereken KOBİ'nin varlığı ön koşulu kaldırılarak sadece KOBİ'leri pazar gücüne sahip dijital gruplardan korumanın yeterli olmadığı, dolayısıyla büyüklüğünden bağımsız olarak her teşebbüsün veriye ulaşımının zorunlu olabileceği kabul edilmiş oluyor.
Alman otoritelerinin özellikle ve doğrudan Google, Apple, Amazon gibi süper-hâkim durumdaki teşebbüsleri hedef alan bir düzenlemesi de pazar gücünün yeni bir göstergesi olarak ortaya koyduğu 'pazarlar genelinde rekabet için olağanüstü önemli' olma esası. Buna göre, tek bir pazarda hâkim duruma ve/veya göreli pazar gücüne sahip olmayıp ve fakat ağ etkileri, veri erişimi, kaynakları sayesinde diğer pazarlardaki teşebbüslerin faaliyetlerini de etkileyebilecek olan teşebbüsler de rekabet otoritesinin yetki sahasına dahil ediliyor. Söz konusu kritere uyan teşebbüsler, Bundeskartellamt tarafından sundukları hizmetlere ilişkin tercihlerinin kısıtlanmasına maruz kalabilecek ve örneğin, hâkim durumda olmasalar da aracı şirketlerin toplanan veriler yoluyla pazara giriş engeli veya hakim durum yaratmalarının önüne geçilmesi sağlanmış olacak.
Birleşme ve Devralma Kuralları Küçük İşletmelere Nefes Aldırıyor
Bakanlık ilk defa 9. Yasa değişikliğinde platformları karakterize eden veri erişimi, ağ etkileri gibi özelliklerini yasaya entegre etmiş ve özellikle Facebook/Whatsapp devralmasını yakalamak için ilk kez 'işlem tutarını esas alan' bir birleşme ve devralma eşiğini (400 milyon Euro) getirmişti. Yeni değişiklik taslağındaki düzenlemeler, ikinci teşebbüsün yerel cirosu bakımından öngörülen 5 milyon Euro sınırını 10 milyon Euro'ya çekerek rekabet otoritesinin odağını küçük ve orta ölçekli işletme işlemlerinden daha karmaşık birleşme işlemlerine doğru kaydırıyor.
Ayrıca, birleşme ve devralmalar hakkında bildirim üzerine yapılacak incelemenin süresi de 4 aydan 5 –gerekli hallerde 6- aya çıkarılarak incelemelerin detaylandırılabilmesine imkân tanındığı görülüyor. 
Buna karşılık start-up şirketleri ile yüksek büyüme gösteren şirketlerin gerçekleştirdiği sistematik devralmalar (killer acquisitions) bakımından 10. Yasa değişikliği taslağında herhangi bir düzenleme yer almıyor.
Kartel Üyeleri de Yasa Koyucunun Gözünden Kaçamıyor
Kartel üyesi bir teşebbüs ile gerçekleştirilen bir işlemin tarafı olan tedarikçi ve doğrudan alıcılar bakımından aksi kanıtlanabilir bir karine kabul edilerek rekabet ihlali mağdurlarının kartelin etkisine maruz kaldıklarını kanıtlamaları bakımından kolaylık sağlanıyor. Karinenin kapsamı ise sadece tedarikçiler ve doğrudan alıcılar ile sınırlı kalmayıp, zararın kendilerine yansıdığını iddia ve ispat eden dolaylı alıcıları da içine alıyor.
Öte yandan, kartel üyelerinin dâhil olduğu işlemlerin tarafı olmayan teşebbüslerin, bu işlemlerden zarar gördüklerini iddia etmeleri (şemsiye etkisi) halinde bu karinenin işletilmeyeceği taslağın açık lafzından anlaşılıyor.
Böylelikle, iddialarını kanıtlamaları kolaylaştırılan rekabet ihlali mağdurlarının, özel hukuk kapsamında tazminat davası açma motivasyonlarının artacağına; bunun da piyasa aktörleri için ödemek zorunda kalacakları yüksek tazminatlar düşünülerek önemli bir caydırıcılık teşkil edeceğine yönelik görüşler ileri sürmek mümkün.
Usul Kuralları Geniş Yetkilere Eşlik Ediyor
Hızla değişen dijital pazarda mevcut tehlikelere müdahale edebilmek için rekabet otoritelerinin de hızlı inceleme, karar alma ve uygulama imkânlarına sahip olmaları gerektiği tartışmasız bir gerçek. Buna paralel olarak dijital piyasalardaki aktörlerin de her geçen gün hem konu hem de kişi bakımından daha geniş çerçevelerde ve giderek kuvvetlenen etki ve sonuçlar doğurmaya başladıkları da su götürmez. Tüm bu farklı düzlemlerde rekabetin etkin bir şekilde korunabilmesini sağlamak adına Alman Yasa taslağı da Bundeskartellamt'a geçici önlemler almasını sağlayacak enstrümanlar sunuyor.
Bunlardan  dikkat çeken bir tanesi telafi edilemez bir zararın ortaya çıktığını ispat etmelerine gerek kalmaksızın teşebbüslerin, ihlalin gerçekleştiğine dair 'kuvvetli olasılığın' mevcudiyetini kanıtlamak suretiyle Bundeskartellamt'ın ihtiyati tedbir almak için harekete geçmesini sağlayabilecek olmalarıdır.
Sonuç
Özetle, Alman otoritesi iddialı bir yasa değişikliği sürecine girmiş bulunuyor. Prosedürler, içerik ve yetki bakımından getirilen birçok kurala rağmen yine de en dikkat çeken değişiklikler hâkim durum ve kötüye kullanmanın esaslarına yönelik getirilen kapsamlı değişiklikler.
Öngörülen kuralların platform ekonomileri ve dijital ekonominin belirleyici unsurlarını ele alarak düzenlemesi ve rekabetin kısıtlanması için en elverişli unsurlardan biri olan veri erişiminin bu düzenlemelerin birçoğunun belkemiğini oluşturması, Bundeskartellamt'ın başkanı Andreas Mundt'un da yakın zamanda bir röportajında belirttiği üzere yasalaşması beklenen taslağın temel hedefinin "veri hazinelerine odaklanmak" olduğuna dair önemli bir işaret teşkil ediyor1.
İlgili taslağın İngilizce metnine buradan ulaşabilirsiniz.

Footnotes
1. https://www.bundeskartellamt.de/SharedDocs/Publikation/DE/Interviews/2019/190916_FAZ.pdf?__blob=publicationFile&v=2
The content of this article is intended to provide a general guide to the subject matter. Specialist advice should be sought about your specific circumstances.