On April 23, 2019, Malawi became the first of the three countries in Africa to roll out landmark Malaria vaccine through a pilot program1. The vaccine, known as RTS,S will be made available to children up to 2 years of age; Ghana and Kenya will introduce the vaccine in the coming weeks.
The pilot program is designed to generate evidence and experience to inform WHO policy recommendations on the broader use of the RTS,S malaria vaccine. It will look at reductions in child deaths; vaccine uptake, including whether parents bring their children on time for the four required doses; and vaccine safety in the context of routine use.
Malaria remains one of the world's leading killers, claiming the life of one child every two minutes. Most of these deaths are in Africa, where more than 250 000 children die from the disease every year. Children under 5 are at greatest risk from its life-threatening complications. Worldwide, malaria kills 435 000 people a year, most of them children.
About RTS,S Vaccine
RTS,S acts against Plasmodium falciparum, the most deadly malaria parasite globally and the most prevalent in Africa. The vaccine provides partial protection against malaria among young African children, the population most affected by the disease. Rigorous clinical testing in seven African countries has shown its potential to boost malaria prevention and save lives.
RTS,S was developed over three decades by GSK, including through a collaboration, begun in 2001, with PATH's Malaria Vaccine Initiative (PATH/MVI) and a network of African research centres2: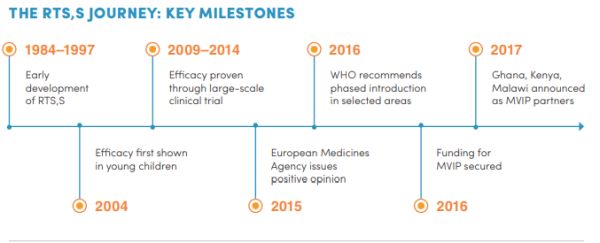 About MVIP
The Malaria Vaccine Implementation Programme (MVIP) was established by WHO to coordinate and support the introduction of the vaccine in selected areas of Africa through country-led routine immunization. The Programme will evaluate the vaccine's public health impact in the context of routine use and inform policy about its potential deployment on a broader scale. Financing for the MVIP has been mobilized through an unprecedented collaboration between three major global health funding bodies - Gavi, the Vaccine Alliance, the Global Fund to Fight AIDS, Tuberculosis and Malaria, and Unitaid. WHO and GSK are providing additional in-kind contributions, and PATH's activities are also supported by the Bill & Melinda Gates Foundation.
Conclusion
The WHO-coordinated pilot programme is a collaborative effort with Ministries of Health in Ghana, Kenya and Malawi and a range of in-country and international partners, including PATH, a non-profit organization, and GSK, the vaccine developer and manufacturer, which is donating up to 10 million vaccine doses for this pilot.
The malaria vaccine pilot aims to reach about 360,000 children per year across the three countries. Ministries of Health will determine where the vaccine will be given; they will focus on areas with moderate-to-high malaria transmission, where the vaccine can have the greatest impact.
Footnotes
1. https://www.who.int/news-room/detail/23-04-2019-malaria-vaccine-pilot-launched-in-malawi
2. https://apps.who.int/iris/bitstream/handle/10665/272456/WHO-CDS-GMP-2018.05-eng.pdf
The content of this article is intended to provide a general guide to the subject matter. Specialist advice should be sought about your specific circumstances.