With COVID-19 cases surging and the changing tides in Washington, D.C., employers have a lot on their minds going into 2021. Littler's latest survey of nearly 1,100 in-house counsel, HR professionals and C-suite executives finds employers focused on the implications of the extended remote work environment and the workplace policy changes ahead under a new presidential administration.
The vast majority of executives surveyed report concern about their employees' mental health and well-being as the pandemic wears on. At the same time, employers are increasingly worried about how the shift to remote work has impacted company culture, collaboration and employee loyalty. The survey also offers a view into what employment law-related changes companies expect from the incoming Biden administration, including increased enforcement of COVID-19 safety rules, policies that would support working parents and measures to address income inequality.
View Littler's Employer Pulse Survey Report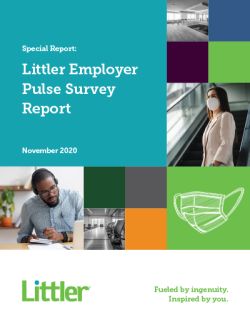 The content of this article is intended to provide a general guide to the subject matter. Specialist advice should be sought about your specific circumstances.