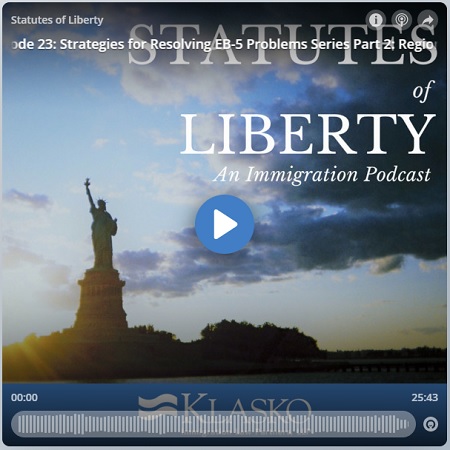 The second in a three-part series about problems in the EB-5 immigrant investor program and how we assist our clients in resolving the problems, this episode covers issues relating to regional centers. When the USCIS attempts to terminate a regional center, there are methods to defend against those actions. The Klasko EB-5 team is adept at successfully resolving complicated issues the regional center might encounter if the USCIS gives notice of intent to terminate. The firm has been able to preserve the immigration interests for many investors when this scenario occurs.
Klasko EB-5 immigration attorneys Ronald Klasko, Daniel Lundy, and Jessica DeNisi discuss the overview of issues concerning regional center terminations:
What actions or inactions of the regional center are likely to result in a notice of intent to terminate?
What are the procedures in rebutting a of notice of intent to terminate?
What are some of the legal issues?
What are some of our successful methods that we have used to defend these cases?
What are the impacts on investors in the event of a regional center termination?
Speakers in this episode are:
The content of this article is intended to provide a general guide to the subject matter. Specialist advice should be sought about your specific circumstances.