12 August 2020 – Welcome to Asset Yield, the podcast series of Kinstellar C/SEE Asset Solutions, where we interview principal investors, originators, advisors, and funders in the world of non-performing and non-core assets of all classes, bringing you front line market insights.
In today's episode Denise Hamer, Head of Kinstellar C/SEE Asset Solutions, speaks with Michaela Lashova, MRICS, MBA, Managing Partner, Forton, Bulgaria, Alliance Partner of Cushman & Wakefield for Bulgaria.
Michaela Lashova is CEO and Managing Partner of Forton, Alliance Partner of Cushman & Wakefield for Bulgaria. Michaela joined Forton as Head of the Investment Consultancy & Valuation department after a five-year career at UniCredit Leasing, where she headed the large corporate clients and real estate department. At Forton, she has attracted key international investors and developers and initiated Forton's cooperation with the banking sector. Michaela is a member of the Royal Institution of Chartered Surveyors, RICS Registered Valuer and RICS Ambassador for SEE and holds a Master's Degree in Financial Management from the City University - Washington and Bachelor's Degree in Finance from the University of Illinois in Chicago.
Click here to listen.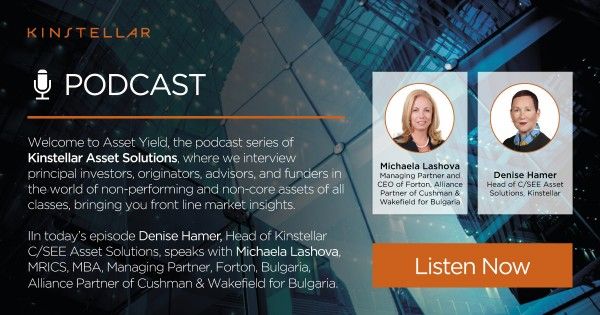 For more information please contact Denise Hamer, at denise.hamer@kinstellar.com.
The content of this article is intended to provide a general guide to the subject matter. Specialist advice should be sought about your specific circumstances.