CGLytics uses its Executive Pay and Pay for Performance Modelling Tools to look at the recent merger with 21st Century Fox, the value Disney's CEO has bought to the company's shareholders and how he has been compensated, and some of the challenges facing a potential successor.
In an age where on-demand, direct-to-customer streaming services such as Netflix, Amazon Prime and Hulu are increasingly replacing traditional media such as TV and cinemas, film producers such as Disney have been exploring ways to tap into the same on-demand content delivery channels in order to remain competitive. In this vein, in August 2017 Disney announced that it would pull all of Disney's content out of Netflix and launch its own streaming service, Disney+, starting in late 2019. Following this announcement, Disney made its next big bet: acquiring 21st Century Fox, the owner of one of the "Big Five" film studios.
In June 2018 Disney announced that it was going to acquire 21st Century Fox (21CF)'s businesses including but not limited to Twentieth Century Fox, Fox Searchlight Pictures, Fox 2000 Pictures and Fox's interests in Hulu, Sky plc, and Tata Sky. The USD 73 billion acquisition has recently closed, and with it, Disney has brought to the company more than just a portfolio of film production businesses and delivery channels. Clearly, the acquisition of the film and TV production businesses from 21CF was a strategic move, as it will expand Disney's already impressive library with even more content. Moreover, the 60% controlling stake in the TV streaming service Hulu will further strengthen Disney's strategy to provide general streaming services, although Hulu will be kept separate from the all-ages friendly Disney+.
In order to support Disney's direct-to-customer focused strategy and to guarantee the success of the Disney-21CF marriage, Disney has brought with its acquisition a group of important executives from 21CF.
Instrumental to the success of this merger was Bob Iger, CEO/Chair of The Walt Disney Company. Mr. Iger, who has previously planned to retire from Disney at least four times, has recently again extended his contract with the company until 2021. Ostensibly the extension of his contract was implemented so that Mr. Iger could aid in the oversight of the integration of 21CF into Disney, as well as oversee the company's transition toward a direct-to-consumer business model. In his 14-year tenure at Disney, Mr. Iger has made three very successful purchases: Pixar (2006), Marvel (2009), and Lucasfilm (2012) - which have all paid off handsomely, particularly for Mr. Iger.
Utilising CGLytics' proprietary corporate governance global dataset and analytics tools, we are able to see exactly to what extent these acquisitions have paid off for Mr. Iger. During the period that the above-mentioned acquisitions were made by Disney, we see a steep increase in TSR, corresponding to a reciprocal increase in total granted compensation to Mr. Iger. However in late 2013/early 2014 we begin to see a decline in TSR.
Figure 1: CEO Bob Iger's total granted compensation versus TSR over five years following the acquisition of Pixar, Marvel and Lucasfilm
Source: CGLytics Data and Analytics
| | | |
| --- | --- | --- |
| Year | CEO Total granted remuneration ($) | TSR (5-year) |
| 2008 | 51.229.341 | 4,6% |
| 2009 | 23.921.614 | 25,1% |
| 2010 | 29.617.964 | 68,9% |
| 2011 | 33.434.398 | 19% |
| 2012 | 40.227.848 | 65,3% |
| 2013 | 34.321.055 | 259,9% |
| 2014 | 46.497.018 | 212,5% |
Using the same data and analytics available through the CGLytics platform, we reviewed Mr Iger's compensation in the period following his major acquisitions and the begin of the decline of Disney's TSR. This decline has mostly continued all the way through 2018, while Mr. Iger's total granted remuneration stagnating or even lowering, with 2018 serving as an outlier in terms of compensation. This upswing in total granted compensation probably reflects an increased payout to Mr. Iger following the announcement of the Disney/21CF merger, despite the downward slalom that Disney's TSR has taken since 2016.
Figure 2: CEO Bob Iger's total granted compensation versus average five-year TSR
| | | |
| --- | --- | --- |
| Year | CEO Total granted remuneration ($) | TSR (5-year) |
| 2014 | 46.497.018 | 212,5% |
| 2015 | 44.913.614 | 200,1% |
| 2016 | 43.882.396 | 197,3% |
| 2017 | 36.283.680 | 131% |
| 2018 | 65.645.214 | 54,1% |
Source: CGLytics Data and Analytics
However, in recent years, Disney's shareholder have started to firmly express their growing discontent with Mr. Iger's compensation package. In 2017, 15% of Disney shareholders voted against the company's Say On Pay, which included a USD 36 million compensation award to Mr. Iger. This opposition steeply mounted to 52% in 2018. Most recently in 2019, shareholder opposition to Disney's Say On Pay dropped slightly, and was narrowly approved by 57% of Disney shareholders. Several days prior to Disney's AGM in March, the company announced that it would cut Mr. Iger's total granted compensation by USD 13.5 million, effective upon the closing of the 21CF acquisition, with no explicit rationale for the cut. Nevertheless, even with such a cut, when we use CGLytics' deep global dataset and analytics to compare Mr. Iger's compensation levels to the average of executive compensation for CEOs in the S&P 500 Index, we observe that his compensation still remains an major outlier at the higher end of CEO pay.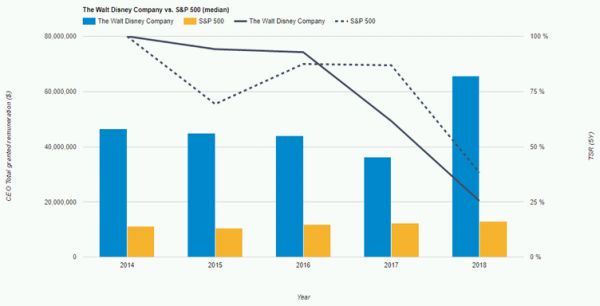 Figure 3: Bob Iger's total granted compensation and TSR versus the S&P 500 average
| | | | | |
| --- | --- | --- | --- | --- |
| Year | Total granted remuneration – The Walt Disney Company ($) | Total granted remuneration (average) [S&P 500] ($) | TSR (5-year) The Walt Disney Company] | TSR (5-year (average) for S&P 500] |
| 2014 | 46.497.01 | 13.044.754 | 212,5% | 162,3% |
| 2015 | 44.913.614 | 12.332.918 | 200,1% | 118,4% |
| 2016 | 43.882.396 | 14.024.662 | 197,3% | 134,6% |
| 2017 | 36.283.680 | 15.059.437 | 131% | 144,4% |
| 2018 | 65.645.214 | 16.890.131 | 54,1% | 62,6% |
Source: CGLytics Data and Analytics
Even though Disney's performance may not be on balance with Mr. Iger's paycheck in recent years, it appears that Disney is struggling to find someone to succeed him. This struggle is evidenced by the recent extension of his contract. Finding a successor with as outstanding a track record and strategic vision for the company's future like Bob Iger must be a daunting feat. Nevertheless, the company announced that its board of directors actively discusses his succession plan at every board meeting, with the goal to find potential internal candidates qualified to succeed him. Perhaps with the addition of executives from Fox, including Peter Rice, the new Chairman of Walt Disney Television, Disney will have a larger "internal pool" of candidates to fill Mr. Iger's shoes at the end of his contract in 2021.
Even with the closing date of its acquisition of 21st Century Fox behind, Disney is still not yet close to making this integration complete. Bob Iger now has three more years to prove his final megabet at Disney a win. During this same time, Disney will finally have to seek for a fitting successor to reign in the "Magical Kingdom".
While the search for a successor to Mr. Iger will undoubtedly prove difficult, there are tools available to companies and their nomination committees to ease the burden of such search. In addition to the comprehensive global remuneration data and analytics that CGLytics offers, our executive and director network tool can help you find that next ingenue to lead your company to the next level.
Visit the CGlytics website for more information regarding the proprietary Pay for Performance Modelling Tools and Executive and Director Network.
The content of this article is intended to provide a general guide to the subject matter. Specialist advice should be sought about your specific circumstances.