Class action spending by companies across industries increased for the second consecutive year, reversing a downward trend that occurred between 2011 and 2014. While the percentage of companies managing at least one active class action declined, returning to historic levels, companies perceived that the magnitude of their potential exposure and risk increased.
These were among the findings of the sixth annual Carlton Fields Class Action Survey released March 6. The law firm's survey, which is based on interviews with general counsel or senior legal officers at 373 companies operating in more than 25 industries, strives to help in-house counsel identify and manage the risks and costs of class action litigation.
This year's survey revealed that companies faced different volumes of class actions in different practice areas than in past years. In 2016, labor and employment matters displaced consumer fraud as the most common type of class action defended. Labor and employment cases accounted for 37.7 percent of class actions, a notable increase from 2015, when the percentage was just 24.1. This occurred as wage and hour claims surged, particularly in California.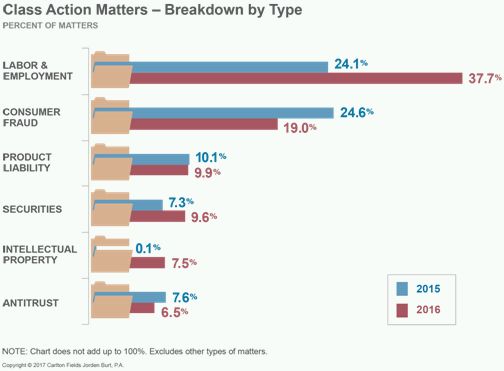 Although data privacy class actions were highly anticipated for several years, they remained a small percentage of matters overall. And just 11.1 percent of companies now predict that these matters will form the next wave of class actions. This may reflect the proactive steps many organizations have taken to prepare for and address possible data breaches, and the fact that plaintiffs have encountered difficulty establishing damages in these cases.
Companies instead predicted that wage and hour filings will continue to increase and, along with Telephone Consumer Protection Act (TCPA) cases, will form the next wave of class actions. The TCPA provides statutory damages for each unwanted call, text, or fax by a defendant who runs afoul of its requirements. As a result, these cases can represent large exposure. In addition, several district courts have decided that an unwanted solicitation is, indeed, an injury sufficient to confer standing. These courts have distinguished TCPA claims from those at issue in the Supreme Court's decision in Spokeo, Inc. v. Robins, which held that a plaintiff lacks Article III standing to sue in federal court under the Fair Credit Reporting Act absent an allegation of a sufficiently "concrete" injury.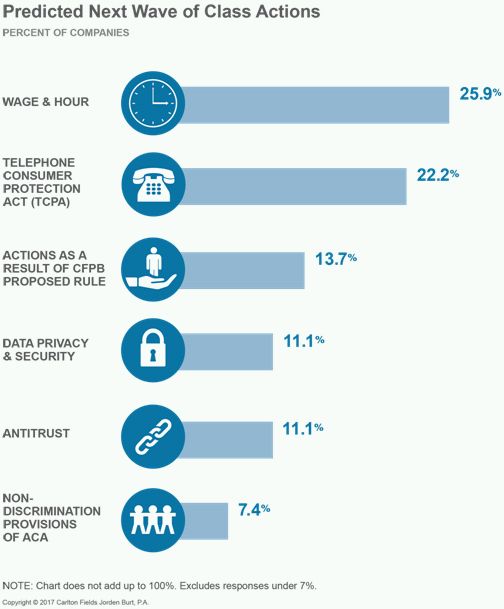 For many companies, class actions remained a part of everyday life. Just over 69 percent of companies reported handling one or more class actions on an ongoing basis, up from 68.5 percent in 2015. Both the routine and highest-risk categories of class actions reflected increases this year, indicating that companies face class actions that are more polarized in terms of complexity and exposure level.
The percentage of class actions in the "bet-the-company" and high-risk categories increased from 9.5 percent in 2015 to 25.3 percent, while the percentage of class actions in the routine category increased from 28 percent in 2015 to 38.7 percent. This impacted defense philosophies, with companies increasingly reporting that they either "go low," or, in complex cases, "defend at all costs." In contrast, only 20.8 percent of companies reported using a "defend at the right cost" philosophy, down from a high of 33.9 percent in 2015.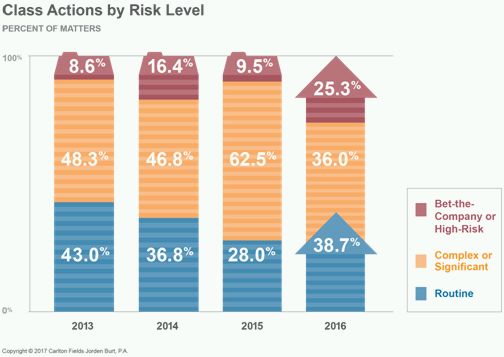 Though they increasingly face higher-risk and higher-exposure class actions, corporate legal departments continue to reduce the number of in-house attorneys responsible for managing those cases. Not surprisingly, these in-house attorneys are spending more time managing their class action caseloads. In-house attorneys now spend, on average, 13 hours per week per matter, up from an average of just six hours per week, per matter in 2011. In addition, companies are relying more heavily on trusted outside counsel to help them manage these cases from inception.
When evaluating the risks presented by class actions, exposure is still deemed the most important variable and "coming in under estimated exposure" remains a key determinant of success. Companies report that they resolve 62.5 percent of their class action lawsuits by settlement, and that most settlements occur before a class certification decision.
The use of alternative fee arrangements (AFAs) to manage class actions continued to decline. The percentage of companies that relied on AFAs in their defense of class actions dropped from 49.2 to 35.8 percent. This decline reflects the challenges inherent in using alternative fee structures to manage increasingly complex and unpredictable class action matters. Those companies that do use AFAs continue to favor fixed fee structures.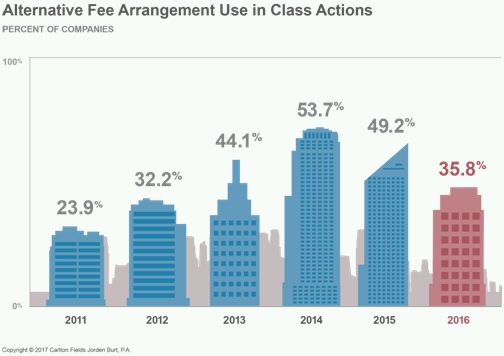 The survey showed that legal departments addressed the class action threat by thinking strategically and developing best practices. These practices included making a single in-house individual accountable for class action outcomes, primarily to foster a consistent approach, and placing greater reliance on outside counsel, particularly to conduct early case assessment. The survey aims to provide corporate counsel with practical reference points and data to further help maximize class action defense resources.
The content of this article is intended to provide a general guide to the subject matter. Specialist advice should be sought about your specific circumstances.