Private equity investment slowed sharply in the first half of 2020 as a result of the impact of COVID-19. While deal pipelines are re-filling once more (as we note in our August Private Equity Snapshot), healthcare was one of the few sectors that continued to see good levels of activity throughout the crisis. Among their targets, sponsors have been seeking out companies that are hunting for vaccines, making critical supplies for healthcare providers, and using technology to enable remote medical diagnosis and treatment. This activity has shone a light on a sector that is benefitting from attractive long-term trends in both developed and emerging markets as healthcare systems improve and modernise, and consumers demand better products and services.
In the first half of 2020, global private equity investment in biotech increased to $12.6 billion from $7.3 billion in 2019, accounting for the largest proportion of the $31.6 billion invested in healthcare overall, according to S&P Global Market Intelligence1 Early-stage investment in medical devices also increased sharply with $4.35 billion2 raised by start-ups, up 32% on the $3.29 billion raised during the same quarter of 2019, CB Insights data showed.
For private equity firms, the attractions are clear. Strong healthcare companies can yield some of their best returns. The recent sale of Aposan, a German provider of pharmaceuticals for homecare situations, is just one example; it is reported to have yielded a 4x return for IK Investment Partners3.
Private Equity Invests in COVID-19 Solutions
The COVID-19 pandemic is first and foremost a public health emergency, which is driving the hunt for solutions at an unparalleled pace. In mid-August, Russia became the first country in the world to approve a vaccine after just two months of human trials. While the international medical community has questioned the robustness of the process, many countries are fast-tracking drug development as they suffer a resurgence in infection rates and brace for the unknown impact of the coming winter months.
While moving fast is important, so is creating a safe product. Product development requires capital, as well as experience of running complex trials and navigating the drug approval processes. We are seeing investment activity both in companies developing vaccines and treatments for a range of illnesses, including COVID-19, as well as investment in new ventures that are solely focused on the development of a vaccine for COVID-19 (and any future mutations). There are also clear opportunities in companies providing essential supplies, such as personal protective equipment (PPE), which are likely to remain in high demand for the foreseeable future, especially with increasing pressure on governments to appear "ready" for whatever comes next.
Investment in vaccine development necessarily carries high risks, and protecting against the downside can be challenging. Instruments such as preferred equity and convertible notes offer various degrees of protection, however value ultimately lies in a successful product. For single-purpose vaccine development opportunities, little or nothing might be left in the event of failure. As such, biotech can be an area of particularly high risk, but also potentially high reward.
Private Equity Sees Broader Opportunities in Healthcare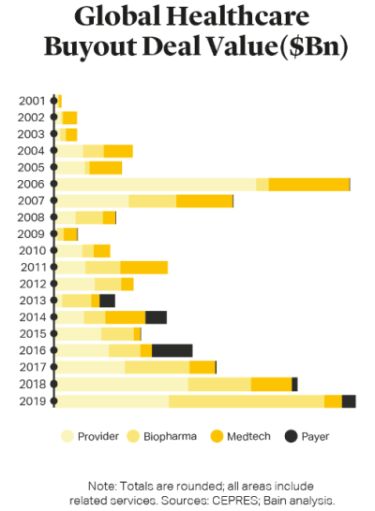 Private equity investment in healthcare hit a new high in 2019 with EQT and PSP's $10.1 billion buyout of Nestlé Skin Health (now Galderma), which makes both prescription and consumer products. It was a sign that private equity appetite for opportunities in the biopharma sector would stretch to the largest equity cheques.
Today, private equity investment is increasingly important for promising healthcare research that was badly impacted by the need to socially distance during COVID-19. At least 43% of the clinical trials listed by the US National Library of Medicine that have been stopped or postponed since January 2020 cited COVID-19 as the reason4. In March, Swiss biotechnology firm Addex Therapeutics announced that its clinical trial to treat involuntary movements in those with Parkinson's disease had been delayed5. Helping biopharma companies restart development is a clear area of opportunity which we recently highlighted in our Private Equity Spotlight on Healthcare report.
Beyond Biopharma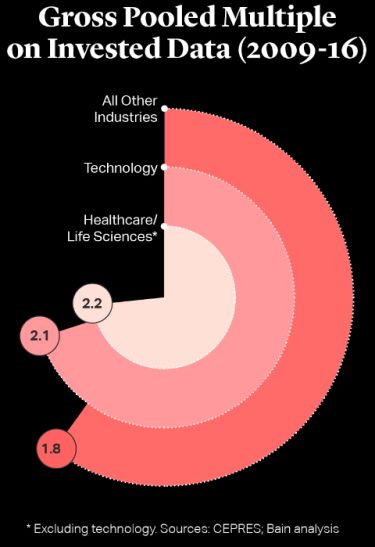 Outside the growth in biotech and biopharma, there are other opportunities for private equity, most notably at the intersection of technology and healthcare. These include:
Helping healthcare systems move to new IT systems and embrace the use of technology in areas such as appointment bookings or consultations
The use of AI and data in diagnostics, particularly for serious conditions including cancers
There is a clear drive by many European healthcare systems to improve services and outcomes while managing costs and providing value for money. With experience drawn from the tech sector, as well as previous investments in healthcare, we see private equity increasingly active and well-placed to support the development of healthcare tech.
Healthcare investment is not without its challenges. Regulatory scrutiny is on the increase, and effective due diligence must include an analysis of government policies on investment in sensitive areas of the healthcare system, pathways to regulatory approval of new products, and antitrust hurdles where effective market competition is limited. Critically, issues such as intellectual property ownership, the dynamics of existing joint ventures and development agreements, data protection and bribery and corruption must feature prominently on due diligence checklists. In this sector and in today's environment, compelling opportunities require close inspection.
Footnotes
1. Biotechnology draws $12.6B from private equity, venture capital activity in H1
Source: S&P Global.
2. Investment in medical devices rises in the second quarter
Source: PE News
3. IK scores 4x return from sale of Aposan to Ardian-backed healthcare provider
Source: PE News
4. Investment in medical devices rises in the second quarter
Source: Chemistry World
5. Coronavirus shuts down trials of drugs for multiple other diseases
Source: Nature
To view original article, please click here.
The content of this article is intended to provide a general guide to the subject matter. Specialist advice should be sought about your specific circumstances.