Birleşik Krallık'ın üç yıl önce yola çıktığı Brexit macerası sona yaklaşıyor. Eski başbakan Theresa May, Brüksel ile yaptığı müzakereler sonucunda ortaya çıkan çekilme anlaşmasının İngiliz Parlamentosu tarafından bu sene üç kez reddedilmesi sonucunda istifa etmek zorunda kaldı. Theresa May'den koltuğu devralan dışişleri eski bakanı Boris Johnson ise Brexit hakkındaki sert tavırları ile tanınmakta. Boris Johnson, göreve geldikten hemen sonra Birleşik Krallık'ın Avrupa Birliği'nden ("AB") çıkış tarihi olan 31 Ekim'de masada bir anlaşma olsa da olmasa da Birleşik Krallık'ın AB'den çıkacağını belirtti. AB ise Theresa May ile müzakere edilen anlaşmanın göz önünde bulundurulacak tek anlaşma olduğunu belirtmekte. Hal böyle olunca, ufukta Birleşik Krallık için anlaşmasız bir ayrılık ("Hard-Brexit") gözükmekte. 31 Ekim'de İngiltere'nin Brüksel'den aldığı ekstra süre dolacak ve tarafların bu tarihte bir anlaşma imzalamaması ya da yeni bir süre uzatımı olmaması durumunda Birleşik Krallık kendiliğinden AB'den çıkacak.
Birleşik Krallık'ın Gümrük Birliği'nden ve ortak pazardan ayrılması, geniş bir ticaret anlaşması ile de olsa; birçok sektörün operasyonları, yeni çıkacak olan mevzuattan etkilenecektir. Hard – Brexit'in elbette başta AB olmak üzere Birleşik Krallık'ın ticaret ortaklarının hepsini etkileyecek sonuçları ortaya çıkacak. Fakat AB ile Türkiye arasında 1 Ocak 1996 tarihinde yürürlüğe giren Gümrük Birliği Anlaşması, Brexit'i Türk ekonomisi için özel bir yere oturtuyor. Nitekim şu anda Gümrük Birliği uyarınca AB ile Türkiye arasında ithalat ve ihracatta gümrük vergileri uygulanmamakta ve miktar kısıtlamaları elimine edilmektedir. Ayrıca, Türkiye'ye uluslararası ticaret politikalarını AB ile uyumlu hale getirme yükümlülüğü getirilmiştir. Hâlihazırda Türkiye ile Birleşik Krallık arasındaki ticaret, Gümrük Birliği sayesinde gümrük vergileri olmadan seyretmekte fakat işler 31 Ekim'den sonra böyle olmayacak ve Birleşik Krallık ile Türkiye, daha dezavantajlı olan Dünya Ticaret Örgütü ("DTÖ") kuralları kapsamında ticaret yapmaya başlayacak. Hani DTÖ kuralları iyi bir şeydi dediğinizi duyar gibiyiz!
DTÖ kuralları, esasında devletlere asgari bir kurallar seti sağlayarak uluslararası ticaretin daha da liberalleştirilmesi için devletlere açık kapılar bırakmaktadır. Bu kapsamda, Gümrük Tarifeleri ve Ticaret Genel Anlaşmasının ("GATT") XXIV. maddesi uyarınca devletler çeşitli şartlara uyarak uluslararası anlaşmalar sayesinde aralarındaki ticaretin liberalleşmesine katkıda bulunabilmektedir. GATT XXIV, bir istisna hükmü teşkil ederek normal şartlar altında anlaşmanın diğer hükümlerini ihlal edecek uygulamaların mazur görülmesini sağlamaktadır. GATT'in I. maddesinde düzenlenen en çok kayrılan ulus kaydı (Most Favored Nation) uyarınca DTÖ üyesi devletler, iki üye devlet arasında farklı muamele yapamamaktadır. Örneğin, Türkiye'nin Çin'den gelen cep telefonlarına %10 gümrük vergisi uygularken Güney Kore'den gelen cep telefonlarına %20 gümrük vergisi uygulaması ihlal teşkil etmektedir. Fakat Türkiye'nin Çin ile GATT madde XXIV'ün şartlarını sağlayacak şekilde bir uluslararası anlaşma yapması durumunda gümrük vergilerini dilediği şekilde indirme imkânı bulunmaktadır. Bunun bir örneği de AB ile Türkiye arasında yer alan Gümrük Birliği'dir.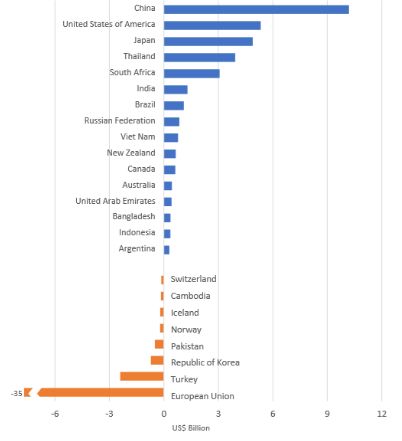 Birleşik Krallık'ın AB'den çıkmasının aynı zamanda Gümrük Birliği'nden çıkması anlamına geldiğini göz önünde bulundurursak Hard – Brexit olması durumunda Türk malları 31 Ekim'den sonra Birleşik Krallık'a çok ciddi maliyetler ile ihraç edilecek. Aynı şekilde ithalatta da maliyetler artacak. Birleşmiş Milletler Ticaret ve Kalkınma Örgütü (UNCTAD) tarafından hazırlanan raporda Hard – Brexit olması halinde tahmin edilebileceği üzere en büyük yarayı, AB'nin 34,5 milyar dolar ticaret hacmi kaybı ile yaşayacağı belirtiliyor. İlginç olan ise AB'den sonra en büyük yarayı Türkiye'nin alacağı ve 2,4 milyar dolarlık ticaret hacmi kaybedeceği belirtilmektedir[1]. Hâlihazırda daha yüksek gümrük vergileri ödeyen Çin, Amerika Birleşik Devletleri ve Japonya ise Brexit'in kazananları olacak.
Türkiye'nin tüm ihracatının %7'lik kısmına tekabül eden 11,1 milyar dolarlık kısmını Birleşik Krallık'a[2] yaptığı göz önünde bulundurulursa 2,4 milyar dolarlık bir düşüş, Birleşik Krallık'a yapılacak ihracatın yaklaşık olarak %21,6 düşmesi anlamına gelecektir. Aynı zamanda, Birleşik Krallık'ın da Türkiye ile olan 13,6 milyar dolarlık ticaretinin bu durumunda etkileneceği düşünülür ise iki tarafın ticari ilişkileri açısından Hard – Brexit'in sonuçları ağır olacaktır.
Türkiye'nin ihracatını, sektörler bazında incelemek gerekir ise ihracatta 2018 yılında bayrağı 2,68 milyar dolar ile motorlu kara taşıtları çekmektedir. İkinci sırayı, 1,31 milyar dolar ile örme tekstil ürünleri çekerken üçüncü sırayı ise 1,2 milyar dolar ile elektrikli cihazlar çekmektedir. Her ne kadar Birleşik Krallık tarafından toplam ithalatın %87'sine tekabül eden kısma gümrük vergisi uygulanmayacağı belirtilse de[3] Türkiye'nin otomotiv ve tekstil ihracatının kalan %13'lük kısımda olması Türkiye ticaretini oldukça etkileyecektir. Ayrıca bu uygulamanın geçici bir durum olduğu da belirtilmelidir. Birleşik Krallık'ın dilediği zaman hiçbir gerekçe göstermeden %87'ye tekabül eden kısmını DTÖ nezdinde taahhüt edilen tavan oranlara kadar çıkarma yetkisi bulunmaktadır. Dolayısı ile ilerleyen zamanlarda gümrük vergileri sebebiyle Türkiye'nin ticareti daha da kısıtlanabilecektir. Türkiye ile Birleşik Krallık'ın neden bu etkileri elimine edecek bir ticaret anlaşması imzalamadığını sorguluyor olabilirsiniz. Bu noktada tekrardan konu AB ile Türkiye arasındaki Gümrük Birliği'ne gelmekte. Gümrük Birliği'nin hükümleri uyarınca Türkiye'nin AB'nin taraf olmadığı bir serbest ticaret anlaşmasına ya da başka bir gümrük birliğine taraf olması mümkün değil. Bu nedenle, Türkiye'nin Birleşik Krallık ile ticareti DTÖ kurallarının ötesine götürebilmesi için AB ile Birleşik Krallık arasında bir  anlaşma imzalanması gerekmektedir. Fakat Türkiye ile Birleşik Krallık, ticaret ilişkilerini güçlendirmek adına birçok ikili görüşmede bulundu. İki tarafın ilişiklerinin ilerleyen yıllarda da devam edeceğinin sinyallerini, İngiltere Uluslararası Ticaret Bakanı Liam Fox'un geçtiğimiz Haziran ayında Türkiye ziyaretinde verdiği demeçlerde de gözlemledik.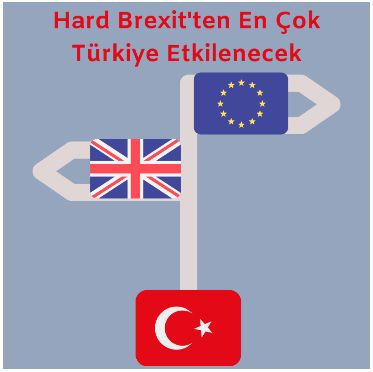 Öte yandan gümrük vergileri, Hard – Brexit kapsamında en ön planda tartışılmakta olsa da işin arka yüzünde ticaretin seyrini çok daha fazla etkileyebilecek değişiklikleri de beraberinde getirecektir. Özellikle ortak pazar anlayışından kaynaklı olarak İngiliz şirketlerinin Avrupa'da ve Avrupalı şirketlerin Birleşik Krallık'ta kompleks üretim ve dağıtım ağları bulunmaktadır. Ayrıca Birleşik Krallık'ın AB regülasyonlarıyla uyumlu davranma zorunluluğu ortadan kalkacağından finanstan ilaç sektörüne, hava yollarından otomotiv endüstrisine kadar birçok sektörde köklü değişiklikler öngörülmektedir.
Kısa vadede Hard – Brexit'in etkileri tüm dünya genelinde sert şekilde hissedilecek ve hâlihazırda Birleşik Krallık ile dirsek temasında bulunan AB ve Türkiye üzerindeki etkileri daha da hissedilir olacaktır. Sonuç olarak üzerinde güneş batmayan ülke 31 Ekim günü anlaşma olmadan Brexit'i gerçekleştir ise hepimizi farklı bir dünya karşılayacak ve uluslararası ticaretin tüm dinamikleri değişecek. Biz de herkes gibi gelişmeleri heyecanla ve yakından takip edeceğiz.
Footnotes
1 UNCTAD Research Paper No.31 UNCTAD/SER.RP/2019/3
2https://www.trademap.org/tradestat/Bilateral.aspx?nvpm=1%7c792%7c%7c826%7c%7cTOTAL%7c%7c%7c2%7c1%7c1%7c2%7c1%7c1%7c1%7c1%7c1 Son erişim tarihi 08.08.2019
3 https://www.gov.uk/government/news/temporary-tariff-regime-for-no-deal-brexit-published Son erişim tarihi 08.08.2019
The content of this article is intended to provide a general guide to the subject matter. Specialist advice should be sought about your specific circumstances.