Daimler ile Nokia arasında patent lisansı konusunda yaşanan uyuşmazlık Avrupa rekabet otoriteleri önüne taşındı. Avrupa Komisyonu'nun yapacağı değerlendirme yalnız otomotiv ve telekomünikasyon dünyalarını değil nesnelerin interneti çağını da etkileyebilir; bu bakımdan Daimler-Nokia uyuşmazlığı aslında buzdağının yalnızca görünen yüzü.
Almanya merkezli dünya otomotiv devlerinden Daimler ile Finlandiya merkezli mobil iletişim öncüsü Nokia arasında bir süredir devam eden müzakere süreci ve uyuşmazlık, Daimler'in Avrupa rekabet otoritelerine başvurmasıyla birlikte rekabet dünyasında önemli bir gündem konusu haline geldi. Avrupa Komisyonu'nun Daimler'in şikâyeti üzerine yapacağı değerlendirme, Standarda Esas Patentlerin (Standard Essential Patents ya da SEP) inovasyon ile şekillenen nesnelerin interneti (Internet of Things ya da IoT) çağında nasıl ele alınacağı bakımından yol gösterici olabilecek. Yani Nokia'nın patentlerin lisanslanması konusundaki tutumunun Avrupa Komisyonu tarafından nasıl değerlendirileceği, IoT çağında nesnelerin ihtiyaç duyacakları haberleşme teknolojilerinin nasıl lisanslanacağı konusunu da yakından ilgilendirecek.
SEP ve FRAND
SEP'ler belirli bir endüstri standardının sağlanabilmesi için gerekli olan patentlerdir ve SEP'ler olmaksızın cep telefonu gibi standarda uyumlu ürünlerin üretilmesi için gerekli teknolojilerin kullanılması mümkün değildir. SEP sahibi bir teşebbüs, ilgili piyasada bir standart olmasaydı sahip olmayacağı ölçüde bir pazar gücü elde edebilmektedir1. Dolayısıyla SEP lisansı talep edenlerin bu taleplerinin SEP sahibi teşebbüslerce reddedilmesi rekabet hukuku açısından dışlayıcı davranış olarak nitelendirilebilmektedir.
SEP kavramıyla birlikte gündeme gelen ve lisanslama müzakerelerinde önemli ağırlığı olan bir diğer kavram ise FRAND'dır. Adil, makul ve ayrımcı olmayan (fair, reasonable, and non-discriminatory) ifadelerinden türetilen FRAND yükümlülüğü, SEP sahibi teşebbüslerin standarda uyum için gerekli olan bu patentlerinin kullanımına lisans yoluyla izin vermeleri sürecinde adil, makul ve ayrımcı olmayan şartlar belirlemelerini gerekli kılıyor. FRAND, fikri mülkiyet hakkı sahiplerinin lisanslamayı reddetmek ya da sektör bir standarda bağlandıktan sonra adil veya makul olmayan (fahiş) ya da ayrımcı bedeller talep etmek yoluyla bir standardın uygulanmasını güçleştirmelerini engelleyebilir2. Uygulamada Avrupa Komisyonu FRAND'ın fiyat açısından ne şekilde ele alınacağına ve ne tip lisans ücretlerinin FRAND ile uyumlu olacağına ilişkin değerlendirmeyi mahkemelere bırakma yolunda tavır sergiliyor.
Tedarik zincirinin hangi halkası lisanslanacak?
FRAND kapsamında SEP lisanslaması yapılacak olsa da lisanslamanın tedarik zincirinin hangi safhasına yönelik olması gerektiği konusunda uygulamada bir görüş birliği yok. Nitekim Daimler ile Nokia arasındaki uyuşmazlık da buradan kaynaklanıyor. Bu patentlerin lisans ile kullanılacağı nihai ürünlerin üreticilerinin (örneğin otomobil üreticisi Daimler) argümanına göre SEP sahiplerinin lisanslama başvurusunda bulunacak tüm teşebbüslere bu lisansları FRAND kapsamında temin etmesi gerekir. Nihai ürünün üretim safhasında çokça parça tedarikçilerden temin edilmektedir ve bu tedarikçilerce lisanslama başvurusunda bulunulduğunda SEP sahibi teşebbüslerce FRAND kapsamında ayrımcılık yapılmaksızın bu başvurulara olumlu cevap verilmelidir. Üreticilerin bu görüşü Avrupa Komisyonu'nun rekabetten sorumlu üyesi Margrethe Vestager'in görüşleriyle de uyumlu görünüyor. Vestager daha önceki bir ifadesinde SEP sahibi teşebbüsün sözleşme yapma mecburiyetine gönderme yaparak "talep eden tüm üçüncü kişilere" lisans verilmesi gerektiğini belirtmişti.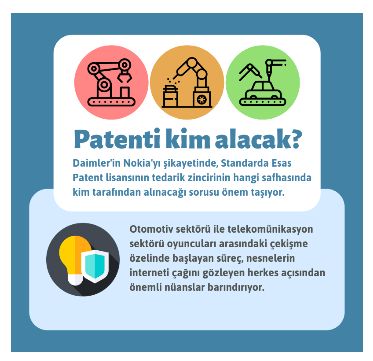 Öte yandan Nokia'nın da aralarında bulunduğu SEP sahibi teşebbüsler ise, tedarikçilerin SEP'i lisansla alıp almadıklarının takibinin çok güç olduğu ve uygulamada karmaşıklığa yol açtığı argümanlarıyla lisanslamanın nihai üreticiler seviyesinde yapılması gerektiği kanaatindeler.
Esasen bu uyuşmazlığın temelinde fiyat unsurunun yattığı şeklinde bir yorum yapmak mümkün. Zira eğer SEP sahibi teşebbüsler tedarik zincirindeki teşebbüslere lisans verirse, lisans ücreti üretici teşebbüsün üzerinde kalmamış ve tedarik zincirindeki teşebbüslere dağıtılmış oluyor. Ücretin tedarik zincirine dağıtılmadığı halde Daimler gibi araç üreticileri araç başına 15 Amerikan Doları gibi bir lisans ücretiyle karşılaşıyorlar. Nokia hâlihazırda lisanslama faaliyetlerini 2G, 3G ve 4G gibi teknolojilerin lisanslamalarının yapıldığı Avanci adlı platform üzerinden yapıyor ve bilindiği kadarıyla platform üzerinden lisans alan tek otomotiv sektörü oyuncusu BMW. Nokia tarafından şikâyetin, Daimler'in lisans almama çabalarının bir ürünü olduğu ifade ediliyor. Daimler ise şikâyetin, otomotiv sektörü ile SEP lisansı sahipleri arasındaki ilişkinin açıklığa kavuşturulmasında önemli olduğu kanaatinde.
Avrupa Komisyonu 2013 yılında Microsoft'un Nokia'nın mobil telefon ve tablet işini devralması işleminde Nokia'nın SEP lisanslama faaliyetleriyle ilgili endişelerini dile getirmişti. Her ne kadar SEP lisanslamaları devralma incelemesinin kapsamında olmasa da Komisyon devralma sonrasında Nokia'nın patent lisans faaliyetlerini yakından izleyeceğini belirtmişti.
Her ne kadar Daimler'in şikâyeti yalnızca araç iletişim sistemlerinin lisanslanmasına ilişkin olsa da otomotiv sektörü oyuncuları ile SEP sahibi telekomünikasyon sektörü oyuncuları arasındaki çekişme nesnelerin interneti evrenine ilerledikçe ortaya çıkabilecek sorunlara bir ışık tutuyor. Nesnelerin birbirleriyle haberleşmelerinde önemli yere sahip olan telekomünikasyon patentlerinin lisanslamasının kolay yapılamaması veya ücretlerinin yüksek olması durumunda rekabet otoritelerinin inovasyonun önünü açma amacıyla SEP sahibi teşebbüsleri yakından izlemesi ve aksiyon alması beklenebilir.
Footnotes
1 Antitrust decisions on standard essential patents (SEPs) – Motorola Mobility and Samsung Electronics – Frequently asked questions, http://europa.eu/rapid/press-release_MEMO-14-322_en.htm
2 Yatay İşbirliği Anlaşmaları Hakkında Kılavuz, Rekabet Kurumu, para. 258.
The content of this article is intended to provide a general guide to the subject matter. Specialist advice should be sought about your specific circumstances.