Infusing spoon or confusing spoon? Joseph Joseph vs. Jesopb Jesopb
Recently, Joseph Joseph, an award winning international houseware brand, discovered that an Israeli supermarket chain had been selling a copy of their flavor-infusing spoon – "Gusto". The copy was packaged very similar to the original under the brand – "Jesopb Jesopb."
As illustrated below, the infusing spoons and their packaging are extremely similar, except for the slight change in brand names: Joseph Joseph vs. Jesopb Jesopb:
Original spoon and Infringing spoon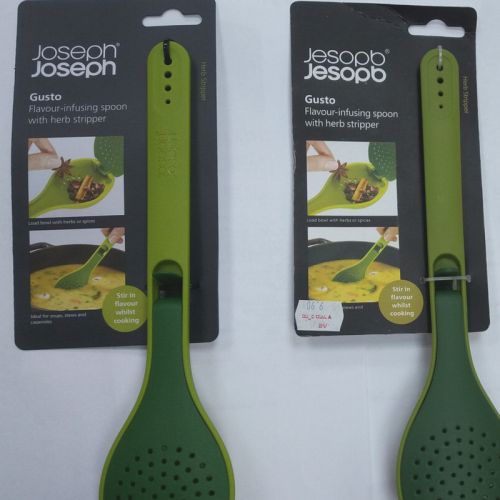 Eran Soroker and Robert Dorneanu, from our litigation team drafted a cease and desist demand letter on behalf of Joseph Joseph. The letter issued, demanded that the infringers cease infringing upon Joseph Joseph's intellectual property rights immediately by ceasing all sale of the infringing products in all their stores.
In the cease and desist letter, we emphasized that the infringers not only copied the spoon and the package, but also infringed upon Joseph Joseph's trademark. The use of confusingly similar spelling – Jesopb Jesopb seemed an action intended to mislead consumers, making them believe they are buying an original Joseph Joseph product.
Our demand letter was based on the following causes of action: copyright infringement, trademark infringement, passing off, consumer misleading, unjust enrichment, dilution of goodwill and the basic right for possession.
After negotiation between the parties the infringers complied with our demands and signed an undertaking, which included the following commitments and declarations:
All infringing products will be completely removed from their stores.
They undertook not to infringe upon Joseph Joseph Ltd.'s intellectual property rights in any.
The infringing goods have been removed from their stores.
The Infringing goods were transferred to our offices and destructed.
They undertook to provide Joseph Joseph Ltd. with a full disclosure of the source of the infringing goods.
They undertook to compensate Joseph Joseph Ltd., 100,000 NIS per infringement for any future infringement on top of Joseph Joseph Ltd.'s Legal compensation.
A successful enforcement on infringers comes to a close.
The content of this article is intended to provide a general guide to the subject matter. Specialist advice should be sought about your specific circumstances.