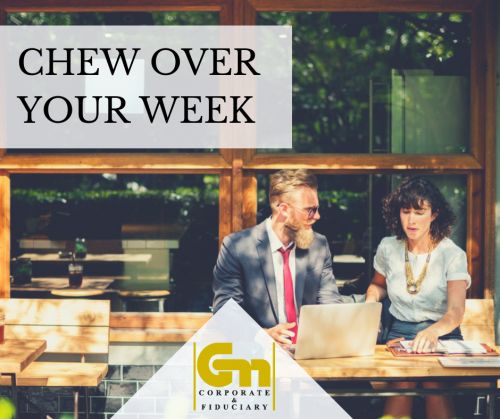 TGIF is what helps us to wake up and goad us on at the end of a long week of slog. And given our 24/7 wired lives I've got a good hunch that its sheer relief is more necessary than ever. So, anyone in the working world would probably come down on me with a ton of bricks if I had to merely hint at what a good idea it is to reflect upon the past week before Monday morning inevitably looms.
Admittedly brooders don't need any cajoling. But once you get into the habit of mulling over your week at work, self-assessment becomes second nature. More importantly, it helps to build on good practices, avoid unnecessary stress and seek solutions to problems. Above all this exercise spurs being honest with yourself which infuses your body and soul with serenity while achieving success underlined by mega satisfaction or, realize that it's time to change direction. Assessing yourself is your journey to discovering what you want and often more importantly what you don't want as a career path.
Although the guidelines below are adaptable to any work environment, at GMC we take pride in nurturing a truly collegial and professional dynamic to deliver a first-rate service to all our clients who are not simply a statistic.
As true professionals we routinely ask the following 10 questions:
1. What did I as a lawyer learn this week?
There is always something to learn. Research and court sittings are staples in any lawyer's daily work routine which makes delving into case studies part and parcel of honing legal skills. Nevertheless, there are many other lessons to be learnt. Soft skills readily come to mind and getting them right goes miles in avoiding preventable fireworks in the office as well as winning over the court floor. Moreover, as lawyers we are constantly dealing with the repercussions of human actions, reactions and interactions which expose us to the foolish, the reckless and even the darker side of humanity. Dealing with human baggage impacts much more than the legal issues involved. So as a lawyer ask yourself where and when it is necessary to draw lines. Pondering over lessons learnt also helps to prioritise and tackle challenges from new perspectives. Keep your list realistic and doable. Burning yourself out is totally counterproductive.
2. What did I achieve this past week?
No matter how trivial, a sense of achievement is always a reason to celebrate. It is a big boost to self-confidence while tracking progress. Clinching an important case that will enable a junior lawyer to prove his/her worth, securing a client's trust or confirming a reputable lawyer's skills by winning a case are obvious trophies. All are examples of a thriving legal firm. Yet it's good to pat yourself on the back for much smaller successes like beating your antipathy towards a client.
3. Did I have an unforgettable moment?
If yes, relish the adrenaline rush and learn to cherish its fond memories. If the experience has been a downer, learn to digest it and move on.
4. What did I find most challenging over the past week?
This is a good way of facing difficulties with sincerity and integrity as well as turning challenges into opportunities. It's also an ideal way of learning from past mistakes. Dealing with difficult clients and even more difficult cases is another fundamental in learning and refining the legal ropes. Same goes for confronting the disappointment of losing a case, which is bound to leave a long lasting sour taste. One particular week could be rendered even more knotty if you are immersed in personal problems of your own. It's not easy but keeping personal issues outside the office is a trademark of a true professional.
5. What worried me most during the past week?
Taking note of your main concerns is not the same as wallowing in them. It also helps to prioritise together with thinking positively rather than negatively. Also, do not be afraid to discuss the issue/s with someone you trust and give you good advice. This is crucial for lawyers since they cannot afford to overlook even the slightest detail or give bad advice to their clients.
6. What was my biggest distraction this past week?
Having your plans thwarted by an unexpected turn of events or a lack of self-discipline is a staple in many a workplace. Dealing with distractions (whatever their source) is a stressbuster and a great improver in time-management. As lawyers, keeping focused is paramount so if you need to close the door and hang your 'Do not disturb sign', go ahead.
7. Is there someone I need to clear the air with?
Awkward or unpleasant situations in any workplace do arise and the quicker they are dealt with, the better for everyone. Aggression, anger and bitterness are prime causes of a toxic atmosphere and will only get worse if not nipped in the bud. Taking the bull by the horns could very well translate into a masterclasss in diplomacy whose kudos for velvety tongued lawyers can never be overestimated.
8. Is there someone I need to praise or thank?
We all bask in the sun of praise and we all love to feel appreciated. So, show your genuine appreciation and gratitude appropriately and without flattery.
9. What are my main goals for next week?
This is how you learn to prioritise and tackle challenges from new perspectives. Keep your list realistic and doable. Burning yourself out is totally counterproductive
10. Is there someone I need to help next week?
Far from being naïve or hypocritical, giving a required helping hand yields the targeted results while offering a lesson in kindness and good manners. It's good to keep in mind that a chain is as strong as its weakest link. The legal profession is notorious for overbearing and diva antics. Yet the best lawyers are the ones who inspire in triumph and defeat irrespective of the headlines they hit. Reaching out to colleagues fosters authentic team building and demarcates enthusiastic learners from apathetic bummers.
Re-read the questions listed above and you will realise that they are quintessential to goal oriented people and respected leaders. Even if your job status does not have you pegged on the uppermost rungs, these are the kind of questions that instill and sustain a professional attitude, which is all about nurturing self-pride and self-dignity in what you do.
Each member of staff is important. Chewing over your week proves it.
The content of this article is intended to provide a general guide to the subject matter. Specialist advice should be sought about your specific circumstances.