Eighty-one percent of respondents believe Original Equipment Manufacturers (OEMs) will gradually lose their dominance in motor expertise, as suppliers take a more involved role in the process. A similar proportion says that OEMs are likely to become pure mobility solution providers, to satisfy evolving patterns of car ownership.
Possible future of the automotive industry
81% OEMs will lose overall expertise for vehicle development due to stronger supplier involvement.
77% OEMs will become pure mobility solution providers.
58% OEMs' business model will remain unchanged.
49% New players with no traditional auto industry presence (e.g. Apple) will become key players.
22% OEMs will establish a holistic approach by providing all production and service.
17% There will be a strong differentiation between premium car manufacturers, and mass-volume manufacturers' business models.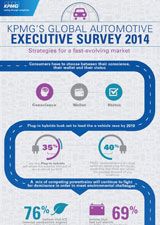 The content of this article is intended to provide a general guide to the subject matter. Specialist advice should be sought about your specific circumstances.