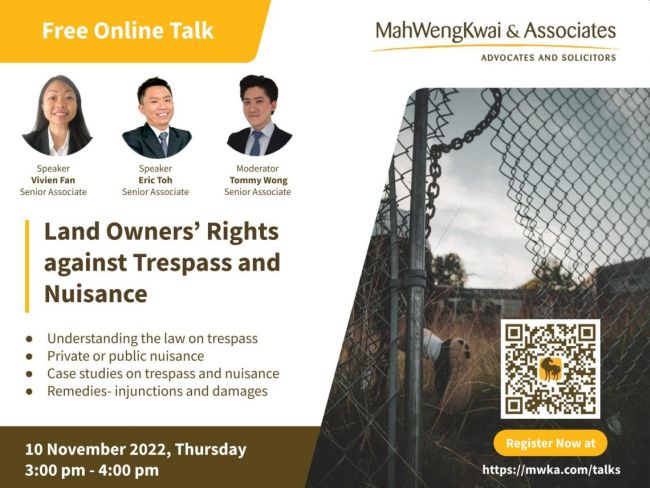 Thursday, 10 November 2022
3:00 pm – 4:00 pm Land Owners' Rights against Trespass and Nuisance
About this talk
Any unlawful use of your land is trespass. This could be temporary, such as someone passing through; or permanent, such as buildings or dumping debri. Any unlawful interference with your use of your land is a nuisance, and can include noise and smells.
Join us for this online talk where our speakers will explain trespass and nuisance and what landowners, lessees and tenants can do to protect their rights
The talk will be delivered over video conference using Zoom.us. You can either view the talk from your web browser or download the Zoom app.
Talk Points
Understanding the law trespass
Private or public nuisance
Case studies on trespass and nuisance
Remedies- injunction and damages
Speakers
Vivien Fan, Senior Associate, Dispute Resolution Practice Group
Eric Toh, Senior Associate, Dispute Resolution Practice Group