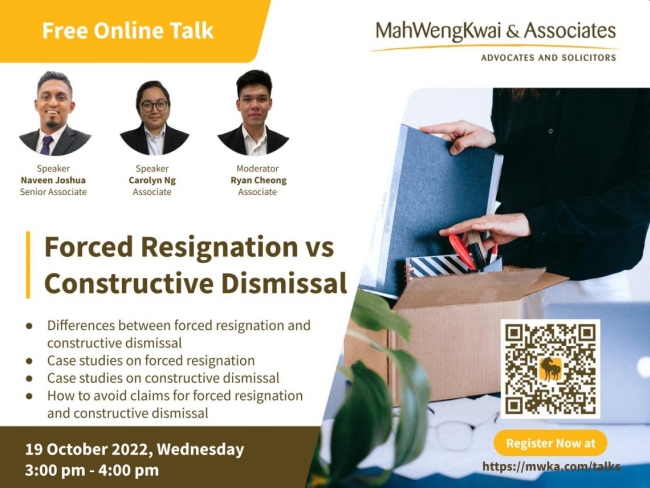 Wednesday, 19 October 2022
3:00 pm – 4:00 pm Forced Resignation vs Constructive Dismissal
About this talk
Forced resignation and constructive dismissal are often confused. While both result in a loss of employment, it is important to correctly identify the claim before initiating or defending the claim at the Industrial Court.
Join us for this online talk where our speakers will discuss the differences between forced resignation and constructive dismissal how these claims are handled by the Industrial Court.
The talk will be delivered over video conference using Zoom.us. You can either view the talk from your web browser or download the Zoom app.
Talk Points
Differences between forced resignation and constructive dismissal
Case studies on forced resignation
Case studies on constructive dismissal
How to avoid claims for forced resignation and constructive dismissal
Speakers
Naveen Joshua, Senior Associate, Dispute Resolution Practice Group
Carolyn Ng, Associate, Dispute Resolution Practice Group