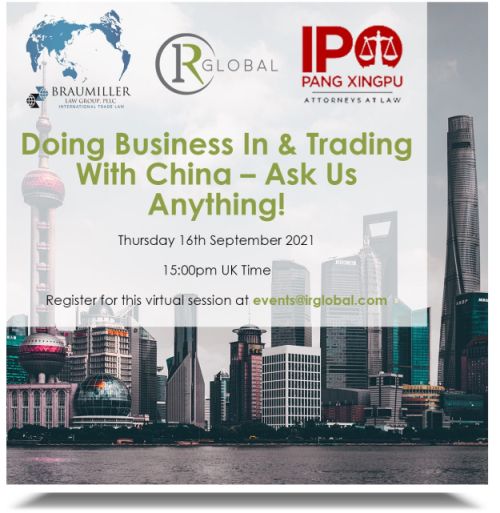 Thursday 16th September, 2021
15:00pm UK Time
Join IR Global in this virtual event that takes a deep dive into the current landscape regarding doing business in China, presented by Peter Pang, Founder, Chairman & Managing Partner, of IPO Pang Xingpu Law Firm and trading with China, presented by Adrienne Braumiller, Partner and Founder of Braumiller Law Group.
Peter and Adrienne will partner on the introduction to the group, and will then split into two separate sessions of attendees choice.
Topics to be covered via Adrienne on trading with China will include:
U.S. National security strategy: trade control restrictions on China
China's Counter to U.S. Sanctions
Update on the trade remedy tariffs the US places on goods of Chinese origin
Both sessions will be recorded for full access.
Adrienne Braumiller, Founder & Managing Partner, Braumiller Law Group
With more than 30 years of experience, Adrienne is widely recognized as a leading authority in Customs, import, export, foreign-trade zones, free trade agreements and ITAR compliance.
Adrienne has been involved in every aspect of import and export compliance, from developing compliance programs to conducting audits and assessments, representing clients who are under investigation, preparing and submitting voluntary disclosures, preparing and filing classification requests and licenses, analyzing whether specific transactions should be pursued, providing tailored training on specific import/export topics, addressing penalty assessments, and serving as an expert witness in a number of trade cases.
Full bio: https://www.braumillerlaw.com/bio/adrienne-braumiller/
Peter Pang, Founder, Chairman & Managing Partner, of IPO Pang Xingpu Law Firm
Peter leads a team of lawyers with offices in Shanghai, China. Mr. Pang has over 35 years of experience as a practicing attorney in both China and North America. Mr. Pang practices cross border mergers and acquisitions, corporate law, foreign direct investments, franchise law, intellectual property law, corporate governance and compliance, commercial contracts, employment law and dispute resolution. He has written numerous articles and blogs on Chinese law and legal issues and is a frequent speaker at international bar organizations.
Full bio: https://ipopang.com/team/peter-c-pang/
To register, simply email the IR Global correspondent events@irglobal.com. You will then be registered for the event. A confirmation email will subsequently be sent to you with a link to participate.