A resident visa can be obtained through employment or by investment in the UAE. The set up of a company is the most direct and predictable track to residency in the UAE. These set ups allow 100% foreign ownership.
Investors are required to maintain physical premises (as opposed to offshore structures) in order to obtain and maintain the license. Consequently, the selection of the authority where entity to be established is crucial in maintaining set up costs reasonable. There is a wide array of options among norther emirates authorities and young free zone bodies in Dubai.
Investors will only be required to stay from 5-8 working days in the jurisdiction in order to obtain their investor visa upon completion of the company set up - which can be undertaken via power of attorney from investor.
Below a general time-frame for the most frequently used free zone authorities.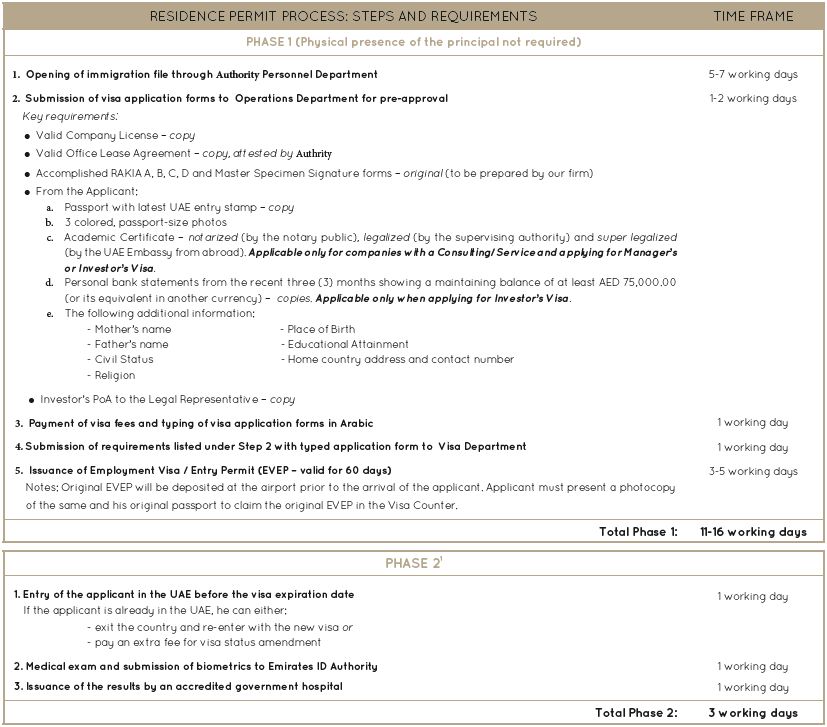 During phase 2 and 3, the applicant shall not be able to exit the UAE until the residence visa is finally stamped in his passport.
The resident holder can sponsor members of his family as his/her dependants. Dependants' Residence Permits are valid for a period of up to three years.
The Residence Permit is valid for a period of up to three years. The validity is subject to the renewal of the company's license and the resident re-entering the UAE at least once every six months.
The resident holder can enter and exit the country an unlimited number of times and reside anywhere in the UAE. The UAE authorities do not require resident holders to spend a minimal amount of days in the jurisdiction other than the afore-mentioned bi-annual visit rule.
The content of this article is intended to provide a general guide to the subject matter. Specialist advice should be sought about your specific circumstances.