Audimas, a Lithuanian brand founded in 1931, popular for active leisure and sportswear. The company filed for a trademark registration for the mark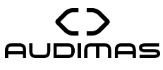 at the EUIPO in 2014. The application was filed for goods and services covering the following: leather, animal skins, clothing, footwear, advertising, retailing and wholesaling. However, in 2015, Audi initiated an opposition proceeding and the mark was refused on completion of the opposition proceedings.
Audimas, unsatisfied with their decision appealed at the EUIPO Board of Appeal, however, the same was rejected in the year 2018, on the grounds that, the most dominant part of the applied for mark is 'audi' and thus, the registration of AUDIMAS will render to be confusing to the previously registered marks on Audi. Audimas, argued against this stating that, the mark should be considered as a whole and that audimas has a distinct meaning altogether. It was further submitted that, the element 'audimas' is always written as a single word, with the same spacing between the letters and without separation between them in addition to the brackets placed above the letters D and M.
The EUIPO however, stated that 'mas' in Spanish meant – more or plus. The General court upheld this finding of the EUIPO and held that since the term 'mas' was known to the Spanish peaking people, it has less-distinctiveness. On the other hand, the term 'audi' has no concrete meaning in Spanish, and thus will be the dominant element of the mark in the minds of the consumers. The Court also ruled that, the consumers tend to identify the mark and break it up on the basis of the verbal elements. It was also held, that more emphasis is applied on the first half of the mark as compared to the second half.
Compiled by: Adv. Sachi Kapoor | Concept & Edited by: Dr. Mohan Dewan
The content of this article is intended to provide a general guide to the subject matter. Specialist advice should be sought about your specific circumstances.