Ever rational consumer was caught off guard at the inception of this pandemic, as an impulse to create stock piles of groceries, medical supplies, drugs etc. reverberated throughout the country. Despite reassuring claims of the government and manufacturers picking up the production pace, deep seethed fear amongst the public was palpable and some viewed this as a lucrative opportunity to cash-in upon this distress. While India continues to fiercely battle the novel coronavirus, the looming threat of counterfeiting rises consequentially and the market faces an onslaught of counterfeit products, especially drugs and medical supplies, thereby causing distraught to the public and manufacturers alike.
Also read Rise of Counterfeit PPE in India amid COVID-19
Focus will be on plight of established brands during COVID-19 pandemic due to such counterfeiting, stressing majorly on the pharmaceutical sector and how their Intellectual Property (IP) rights are affected. Before delving further, it is crucial to understand the impact of counterfeiting during a pandemic.
Counterfeiting in layman's terms is deceptively posing as established brands, in order to market illicit products to the public and has been projected to drain approximately USD 4.3 trillion from the global economy, alongwith piracy by 20221. Since the outbreak of the coronavirus, dependency on e-commerce has increased exponentially, thereby making a consumer more susceptible to online counterfeit attacks. Reportedly, Amazon had to remove more than 1 million fake products claiming to cure the virus2. As per Forbes estimate, the market is flooded with counterfeit drugs worth USD 200 billion annually3 and with India being the 3rd largest producer, with an estimate industry value standing at USD 55 billion this year, it would be too optimistic to rule out the possibility of counterfeiting plaguing this industry4.
Counterfeit Sanitizers during Pandemic
As demand and panic surged, so did the crime of counterfeiting. Counterfeiting, especially in pharmaceuticals, poses as double threat as there is an element of imminent threat to human life. Interpol conducted a global raid titled 'Operation Pangea XIII', wherein counterfeit hand sanitizers, face masks and antiviral drugs were seized, amounting to USD 14 million5 from 90 countries. Close to 2,500 web links, including websites, social media pages, online marketplaces and online advertisements for illicit pharmaceuticals were blacklisted6.
Fearing its ripple effect in India, the Central Bureau of Investigation (CBI) issued warning across all States and Union Territories to maintain a strict vigil for counterfeit gangs posing as PPE and selling hand sanitizers containing methanol, a highly-toxic substance as its base as opposed to ethanol, isopropanol or a combination of these7. Things took a turn for the worse, when the market saw an influx of 'opportunists' selling similar products under deceptively similar brand names. A few notable examples can be viewed herein: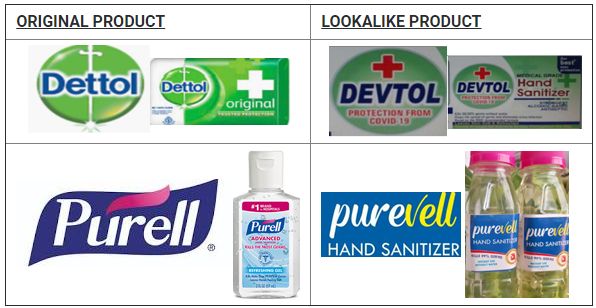 Additional statistics showing regarding counterfeit sanitizer industry amidst lockdown:
Hyderabad - Seized 25,000 units of 100 ml hand-sanitizers and raw materials worth INR 40 lakh. Racketeers managed sale worth INR 1.4 crore8.
Bangalore - Seized fake hand-sanitizers worth INR 56 lakh during raids conducted in factories9.
Delhi - Seized 2,480 kg of raw materials, including masks, hand-sanitizers, PPE kits being smuggled to China10.
Mumbai - Seized fake sanitizers worth INR 2 lakh, manufactured by company with an expired license11.
Read more - Proliferation of counterfeits during Covid-19
Intellectual Property (IP) and Counterfeiting
It is factual knowledge that robust IPR regime of a country stimulates economic development, as there is innovation growth, technology transfer and strong legal enforcement. For developing countries particularly, IP can provide tax incentives, attract FDIs, foster growth of small-medium enterprises (SMEs) and create employment opportunities. With circulation of counterfeits, not only is the economy crippled, there is infringement of intellectual property of well-known entities. In the case of pharmaceuticals, counterfeiters can reverse-engineer the laborious and capital-intensive research to produce a cheaper substitute and pass it off under the pretext of original product.
In India, ever since the Ministry of Consumer Affairs (MCA) declared hand-sanitizers and face masks as 'essential commodities' and introduced INR 20 lakh crore economic relief package catering specifically to local manufacturing, several budding companies and SMEs jumped on this lucrative business opportunity to secure a footing in the industry. 12 The Indian Trade Mark Offices saw a surge in trademark filings for sanitizers just between the periods of March - May, 2020 (approx. 350 applications).
Read more - Trademark Filing for hand sanitizers amid COVID-19 pandemicThe aforementioned cited marks 'DEVTOL' (Application No. 4494428) and 'PUREVELL' (Application No. 4485090) were filed for registration in Class 05, in respect of sanitizers. It is pertinent to note that both these applications were dated May 01, 2020 and April 05, 2020 respectively, which may be a dubious strategy at play here to take undue advantage of the pandemic situation. In lieu of the same, the Hon'ble High Court of Delhi recently granted injunctive relief in favour of Dettol manufacturer, Reckitt Benckiser (India) Pvt. Ltd. hereinabove, as it was of the concurrent view that 'DETTOL', being a well-known mark, was subject to infringement from sale of products labelled as 'DEVTOL'.13
Read DETTOL v. DEVTOL- Delhi HC slaps fine for infringing the mark DETTOL
While an injunctive relief from production and sale of infringing articles is an active step towards curbing counterfeiting, emphasis is also needed on tackling the issue from the grassroots' level. As per the study conducted by Organisation for Economic Co-operation and Development (OECD) titled "Governance Frameworks to Counter Illicit Trade", two key aspects; enhancing the effectiveness of penalties and sanctions and rigorous screening of small shipments for illicit products, can counteract such illicit activities in the trade channels.14
REMEDIES UNDER INDIAN LEGISLATIONS
The Indian IP regime covers the spectrum of counterfeiting under numerous legislative texts, such as:
Section 29 read with Chapter XII of the Trade Marks Act, 1999 entitles a right holder to institute a suit for infringement and passing off against counterfeit goods being sold under the proprietor's trademark15.
In addition, Section 11(2)(n) and (u) of the Customs Act, 1962, read with the Intellectual Property Rights (Imported Goods) Enforcement Rules, 2007, import and export of goods which infringe upon the intellectual property of a right holder is prohibited and such infringing goods are liable to seizure16.
In case of pharmaceutical drugs, if the process of manufacturing the drug or the product itself is identical then infringement relief as per the Patents Act, 1970 can be claimed.
Sections 9B and 17B of the Drugs and Cosmetics Act, 1940 cover the aspect of spurious or imitation drugs, either imported or manufactured in India17. As per the Act, marketing of spurious drugs is a cognizable and non-bailable offence and can be punishable by way of imprisonment and fine, in addition to seizure of such drugs.18
Sale/offer or expose for sale/issuance from dispensary of any drug or medical preparation as a different drug or medical preparation will be punishable by way of imprisonment or fine or both as per Section 276 of the Indian Penal Code, 186019.
Further, entities can undertake few measures on their own to ensure their brand is not a target of counterfeiting:
Conduct internal checks to ensure there is no IP infringement of their products or counterfeits circulating in the market.
Provide helpline numbers to wholesalers, retailers, traders and consumers for reporting of counterfeit articles in the market.
Using product identification means such as marks, labels or symbols to ensure brand authenticity and segregation from counterfeits.
Stringent inspections such as frequent investigations in the trade channels, to be conducted for determining the market of their counterfeit products, if any.
Maintaining IP vigilance towards any application(s) filed which infringe upon the IP rights.
Use advertisements and social media platforms to create brand awareness amongst public.
CONCLUSION
Brand imitation is not a new phenomenon and has been vexing established brands for years. Its influx by way of counterfeiting, is just another medium of infringing upon the rights of bona fide manufacturers and eating away their profits and now, it has vicariously jeopardised the safety and health of the nation in its wake. Especially, e-commerce platforms wherein the physical lag and lack of 'seller' information enables counterfeiters to guise themselves as the official supplier. On these lines Amazon had introduced its 'Project Zero' in 2019, which enabled genuine brands to identify such counterfeit products being sold on the platform
Also read Curbing Online Counterfeiting in India: Need of the Hour
Footnotes
1 Global impacts of counterfeiting and piracy to reach US$4.2 trillion by 2022; https://iccwbo.org/media-wall/news-speeches/global-impacts-counterfeiting-piracy-reach-us4-2-trillion-2022/
2 Amazon Says It's Removed More Than One Million Products Making Fake Coronavirus Claims; https://www.forbes.com/sites/tedknutson/2020/03/04/marketplace-contagion-amazon-has-already-removed-a-million-fake-products-related-to-coronavirus/#7e4c36ae418c; accessed on 23 Jun. 20
3 Counterfeit Drugs: A Bitter Pill To Swallow; https://www.forbes.com/sites/sap/2019/10/03/counterfeit-drugs-a-bitter-pill-to-swallow/#4b828f707a68; accessed on 23 Jun. 20
4 India Pharma 2020 Propelling access and acceptance, realising true potential; https://www.mckinsey.com/~/media/mckinsey/dotcom/client_service/Pharma%20and%20Medical%20Products/PMP%20NEW/
PDFs/778886_India_Pharma_2020_Propelling_Access_and_Acceptance_Realising_True_Potential.ashx; accessed on 23 Jun. 20
5 Global operation sees a rise in fake medical products related to COVID-19; https://www.interpol.int/en/News-and-Events/News/2020/Global-operation-sees-a-rise-in-fake-medical-products-related-to-COVID-19; accessed on June 23, 2020
6 Ibid
7 CBI alerts police in states about racketeers selling fake hand sanitiser using methanol; https://economictimes.indiatimes.com/news/politics-and-nation/cbi-alerts-police-in-states-about-racketeers-selling-fake-hand-sanitiser-using-methanol/articleshow/76387560.cms; accessed on June 16, 2020
8 Fake hand sanitiser racket busted in Hyderabad after 1 lakh bottles sold for Rs 1.4 crore; https://www.indiatoday.in/india/story/fake-sanitiser-racket-busted-in-hyderabad-after-1-lakh-bottles-sold-for-rs-1-4-crore-1656765-2020-03-18; accessed on 23 Jun. 20
9 Fake sanitizers worth Rs 56 lakh seized by EOW in Karnataka; https://www.business-standard.com/article/news-ani/fake-sanitizers-worth-rs-56-lakh-seized-by-eow-in-karnataka-120032001389_1.html; accessed on 23 Jun. 20
10 https://www.timesnownews.com/india/article/delhi-customs-busts-racket-of-illegal-export-of-masks-ppe-sanitisers-to-china-amid-covid-19-crisis/591574; accessed on 23 Jun. 20
11 Coronavirus scare: Rs 2 lakh fake sanitisers seized in Mumbai; https://timesofindia.indiatimes.com/city/mumbai/rs-2-lakh-fake-sanitizers-seized-in-mumbai/articleshow/74603022.cms; a
12 As per the notification dated March 21, 2020: Hand sanitizer (INR 100 per 200 ml bottle); 3PLY masks (INR 10) and 2PLY masks (INR 8); https://consumeraffairs.nic.in/sites/default/files/file-uploads/essential-commodities-order/1197.pdf; accessed on 24 Jun. 20; Read More here: https://www.ssrana.in/articles/india-equitable-distribution-price-control-hand-sanitizers-face-masks/
13 Reckitt Benckiser (India) PVT. LTD. Vs. Mohit Petrochemicals PVT. LTD. & Anr. CS(COMM)No.141/2020 & I.A.Nos.4034-37/2020
14 Coronavirus (COVID-19) and the global trade in fake pharmaceuticals; http://www.oecd.org/governance/illicit-trade/coronavirus-covid19-and-the-global-trade-in-fake-pharmaceuticals-brief.pdf; accessed on 24 June 2020
15 Section 29 and Chapter XII Offences, Penalties And Procedure of the Trade Marks Act, 1999; http://www.ipindia.nic.in/writereaddata/Portal/IPOAct/1_43_1_trade-marks-act.pdf; accessed on 24 Jun. 20
16 https://www.cbic.gov.in/htdocs-cbec/customs/cs-act/formatted-htmls/ipr-enforcementrules and https://www.cbic.gov.in/htdocs-cbec/customs/cs-act/cs-act-ch4-revised3; accessed on 24 Jun. 20
17 The Drugs and Cosmetics Act, 1940; http://legislative.gov.in/sites/default/files/A1940-23.pdf; accessed on 24 June 2020
18 Sections 13, 27 and 36C of the Drugs and Cosmetics Act, 1940; Ibid
19 Section 276 of the Indian Penal Code, 1860; https://www.indiacode.nic.in/bitstream/123456789/4219/1/THE-INDIAN-PENAL-CODE-1860.pdf; accessed on 01 July, 2020
20 https://brandservices.amazon.com/projectzero; accessed on 01 July 2020
21 Amit Shukla vs UOI & Ors
For further information please contact at S.S Rana & Co. email: info@ssrana.in or call at (+91- 11 4012 3000). Our website can be accessed at www.ssrana.in
The content of this article is intended to provide a general guide to the subject matter. Specialist advice should be sought about your specific circumstances.