FOREWORD
It is in strategic interest of a nation aspiring to be the regional power to develop indigenous and internationally competitive defence industry base. Presently, India is one of the largest importers of conventional defence equipment. According to government statistics, roughly 60% of India's defence requirements are met through imports.
India has the potential to emerge as a global platform for defence research, manufacturing, supply chain sourcing, software development, and offsets, which will strengthen our defence capabilities and spur industrial development as well as exports in this sector.
Government is also carrying out reforms in defence procurement to increase efficiency, invite foreign players with excellent capabilities and encourage domestic industry. It has introduced policies to strengthen technology transfer, including liberalized FDI in defence production. The report of Committee of Experts for Amendments to Defence Procurement Policy (DPP) 2013 is a progressive step in this direction. Also, Make in India the new flagship program of Government of India has put a renewed emphasis on creating a conducive policy environment for improving domestic defence manufacturing.
These radicle initiatives present opportunities for the foreign companies to enter India and local companies to collaborate and design, develop and showcase their engineering strength. This will also further India's objective to create jobs, catalyze technology development, and transform India into a self-reliant nation with export capabilities in defence sector. India's existing wealth of talent, technology and cost advantages together can help make defence products globally competitive.
It is a proud moment for us to share with you the report on "Make In India-An overview of Defence Manufacturing in India" at the momentous occasion of 11th Indo- US Economic Summit: Taking the Bilateral Trade to USD 500 Billion. Indian government is supporting the creation of a vibrant domestic defence manufacturing base in the country. Policy environment in India has never offered so many tangible opportunities to pursue co-development and co-production projects. We welcome you to come and Make in India!
A. INTRODUCTION
India has the third largest Army, the fourth largest Air force and the seventh largest Navy in the world. India is among the top 10 countries in the world in terms of military expenditure and world's largest arms importer. India allocates about 1.8% of its GDP towards defence spending, of which 40% is allocated to capital acquisitions and only about 30% of India's equipment is manufactured in India, mainly by public sector undertakings. Even when defence products are manufactured domestically, there is a large import component. All these factors make the Indian defence market one of the most attractive globally and provides an immense opportunity for both domestic and foreign players in the defence sector.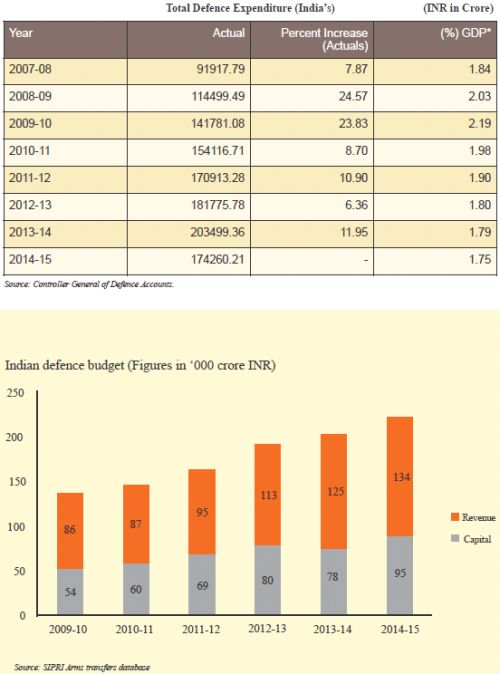 B. INDIA'S DEFENCE INDUSTRY
The post-independence industrial policy placed the production of defence items in the reserve List making it mandatory for production to be taken up only by the public sector. The sector for the first time was opened up to 100 percent Indian private sector participation in 2001. Reforms in the defence industrial sector and the acquisition policy have been one continuous process since then, beginning with the formulation of DPP 2002 and its successive revisions, formulation of the Defence Production Policy and the issuance of Joint Venture guidelines.
Indian defence industry is dominated by defence public sector undertakings (DPSUs) and ordnance factories (OFs) which contribute about 90% of the total domestic defence manufacturing output. The 41 ordnance factories are spread across 26 different locations and employ close to 1,25,000 people. The DPSUs and OFs manufacture a wide spectrum of equipment including small arms and field guns, ammunitions, explosives, armoured vehicles, transport vehicles, clothing, parachutes and general stores. DPSUs account for approximately 65 percent of the total industrial output of the defence public sector enterprises.
Combined, the DPSUs and OFs have played a critical role in building a domestic industrial base in this sector as they typically outsource 20 to 25% of their production requirements to private companies. In addition to the public undertakings, there is a small but growing number of medium large private companies that have already entered, or, are seriously evaluating entry into the market. These are in addition to about 6000 MSMEs that have largely depended upon the DPSUs for survival. The Indian defence industry's import export ratio is inferior to countries with a much smaller defence industrial base. India's arms imports are now almost three times as high as those of the second and third largest arms importers—China and Pakistan. India is among the top five arms importer, besides China, Pakistan, the UAE and Saudi Arabia.
Since opening up of the defence industry for private sector participation, the Department of Industrial Policy and Promotion (DIPP) has so far issued 222 Letters of Intents (LOIs) and issued Industrial Licences (ILs) to more than 150 companies for manufacture of a wide range of defence items. 46 companies have so far reported commencement of production. The licenses have been issued to the Indian private sector for manufacture of Military Aircraft, Unmanned Aerial Vehicles, Radars, Electronic Warfare Systems, Ship borne platforms, Armoured Vehicles etc. In the recent years, many Indian private industries have been involved in a small way with several defence 'Make' projects. These are Integrated Materiel Management Online System (IMMOLS), Integrated Air Defence Command and control system (IACCS) Tactical Communication System (TCS), Battlefield Management Systems (BMS) and Futuristic Infantry Combat Vehicles (FICV). While (IMMOLS) and (IACCS) have been deployed, TCS, BMS and FICV are in the early stages of development. Award of major projects under 'Make' category to Indian private industries is a new beginning in Indian defence industrialization.
Larsen & Toubro, Tata group, Pipapav Defence and Offshore Engineering Ltd., Reliance Industries Ltd., Mahindra and Mahindra, Ashok Leyland Defence Systems, Piramal System and Technologies are some of the key Indian players in the defence industry.
Make In India
The Indian defence industry's import-export ratio is inferior to countries with a much smaller defence industrial base. The 'Make in India' policy for the defence sector aims to reverse the current imbalance between the import of defence equipment and indigenous manufacture of defence equipments without adversely affecting the requirements, capability and preparedness of the user. Therefore, achieving self reliance and reducing dependence on foreign countries in defence is a necessity today rather than a choice, both for strategic and economic reasons. The requirement for domestic production of defence equipment is more than for any other sector because it will not only save precious foreign exchange but will address the national security concerns. 'Make in India' policy aims at facilitating investments and fostering innovations for the manufacturing sector in India. Government being the only consumer, 'Make in India' in defence sector will be governed by the defence procurement policy of India. The Government policy of promoting domestic defence industry is adequately reflected in the Defence Procurement Policy, wherein preferential treatment is given to "Buy (Indian)" and "Buy and Make (Indian)" categories of acquisition over "Buy (Global)". As the Indian Companies may not have adequate capabilities in terms of technology, they are encouraged to partner with foreign companies for joint ventures, technology transfer arrangements and tie-ups
India's Import Breakup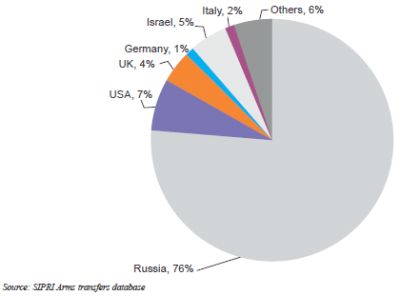 To read this Report in full, please click here.
The content of this article is intended to provide a general guide to the subject matter. Specialist advice should be sought about your specific circumstances.