India's presidency of the G20 is not just a time for India to showcase her ancient, medieval and modern history, culture and contribution to the world but also a time for her to take the lead in environmental, regulatory and technological matters. India has the expertise, the sensitivity and inherent sense of fairness, equality and sustainability to direct the formulation of regulatory matters that the world has struggled to form a consensus on. Cryptocurrency and more particularly gambling and betting.
We have been gambling forever. Our great epics refer to them – we even went to extent of gambling our kingdoms (and sadly, wives) and then fought what is referred to as the greatest battle ever fought in these lands to recover what had been lost. As an aside, why have we lost contact with those ancient games and why have they been replaced with Monopoly, Ludo and Cluedo? We bet obscene amounts at Diwali and continue the betting all year on the golf course. Our software and gaming developers produce unbelievable innovative games, and yet we have struggled to regulate these activities. We are not alone – this is a universal issue and several countries have struggled with it.
Time for India to lead the way. A 2019 KPMG report estimated the Indian betting and gambling market at $130 billion (?950,000 crores), growing by roughly 7% over the last six years. A more recent (2021) report from Deloitte India calculated that online gaming alone is worth $2.8 billion (?22,500 crores at current exchange rates).1
I can bet these numbers will only increase exponentially in the near future. Apparently, the online gaming segment maintains an astounding 40% growth rate – and already represents 10% of India's Media and Entertainment economy.2
None of this has been lost on the tax authorities, and they have not been deterred by the uncertain legality or enforceability of gambling and betting in India and the Victorian legislation that causes this uncertainty. The Central Goods and Services Tax Act, 2017 and the Integrated Goods and Services Tax Act, 2017 were amended on 18 August 2023 to impose tax on online gaming "whether or not its outcome or performance is based on skill, chance or both and whether the same is permissible or otherwise under any other law for the time being in force". In other words, regardless of whether it is legal or not, tax needs to be paid. I think we can do better than that! This is similar to the approach adopted for cryptocurrencies. Are we really saying that we are happy to provide a cloak of legitimacy to activities that may not be legal, as long as taxes are paid? What next? Are we going to tax drug smuggling and human trafficking?
India must take the lead on regulating gambling and betting. We need to create an environment of responsible gaming, gambling and betting. We need to address the serious associated problems with money laundering, terror financing (for cryptocurrencies in particular), online security, fraud, underage gambling and addiction. Within India, several states have taken different approaches. Some like Sikkim, Meghalaya and Goa are seeking to regulate it whilst others like Telangana, Andhra Pradesh, Tamil Nadu and Odisha wish to ban it – different states should be permitted to take differing approaches as that is part of our treasured diversity but there needs to be a central legislation that provides a uniform framework.
Consider the differing approaches adopted by members of the G20. United Kingdom and several members of the EU provide licences for online casinos.3 India should take the lead in developing a framework for global legislation on this subject.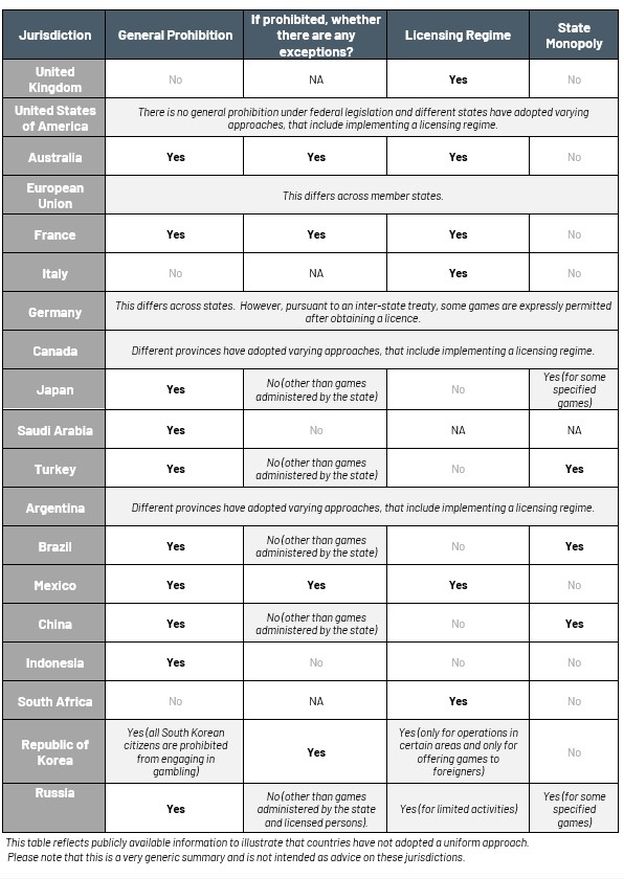 Footnotes
1. https://www.sevenjackpots.com/research-papers/regulated-online-gambling-in-india/
2. https://www.sevenjackpots.com/research-papers/regulated-online-gambling-in-india/
3. https://www.sevenjackpots.com/casino-licenses/
The content of this article is intended to provide a general guide to the subject matter. Specialist advice should be sought about your specific circumstances.