Global markets today are becoming more interconnected with liberalized trade policies, growing access across countries, and increasing bilateral agreements, led by technological revolution and digitization. While manufacturing grew at a rapid pace in the United States, Europe, and Japan after World War II, multinationals started moving their large-scale manufacturing processes to China in the late 20th century.
Businesses are more interdependent on each other than ever before. While the concentration of bulk manufacturing processes in certain geographies has allowed economies of scale and facilitated robust supply chains, they have been subject to heavy changes, which were further accelerated by the pandemic. Several crises including geo-political conflicts, international trade tensions, continuing effects of the pandemic, etc. have urged companies to diversify and minimize their risks by assessing alternative manufacturing destinations.
South Asia has emerged as a preferred alternative for foreign direct investment. Emerging countries such as India, Thailand, Malaysia, Vietnam, etc., have considerable opportunities to provide solutions to fill the gap. In recent times, these economies have picked up the baton and have provided advantages to address manufacturing concerns in the areas of cost competitiveness, domestic market absorption, large labor, talent availability, etc. to the international business community.
With this backdrop, it would be interesting to assess these new potential manufacturing destinations. In this document, we assess nine South Asian countries through a relative comparison of various parameters from a business standpoint.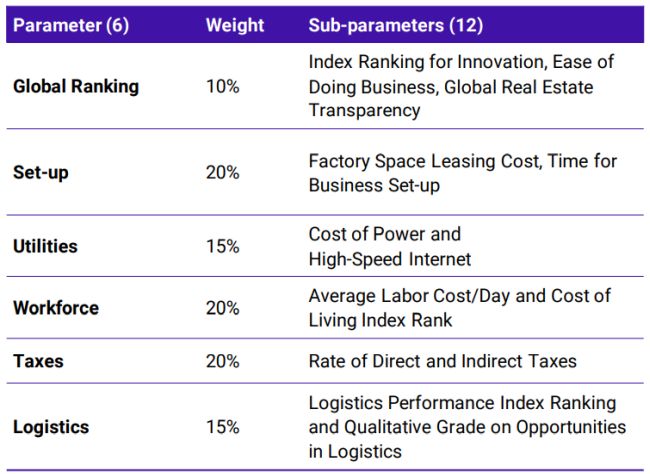 We have selected six critical factors for comparison across China, India, Indonesia, Malaysia, Philippines, South Korea, Taiwan, Thailand and Vietnam.
Within these parameters, we have included certain sub-parameters with percentage weights and used them to develop competitiveness scores for each country.
In our evaluation, Thailand, India, and Malaysia emerged as the top alternative manufacturing hubs, followed by South Korea. All these economies offer relatively higher or better advantages in comparison to other selected countries. They have also witnessed a significant jump
in Ease of Doing Business rankings in recent years and continue to better their policies, facilitate conducive business environments, support businesses through changes in rules and regulations, etc., to bolster international investments in their respective countries.

The data and information used for rankings and analysis have been sourced from various sources including the World Bank, International Labor Organization, etc. Such data, and information is obtained from reports, publications, etc. over the past five years, updated in line with current trends and international news to the extent possible on best effort basis.
Ease of Doing Business vs Innovation Index Rank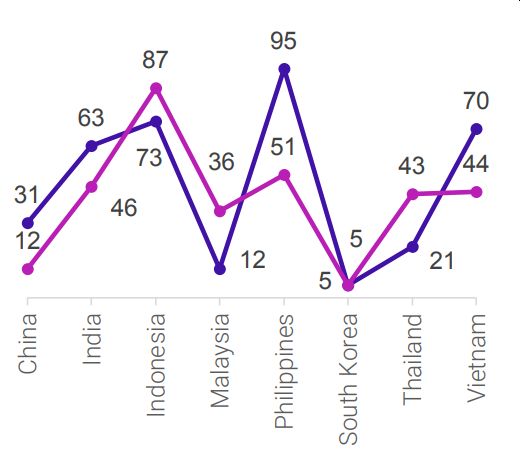 Global Real Estate Transparency Index Rank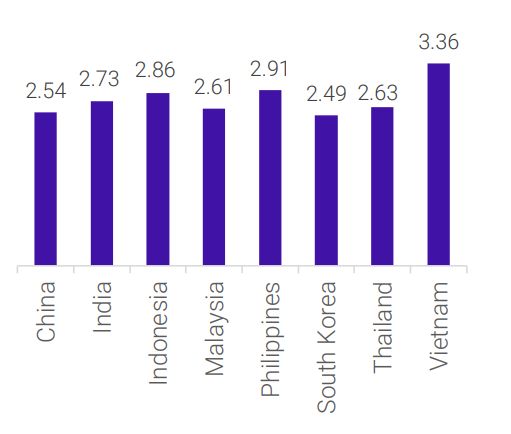 The Ease of Doing Business rank is evaluated on several parameters on how a country is facilitating efficient business operations (setting up a business, location planning, access to finance, day-to-day operations, etc.).
Global Innovation Index is based on the capacity and success posted by the countries in terms of innovation, and the Global Real Estate Transparency Index evaluates countries based on their initiatives in real estate, availability of legal contracts, corporate governance, etc. Among the selected countries, South Korea holds the leading position for Ease of Doing Business, Innovation Index, and Global Real Estate Transparency Index. South Korea is followed by China and Malaysia. However, other developing countries have shown remarkable improvements in recent years. For example, India has moved 79 positions in the Ease of Doing Business ranking over the last 5 years to the 63rd position in 2020, while Thailand has moved 28 positions over the last 5 years to the 21st position in 2020. Their efforts predominantly focused on streamlining business regularities, dealing with construction permits, resolving insolvency, and enhancing overall country competitiveness.
To view the full article click here
The content of this article is intended to provide a general guide to the subject matter. Specialist advice should be sought about your specific circumstances.