The approval and launch of new medicines/biological products for marketing often means the availability of new treatment for patients and advancement in health care. For this reason the USFDA and its Center for Drug Evaluation and Research (CDER) support the pharmaceutical industry at every step of innovation which includes creating new products, testing and manufacturing procedures, diseases and conditions that new products are designed to treat. USFDA also provides scientific and regulatory advice needed to bring new therapies to market.
Every year CDER approves a wide range of new drugs and biological products. Some of these products are innovative new products including novel drugs that have never before been approved or marketed in the United States. According to "2018 NEW DRUG THERAPY APPROVALS" reports20, 2018 was a strong year for innovation and advances. In 2018, CDER approved 59 novel drugs, either as new molecular entities (NMEs) under New Drug Applications (NDAs), or as new therapeutic biologics under Biologics License Applications (BLAs).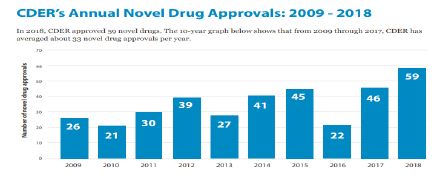 Impact of Novel Drug Approvals
Many of the novel drugs CDER approved in 2018 are notable for their potential positive impact and unique contributions to quality medical care and patient treatment.
First-in-Class: CDER identified 19 of the 59 novel drugs approved in 2018 (32%) as first-in-class. These drugs often have mechanisms of action different from those of existing therapies. Novel drugs approved in 2018 as first-in-class were: Aimovig, Crysvita, Elzonris, Galafold, Gamifant, Lucemyra, Lutathera, Onpattro, Orilissa, Oxervate, Palynziq, Poteligeo, Tavalisse, Tegsedi, Tibsovo, Tpoxx, Trogarzo, Vitrakvi, and Xofluza:
Drugs for Rare Diseases: In 2018, 34 of CDER's 59 novel drugs (58%) were approved to treat rare or "orphan" diseases that affect 200,000 or fewer Americans. Patients with rare diseases often have few or no drugs available to treat their conditions. Novel drugs approved in 2018 with the orphan drug designation were Asparlas, Braftovi, Copiktra, Crysvita, Daurismo, Diacomit, Elzonris, Epidiolex, Firdapse, Galafold, Gamifant, Krintafel, Lorbrena, Lumoxiti, Lutathera, Mektovi, moxidectin, Omegaven, Onpattro, Oxervate, Palynziq, Poteligeo, Revcovi, Symdeko, Takhzyro, Tavalisse, Tegsedi, Tibsovo, Tpoxx, Trogarzo, Ultomiris, Vitrakvi, Vizimpro, and Xospata.
Other Notable Novel Drug Approvals: In addition to the noteworthy first-in-class and orphan-designated drugs mentioned above, the 2018 novel drug field also includes these notable examples- Annovera, Doptelet, Erleada, Libtayo, Lokelma, and Talzenna.
About Novel Drugs
Novel drugs are often innovative products that serve previously unmet medical needs or otherwise significantly help to advance patient treatments. The active ingredient or ingredients in a novel drug have never before been approved.
Conclusion
The approvals to these novel drugs introduce new drug regimens which never before marketed in the United States, add important medical value to already FDA-approved products. It also highlights the efficiency of CDER which reviewed and approved these drugs. The way CDER used a variety of expedited development and regulatory review tools to speed these drugs to market, is a lesson to be emulated by other regulatory authorities worldwide.
The content of this article is intended to provide a general guide to the subject matter. Specialist advice should be sought about your specific circumstances.