On 29 June 2018, The Stock Exchange of Hong Kong Limited (HKSE) published a Guidance Letter (GL96-18) on listed issuer's suitability for continued listing (Guidance Letter) along with its Consultation Paper on Backdoor Listing, Continuing Listing Criteria and other Rule Amendments (Consultation Paper). The Guidance Letter and the Consultation Paper form part of the three-pronged approach of the HKSE to curb shell activities: firstly, by tightening its suitability review of new applicants to prevent shell creation through IPOs; secondly, by enhancing the continuing listing criteria to deter the maintenance of listed shells; and thirdly, by tightening the reverse takeover rules to address backdoor listings.
Listed issuers with "Shell" Characteristics
The Guidance Letter enumerated the circumstances under which the HKSE may question an issuer's suitability for continued listing, such as where its directors are involved in fraud, where there have been repeated breaches of laws or material internal control failures, or where there has been excessive reliance on key customers or suppliers. In particular, the Guidance Letter drew attention to situations where issuers may be taken as carrying on "shell maintenance" activities in cases where controlling shareholders sold down their interests, the existing management resigned and/or the issuers undertook a series of actions that led to a diminution of their original businesses and the operation of new businesses. These new businesses may have a very low barrier to entry and, in some cases, it is unclear whether the new businesses have substance or are sustainable in the longer term.
The Guidance Letter took effect on 29 June 2018 and is available at:
Proposals Regarding the Reverse Takeover Rules
The reverse takeover rules are anti-avoidance provisions to prevent circumvention of new listing requirements through an acquisition or a series of acquisitions by a listed issuer. In the Consultation Paper, the HKSE proposed to tighten both the definition and the compliance requirements for reverse takeovers: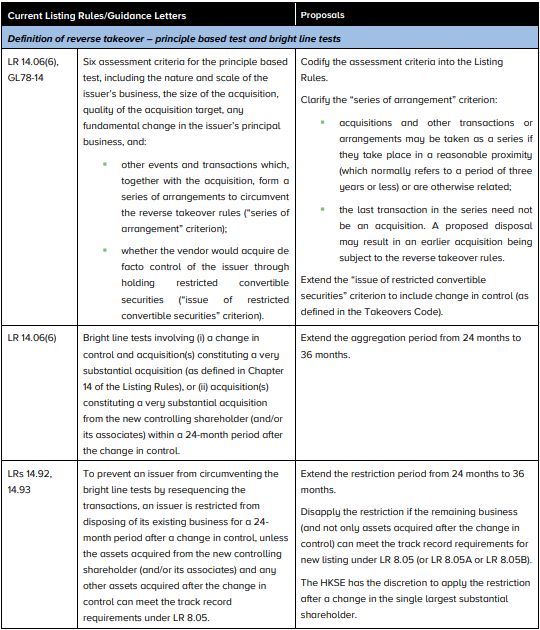 Proposals Regarding the "Extreme VSA" Rules
Under Guidance Letter (GL78-14), the HKSE, when applying the principle based test, may classify a transaction as a reverse takeover or, where the acquisition target can meet the track record requirements and circumvention of new listing requirements would not be a material concern, as an extreme very substantial acquisition (extreme VSA). While an issuer proposing an extreme VSA will not be taken as a new listing applicant, the issuer will be required to prepare a transaction circular with enhanced disclosures, and to appoint a financial adviser to conduct due diligence on the acquisition.
The HKSE proposed to codify the extreme VSA requirements, rename such transactions as "extreme transactions" and limit the use of this category to issuers that:
operate a principal business of a substantial size. As a general guidance, "substantial size" means a principal business with annual revenue or total asset value of HK$1 billion or more, excluding any revenue or assets not attributable to the issuer's original principal business; or
have been under the control of a large business enterprise for a long period (normally not less than three years), and the transaction forms part of a restructuring with no change in control.
Accordingly, the extreme transaction category may no longer be available to small-cap issuers if the proposals are adopted. Furthermore, by requiring the acquisition target to meet the track record requirements for new listing whether the transaction is classified as a reverse takeover or an extreme transaction, the HKSE will effectively bar all backdoor listings of "unqualified" assets.
Proposals Regarding the Rule on Sufficiency of Assets and the Cash Company Rules
In addition to tightening the reverse takeover rules, the HKSE proposed to enhance the continuing listing criteria to address market activities involving listed shells, including:
requiring issuers to carry out a business with a sufficient level of operations and have assets of sufficient value to support its operations (and not sufficient operations or assets as set out in current LR 13.24). Trading and/or investment in securities will be excluded when considering whether an issuer has complied with this rule;
extending the definition of "short-dated securities" in the cash company rules to cover "short-term investments" so that an issuer will not be regarded as suitable for listing under LR 14.82 if its assets consist wholly or substantially of cash and/or short-term investments such as bonds, bills or notes which have less than one year to maturity, investments in listed securities and other investments that are readily convertible to cash;
codifying Guidance Letter (GL84-15) to regulate backdoor listings through large scale issue of securities; and
codifying Listing Decision (LD75-4) to impose additional requirements on significant distribution in specie of unlisted assets.
The consultation period ended on 31 August 2018 and the consultation conclusions are yet to be issued. For more details and information on the other proposals, please see the Consultation Paper which is available at:
The content of this article is intended to provide a general guide to the subject matter. Specialist advice should be sought about your specific circumstances.