Writing on behalf of the Guernsey Investment Fund Association, Nick Vermeulen, PwC's CI head of advisory, takes a look at the evolution of blockchain and touches on how Guernsey's financial services industry is once again remaining nimble and relevant with the introduction of this new technology in the fund marketplace.
Bitcoin was released in 2009 as a digital currency system via a simple posting to a niche mailing list. As the charts below demonstrate, over time interest has grown not only in the digital currency, but also in the underlying blockchain and distributed ledger technology. This interest has morphed into a global movement that, according to the World Economic Forum, will become the 'beating heart of finance' within five years. The underlying technology has the potential to transform not only each industry that it touches, but also the internet itself by bringing in a level of security that is clearly needed. So, what does this technology mean to us in industry and specifically within the Guernsey funds sector?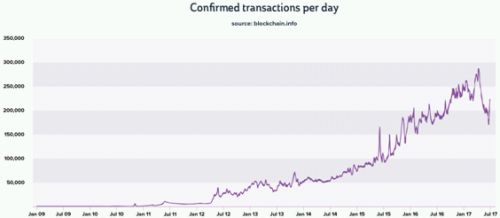 Use cases
Blockchain technology has the potential to fundamentally transform interactions across almost every industry – from media and entertainment, to logistics and supply chain, medicines and patient care, energy trading and loyalty programmes, through to government and military applications and, of course, the financial services industry (and specifically the funds industry).
What is key to all of these use cases is the elimination of friction. The blockchain movement is following a path established by earlier technology revolutions. In the '90s we saw the adoption of the internet which removed friction from the creation and distribution of information and content. This transformed publishing and music. In the '00s we saw the app store concept remove the friction from the software market with an explosion of apps. The blockchain movement removes friction along three key axes: control, trust and value. This is demonstrated by the fact that increased trust has allowed numerous players to use bitcoin to transfer value between each other without the need for a central bank controlling the process.
The removal of this friction will have a similar impact on financial services to which the dematerialisation of stock certificates had on share trading in the '80s.
Potential use cases
Consortiums and collaboration will be key
In the same way that the users on Silk Road were initially key to the expanding use of Bitcoin, consortiums of end users will be key to the adoption of new technologies within their respective industries. The interaction between such consortium and their respective technology platforms will be important. We are already seeing such groups forming with Nestle and Unilever joining IBM, Wal-Mart and others to remove friction from the food supply chain. Similarly, Barclays, Credit Suisse, CIBC, HSBC and State Street have joined UBS's 'utility settlement coin' project with the aim of settlement and clearing over the platform.
Guernsey's role
Guernsey continues to look at how it can assist such consortiums and has already been home to two global blockchain firsts in the past nine months. The first saw Northern Trust's Guernsey office in collaboration with IBM and other key stakeholders launch the first commercial deployment of blockchain technology for the private equity market, while the second involved Dom Re IC Limited, a Guernsey-domiciled insurance linked securities (ILS) reinsurance transformer and incorporated cell of Solidum Re (Guernsey) ICC Limited, issue the first notes ever to have been digitised on a private blockchain.
We have historically prided ourselves about being nimble with the ability to connect up the necessary players to make it easy to do business in Guernsey. These will be the attributes that such consortiums are expecting. As has been demonstrated by the ILS and private equity projects, Guernsey has a regulator and government, who are both accepting of the advantages the technology can bring. Indeed, Unigestion, the Geneva-based asset manager who was first to utilise the Northern Trust blockchain solution, said they opted for a Guernsey-based fund on the basis that the use of blockchain had already been approved by the Guernsey authorities.
Justin Chapman, Global Head of Market Advocacy & Innovation at Northern Trust, noted: "Launching the Northern Trust private equity Blockchain solution in Guernsey was made easier by the close partnerships between the different firms on the island and the support of the Guernsey Government and the Guernsey regulator. Building and launching products using new innovative technology needs this level of collaboration and Guernsey has proved a good place to innovate and deliver new solutions."
Colin Vaudin, Chief Information Officer, at the States of Guernsey, said facilitating innovation was a key aim.
"Not only does Guernsey provide easy access to key decision makers and the ability to innovate quickly, it also has the breadth of experience and expertise to turn technology concepts into viable commercial products and services," explains Vaudin.
"Blockchain is but one example where a developing technology solution [in this case blockchain] has been aligned with a real world financial services problem that it can solve. Blockchain in the private equity sector has, through the combined effort of Guernsey, been converted from an interesting concept to a high value commercial reality. Whatever is next in the evolution of technology for the financial sector, be it artificial intelligence (AI), electronic agents or data trustees, we are confident Guernsey can provide the testbed."
Tom Carey, Partner at law firm Carey Olsen, added: "Guernsey's current legal and regulatory framework is no impediment to the establishment of blockchain solutions on the island as has been recently demonstrated. Government can further facilitate the use of this technology by putting in place legislation to deal with the development of AI, smart contracts and transactions between electronic agents. Government has the opportunity to make Guernsey law the go-to choice of governing law for blockchain solutions."    
Guernsey has demonstrated that it continues to be adaptive and can bring innovative solutions to its global client base, but Guernsey needs to ensure that the funds industry and all its key players are attuned to the opportunities that may be presented.
Such opportunities, if grasped properly, can ensure that the key markets we operate in, such as private equity and infrastructure for large pension investors, remain in the island. Going forward, the hope would be to see such vehicles recording investor details and the funds' underlying investments on a platform that makes them tradeable in electronic form. This should add liquidity to the secondary market for private equity which can only be good for one of our cornerstone industries.
Similarly, if Guernsey is open enough, blockchain solutions could even be utilised to reinvigorate markets such as open-ended funds, as the technology will lower the man power required to run these types of vehicles, or even allow us to enter completely new markets such as trade finance.
Conclusion
As we can see, Guernsey is already playing an important role in the deployment of blockchain with the ILS and private equity solutions noted earlier. In doing so, the island has once again been able to demonstrate that it is an innovative and progressive place to do business. That said, should any international finance centre, including Guernsey, fail to grasp future opportunities within the digital and technological space as they emerge, then questions would have to be asked about their ability to remain relevant.
We owe it to future generations to seize the opportunities that present themselves. So, our challenge is to take the hype surrounding blockchain and make it reality within our industries – as a minimum. Disrupt or be disrupted are our choices.
---------------
http://www3.weforum.org/docs/WEF_The_future_of_financial_infrastructure.pdf
http://www3.weforum.org/docs/WEF_Realizing_Potential_Blockchain.pdf
An original version of this article was first published by Hedgeweek, October 2017.
For more information about Guernsey's finance industry please visit www.guernseyfinance.com.
The content of this article is intended to provide a general guide to the subject matter. Specialist advice should be sought about your specific circumstances.